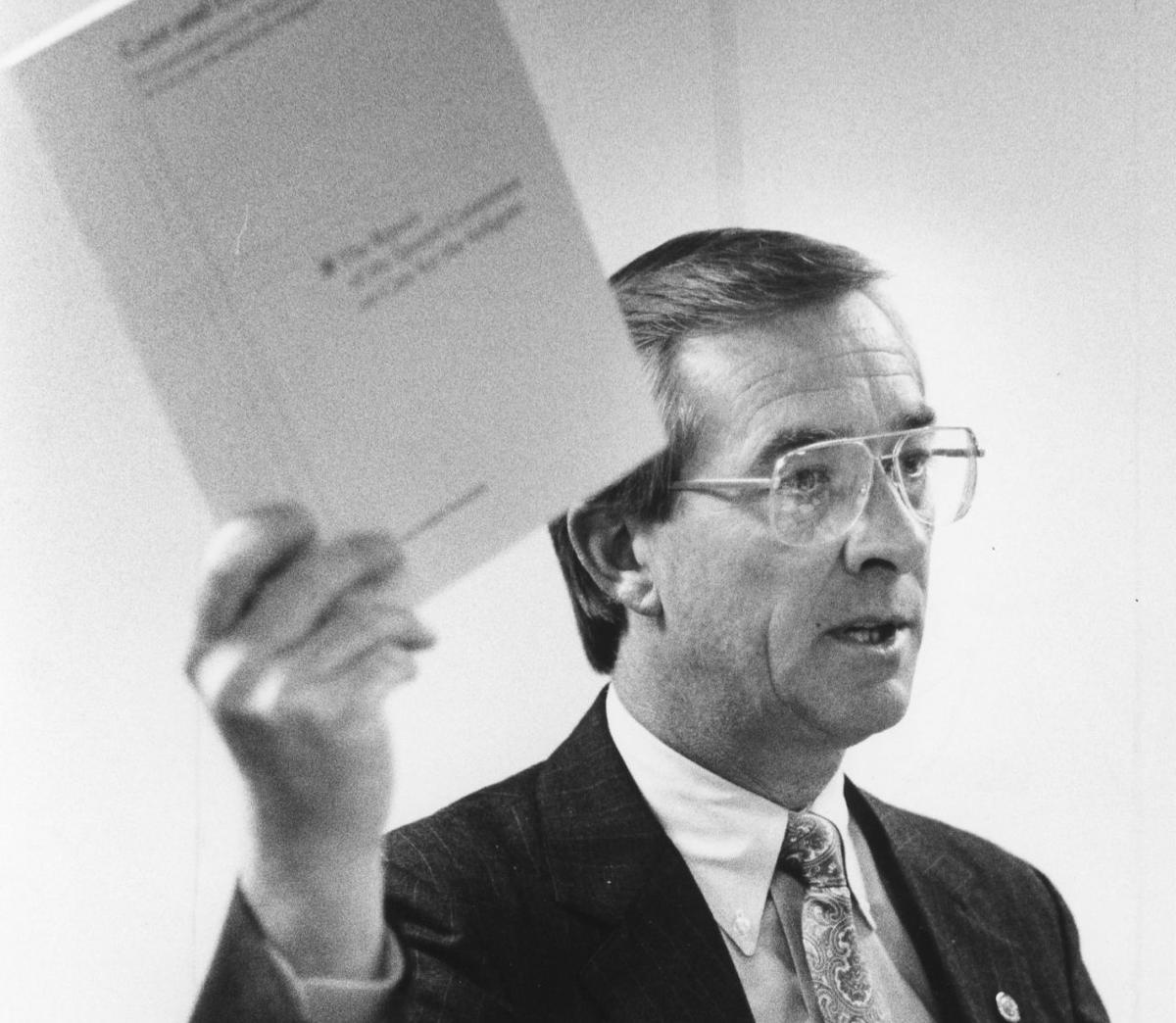 Greensboro — Dennis Barry, the hard-charging executive who transformed Moses Cone from a midsize hospital into a regional health system during his 25 years as president, died Thursday morning.
"Dennis was amazing," Cone Health CEO Terry Akin said Thursday. "Through his vision and leadership, he created the foundation for the health system that is Cone Health today."
Akin said it was known that Barry had some "health challenges" in recent years, but he didn't think his death was expected.
Barry retired from Cone in 2004.
"His leadership had an impact certainly at the local and state levels," Aiken said. "And he was widely respected in our industry at the national level where he served as the chair of the American Hospital Association."
During his tenure at Cone, Barry merged the hospital with Wesley Long Hospital, Women's Hospital and Greensboro's psychiatric hospital, creating a health care monopoly in the city. The system also bought Annie Penn Hospital in Reidsville.
But in a 2004 interview, Barry said he was prouder of the smaller, quieter steps Cone took under his leadership: creating pediatric, neonatal and neurological intensive care units; building the cancer center at Wesley Long; expanding services to the poor through Cone's nonprofit, HealthServe Medical Center; creating the Moses Cone Wesley Long Community Foundation, which gave money to health projects in the area.
A native of Chicago, Barry grew up the son of a postal superintendent. His interest in medicine was forged in high school when he worked part time at a pharmacy.
Paying for his own education, Barry set out to be a pharmacist but switched gears at the University of Illinois when he discovered he didn't like all the tedious laboratory research that was involved. He received a Master of Business Administration degree from the University of Chicago and entered what he calls the "real world.'' After stints in Arizona and Illinois, Barry came to North Carolina to run the former N.C. Memorial Hospital in Chapel Hill. He left there in 1979 to take the helm at Cone Hospital.
Cone historian and retired neurosurgeon Robert Phillips said in a 2003 interview that Barry exuded a certain aura from the moment he arrived in Greensboro — an aura that said, "Follow me, and I'll take you where you want to go.''
"And, by golly, he did," said Phillips, who died in 2004.
Barry was also president of the Greensboro Chamber of Commerce in 1999.
When he assumed the chamber post, former Greensboro Mayor Jim Melvin, who had served on the Cone Hospital board for 10 years, said, "He's not one of the boys and he doesn't play golf. His hobby is working.''
Funeral arrangements are incomplete at Hanes Lineberry North Elm Chapel in Greensboro.
Most of this report was compiled from previous articles written by Margaret Moffett and Peter Krouse.
Get local news delivered to your inbox!
Subscribe to our Daily Headlines newsletter.