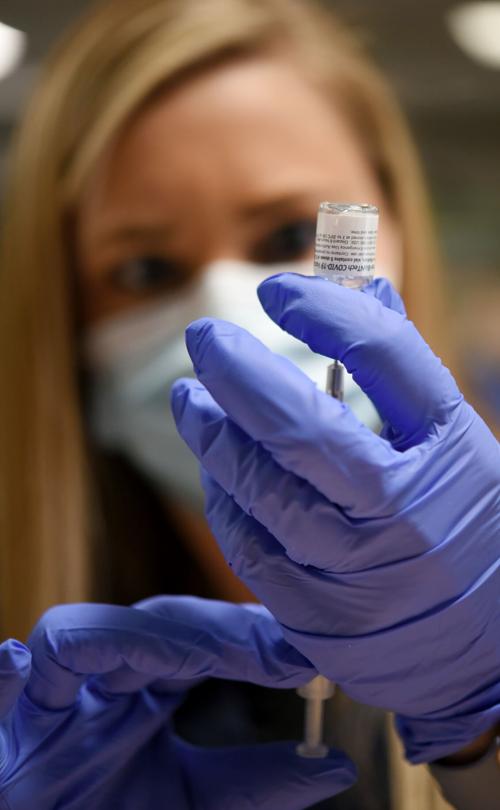 Forsyth County will soon have three COVID-19 mass-vaccination sites, operated separately by Atrium Health, Novant Health Inc. and the county Department of Public Health.
Atrium said Thursday it plans a mass-vaccination site in the Winston-Salem area through affiliate Wake Forest Baptist Medical Center. The site is part of a 1-million-dose public-private partnership initiative focused foremost on Charlotte.
Novant announced Thursday its 1-million-dose initiative that will be allocated through six mass vaccination sites covering 14 counties. Novant did not identify the sites or counties.
However, Novant confirmed there would be at least one in Forsyth, and that the effort would "more than quadruple the amount of appointments available in each community."
The Atrium and Novant initiatives are being coordinated with the N.C. Department of Health and Human Services.
Novant and Wake Forest Baptist have said they will provide vaccine to individuals in their respective network systems as they become eligible in DHHS' vaccination format.
On Tuesday, state Health Secretary Dr. Mandy Cohen told legislators that DHHS' mass-vaccination effort has a combined goal of 45,500 shots per week.
DHHS confirmed Thursday the Forsyth Department of Public Health would handle that mass-vaccination site, likely at Winston-Salem Fairgrounds. The Forsyth Board of Commissioners will vote next week on approving an interlocal agreement with the city of Winston-Salem to use the fairgrounds.
That site could be operational as soon as early February, according to Dr. Christopher Ohl, an infectious disease expert at Wake Forest Baptist.
Joshua Swift, Forsyth's health director, said he is hopeful that the fairgrounds will be available within two to three weeks.
"Our current capacity at the health department is to vaccinate 500 individuals per day," deputy county manager Shontell Robinson said Thursday.
"The fairgrounds will allow us to at least double that amount per day."
Vaccine supply
Cohen said Thursday that some of the doses going to the mass-vaccination sites are being diverted from communities that either have had lower-than-expected demand for the vaccine, or are not being as efficient with providing vaccine shots.
"We want to determine how we can best support getting the vaccine out as quickly as possible," Cohen said.
Cohen said health-care providers with "vaccine on the (proverbial) shelf" won't need a new supply next week, "so we're able to take that new supply of vaccine … and concentrate it in some of these higher throughput sites."
"We are asking all our providers to give us very specific plans about how they are going to get out any vaccine that we give them in seven days."
The Guilford County Division of Public Health and Cone Health will begin large-scale COVID-19 vaccinations at the Greensboro Coliseum Special Events Center on Jan. 19. The effort is part of the DHHS mass-vaccination initiative.
The vaccinations are appointment-only and for those ages 65 and older in the first subgroup of the state's Phase 1B vaccination plan. The groups project starting with a rate of 750 vaccination per day.
The Forsyth and Guilford mass-vaccination sites are the only ones DHHS has planned for the 14-county Triad and Northwest N.C. region.
North Carolinians are not limited by their county of residence in getting the vaccine.
"Health-care providers were selected based on their ability to administer a large number of vaccine doses, or to provide access to vaccine doses to marginalized communities," Cohen said.
Atrium details
Atrium spokesman Chris Berger said its separate mass-vaccination sites will help "insure everyone that wants to be vaccinated, and is eligible, can receive a vaccine."
Atrium said Charlotte Motor Speedway, Bank of America Stadium and a "soon-to-be determined location in the Winston-Salem area will serve as initial venues to contribute to this public-private initiative."
"More details will be shared in the coming days on the process and timing for each of the mass vaccination events."
Wake Forest University owns the Lawrence Joel Veterans Coliseum complex, which could be a potential site for Atrium's local initiative.
Atrium is being joined in the 1-million vaccination pledge by July 4 by Honeywell, which has its headquarters in Charlotte, Tepper Sports & Entertainment, the city of Charlotte and Mecklenburg County.
The Tepper organization is led by David Tepper, owner of the Charlotte Panthers, which oversees Bank of America Stadium.
Atrium did not disclose what percentage of the doses it projects being dedicated to the Charlotte area and to the Winston-Salem area.
Honeywell said it would contribute its logistical expertise "to streamline the vaccination process."
Eugene Woods, Atrium's president and chief executive, said the initiative is one method "to defeat this virus, allow children to return to school and help local businesses return to normal operations."
Novant details
Novant said it is requesting 95,000 doses per week "to meet high-demand and ensure equitable and efficient distribution of the vaccine." Novant said its goal is to have the 1 million doses administered by early April.
Novant said that "locations will be added to include community and corporate partners soon."
Novant projects providing up to a combined 20,000 doses daily through the six mass-vaccination sites, but did not disclose allocation plans.
"If Novant Health receives a weekly allocation of 95,000 doses from N.C. DHHS, the health care system has the capabilities to administer 1 million doses by the beginning of April," Novant said in its statement.
Carl Armato, Novant's president and chief executive, said that "the people of North Carolina deserve a vaccination program that leads the nation in speed, scope and effectiveness of distribution."
"We appreciate the state's support and are eager to activate our plan to immediately, and significantly, increase vaccination rates in North Carolina."
Novant said it is partnering with climate innovator Trane Technologies, who will provide large-capacity SuperFreezers to support safe and ultra-cold storage of the vaccine, as well as logistics expertise to help the sites run as efficiently as possible.
In the Charlotte market, Novant plans to work with the Charlotte Hornets to utilize Spectrum Center in various activations during the vaccine distribution process.
"At the end of the day, our collective goal should be to vaccinate as many people as quickly possible, leaving no dose unused and no community behind," Armato said.