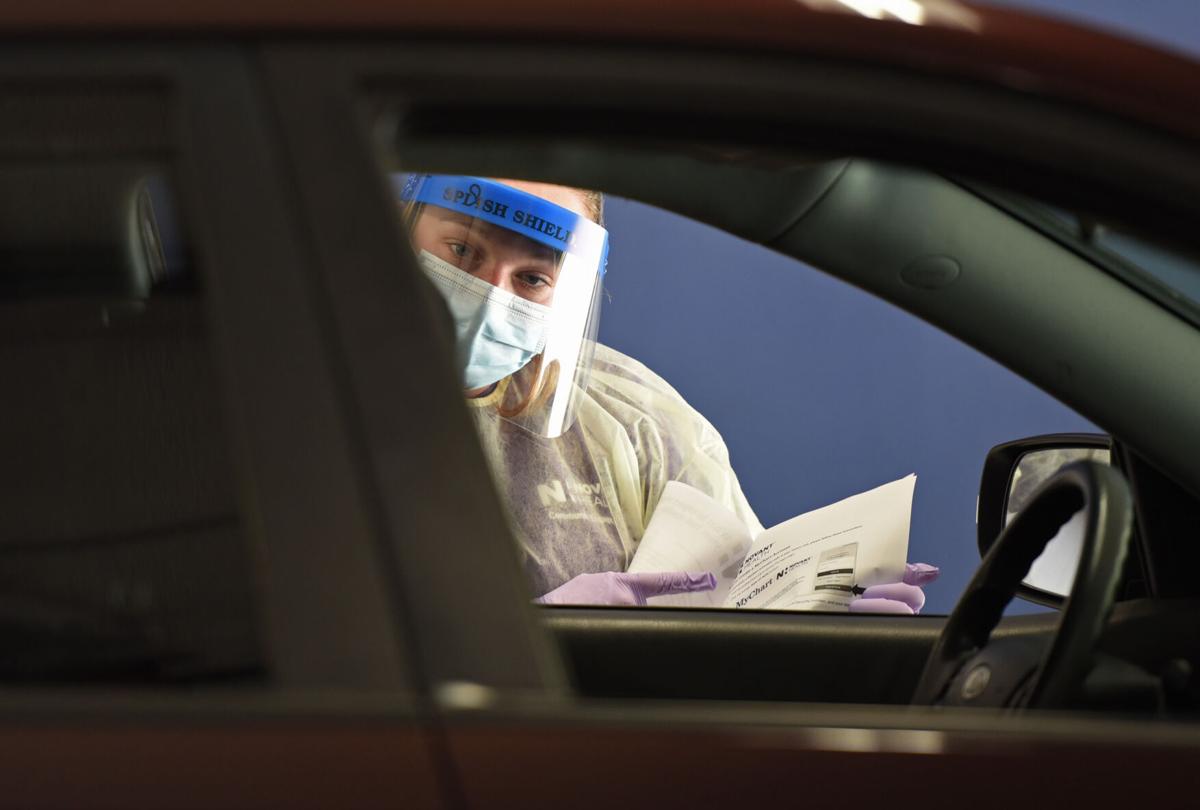 With North Carolina reaching record levels of COVID-19 cases, Gov. Roy Cooper chose Tuesday to emphasize a new effort to encourage vaccinations, particularly in Black and Hispanic communities.
The website now includes a list of enrolled vaccine providers who have received allocations, and a phone number (877-490-6642) for assistance in finding a vaccination site.
"The truth is that this disease is spreading fast," Cooper said. "The truth is that people need to follow the safety protocols" of the 3 Ws "and abide by the modified stay-at-home order."
"Another truth: the vaccines are safe and effective. We need to get vaccines into arms as quickly and equitably as possible. It remains our top priority."
Cohen said that "the events of last week brought home how dangerous and deadly misinformation can be."
Cooper said he is "concerned about the higher rate of decline" of the vaccine among those staffing long-term care facilities.
"We're trying at the grassroots level to raise the level of trust," Cooper said.
Forsyth update
A local infectious disease expert said Tuesday it is too early to say that the holiday surge in COVID-19 metrics has reached its peak as Forsyth County reported 256 new cases.
It typically takes seven to 10 days for COVID-19 symptoms to appear.
The county is at an overall total of 23,660 cases since mid-March, according to the N.C. Department of Health and Human Services.
Forsyth set a record for new cases Saturday with 430. Since then, DHHS reported Forsyth with 199 on Monday and 248 on Sunday.
No additional COVID-19 related deaths were reported Tuesday for Forsyth, keeping the total unchanged at 235.
David Priest, a Novant Health Inc. infectious disease expert, said one key area of concern in early January was a 25% positive test rate in the system's Triad and Charlotte markets over a seven-day rolling period.
On Tuesday, Priest said the positive test rate has dropped to 22%.
"We don't know if this is a true trend in the right direction, or just a temporary change," Priest said.
DHHS reported Tuesday that Forsyth reached a record 14.8% positivity rate out of about 1,150 tests conducted Sunday. The previous record was 14.5% from tests conducted Saturday.
Novant said it plans to mail letters outlining how to make an appointment to the Phase 1B first subgroup, individuals ages 75 and older, in its network who don't have access to its MyChart program.
"We understand the level of anxiety that people in our community have" about vaccinations, Priest said. "We have the same frustrations."
"We are using our vaccines as we get it week to week; not holding anything back.
"We are hopeful that the allocations will increase in the coming days and weeks, and we are very much prepared to expand our vaccine program when it does."
State update
DHHS said there were 6,851 new cases statewide, compared with 5,936 reported Monday, 8,833 reported Sunday and a record 11,581 reported Saturday.
The overall statewide total is at 635,975.
The number of COVID-19 related deaths reported Tuesday was 60, down from a record 142 reported Sunday.
DHHS lists COVID-19 cases and deaths on the day they are confirmed by medical providers and public health officials, so individuals may have been infected or died days before their cases are counted.
The statewide COVID-19 hospitalization count was at 3,940 as of 12:15 p.m. Tuesday, up 97 from 3,843 on Monday.
A record high of 3,960 was reported Thursday and Friday.
The 17-county Triad region had 1,024 hospitalized COVID-19 patients as of Tuesday's report, down 20 from Monday's report. The daily high is 1,078 reported Friday.
The Charlotte region had the highest statewide level, at 1,034 on Tuesday, for the first time in 12 weeks.
Statewide, there was a 14.7% positive rate out of 59,432 tests conducted Sunday. The record positive rate is 17.5% of the 25,882 tests conducted Jan. 4.