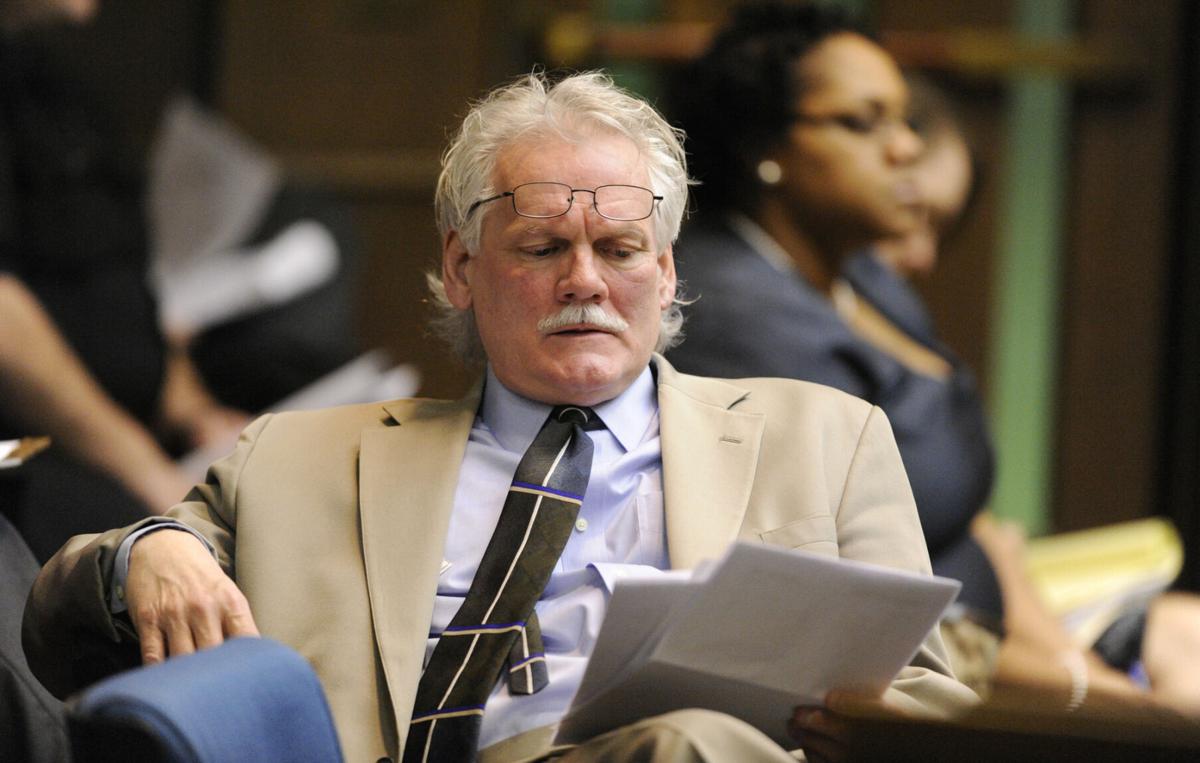 If you ever had the good fortune to be in the same room with Pete Clary, be that a courtroom or a barroom, odds are good you might have heard him before you saw him.
Not that Clary, the first chief public defender for Forsyth County, was overly loud. He wasn't. Rather, it was because he was passionate in his beliefs and he'd express them in no uncertain terms - no matter who was listening.
"My most vivid memory of Pete isn't of him as a public defender," said Tom Keith, the longtime district attorney and familiar foil. "It's him holding court down there at First Street Draught House after 5 o'clock on a Thursday or a Friday. It was never the same without him down there."
George "Pete" Clary, skilled trial lawyer, proud veteran, doting father and fierce advocate for underdogs - in particular the disabled and the disadvantaged - died Wednesday after a period of declining health following a lung transplant.
Fierce advocate
It's difficult to know where to start in describing Clary and telling a (partial) story of a rich and colorful life.
The resume stuff, the biography, is easy. Clary grew up in Concord and started college at the University of North Carolina at Chapel Hill.
I doubt he'd mind me saying so - Clary was nothing if not self-deprecating, and told the story himself many times - but his academic career there led him into the arms of Uncle Sam after three years in Chapel Hill.
He served in the U.S. Army's 82nd Airborne, made it to staff sergeant and used his GI Bill to finish school at UNC Charlotte in 1977. Pete was proud of having earned his jump wings as a paratrooper and got a kick out of calling former infantry soldiers "legs."
Clary graduated from Campbell Law School in 1981, and began a long career as a trial lawyer.
He worked in private practice, as a public defender in Guilford County and started from scratch the Forsyth Public Defender's office upon his appointment in 2003. He served three, 4-year terms and received in 2018 the Harvey Lupton Award for a lifetime of achievement from the county bar association.
But that's just the one-dimensional, resume stuff.
The 3-D, larger-than-life stories, those come from his friends, family and colleagues.
Keith, who could never be mistaken for a bleeding heart, appreciated the pragmatic way Clary approached the administration of justice and the fact that he continued to try cases after being appointed.
"Pete wasn't just an administrator. He was a good trial lawyer and he wanted to keep his hand in it," he said Thursday. "He was one of those people who made the system work."
Lori Sykes, an assistant city attorney who works with the police department, also noted Clary's touch.
"He knew how to make the system work for the person," she said. "That's what he taught me. We were on opposite sides (of the courtroom). I knew the law, but he taught me how to be an effective lawyer."
Paul James, Clary's successor at public defender, is known for his precision and deep technical knowledge of the law.
"His heart was always in the right place," James said of Clary. "Pete was Captain Kirk and I was his Dr. Spock."
On the personal side, Clary was a proud father to Nora Holland Elizabeth "Petesie" Clary, 28, Kennedy Clary, 15, and Sam Clary, 13.
Petesie was born with Rett syndrome, a rare genetic disorder that causes young girls to stop developing and regress. That drove Clary to become a ferocious advocate for people with disabilities. He served on the boards of CenterPoint and the Disability Rights N.C., a nonprofit that helps people with disabilities understand and protect their civil rights.
If he thought something wasn't being done correctly - or someone wasn't doing their job - Clary was not shy about saying so.
He battled with staff at CenterPoint, badgered the school officials and lobbied the Legislature.
"He got in a number of fights (advocating,)" James said. "I'd bet he won most of them."
Always a fighter
Without doubt, those who knew Clary well spent part of the day telling Pete stories and laughing through their tears.
"Everybody has one," Sykes said.
I have one, too, straight from the man himself, so forgive the small indulgence.
Way back in the 1980s and early '90s, downtown Greensboro had a bar known familiarly as the Rhinoceros Club.
The Rhino, as it was known to regulars, was members-only, thanks in part to the state's weird laws regarding liquor sales. And Clary, a rakish, devil-may-care lawyer about town, served as a part-time door guy.
Anyhow, one night in 1985 after he'd played a concert in the Greensboro Coliseum, Bruce Springsteen showed up at the Rhino. Not knowing the local custom of not tolerating those who sat on top of the booths, Springsteen proceeded to do just that.
So Clary, at his boss' behest, told the Boss to cut it out. "And he did," Pete said on more than one occasion.
After not getting re-appointed for a third term as public defender, Clary settled into retirement. He was Petesie's full-time caregiver after her mother died in 2011.
"A senior citizen on a fixed income," he liked to say.
In his last few years, Clary struggled with lung disease that restricted his breathing. He had a lung transplant on Easter Sunday 2019.
(No, he wasn't a smoker, not that it should matter.)
"As cantankerous as Pete could be, his care team really grew to love him," said Sykes, who helped Clary navigate the health-care system as his health declined. "They all said they'd never seen anyone fight as hard as he did."
No doubt that's true. And be certain he told them exactly what he thought while doing so.