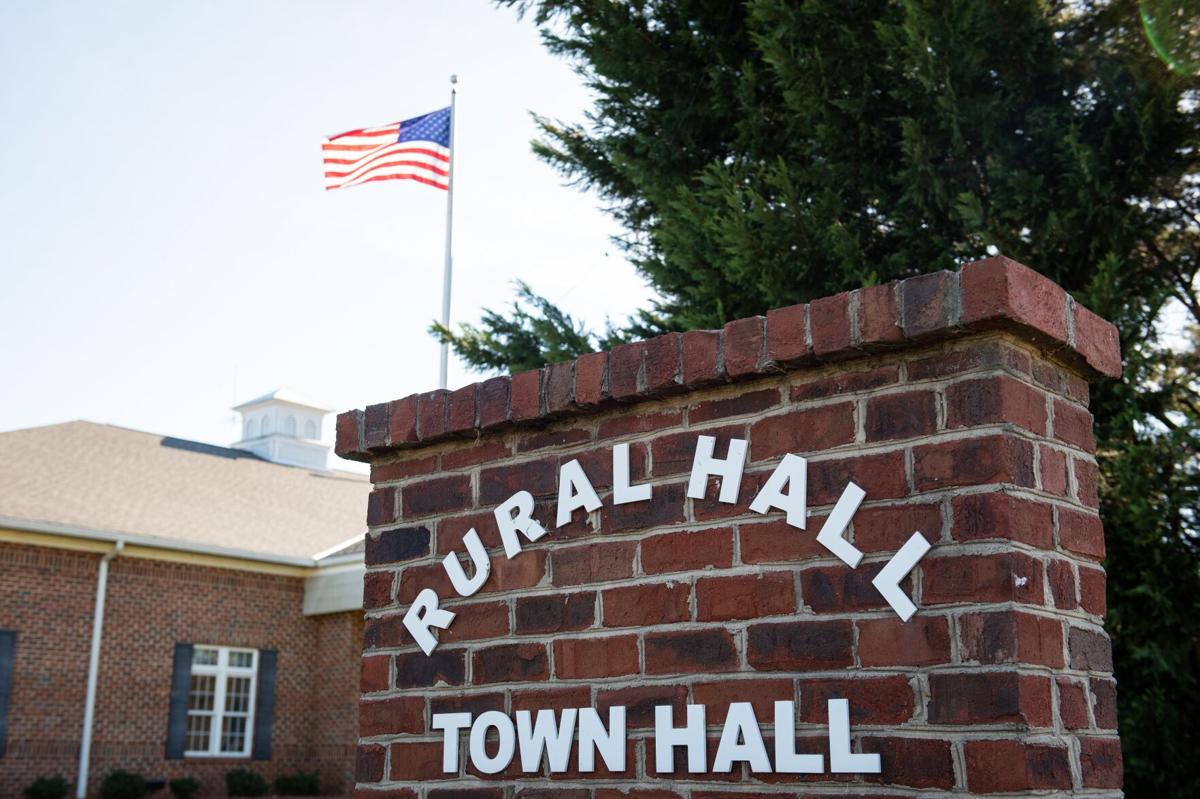 Rural Hall has filed a new lawsuit, accusing its former town manager of having sex with the town's fire chief in violation of the town's code of ethics.
Town officials also accuse Megan Garner of breaching her fiduciary duties by drafting what they say was an illegally approved six-figure severance package for herself.
Garner, who is now the city manager for Graham in Alamance County, and Andy Marshall, who was dismissed Dec. 2 as the town's fire chief, could not be immediately reached for comment on Thursday. Garner did not return a message left on her office phone and Marshall did not return messages left at two cellphone numbers associated with him. Garner's attorney, Valerie Bateman, could not be reached for comment.
Randy James, the interim Rural Hall town attorney, filed an amended complaint against Garner on behalf of the town on Wednesday in Forsyth Superior Court.
The new allegations follow more than a month of head-spinning political turmoil in the small town of about 3,500 residents in the northern part of Forsyth County.
On Oct. 21, three town council members — John McDermon, Ricky Plunkett and Jesse Stigall — all resigned. Garner and Town Attorney D. Barrett Burge also resigned that day. This all happened after McDermon, Plunkett and Stigall approved a six-figure severance package, or settlement agreement, for Garner. The amount of that severance package has not been disclosed, even though state law says that settlement agreements made on behalf of public officials cannot be confidential.
The day after that meeting, Oct. 22, Garner officially accepted a position as Graham's city manager, where her annual salary is $120,000. Garner, who was town manager since July 2017, was paid $111,514 a year in Rural Hall. Marshall, who had been fire chief since July 2011, was paid an annual salary of $70,770.
Since then, State Treasurer Dale Folwell requested that State Auditor Beth Wood conduct an investigation into the town's finances to clear up allegations that $1.5 million went missing from the town's budget during Garner's tenure. No criminal charges have been filed. Then, on Nov. 15, James filed an initial lawsuit against Garner over the six-figure severance package.
Reports of affair
The amended complaint filed Wednesday adds more fuel to the ongoing drama.
The lawsuit alleges that Garner violated the town's ethics code and the ethics code of the International City/County Management Association by dating Marshall, who reported to her.
The complaint said that in November 2020, Jason Hill, the director of Public Works for Rural Hall, went to Garner, saying that people were telling his employees that she and Marshall were dating and that they were living together. Marshall had been married since 2016; his divorce was finalized on Nov. 16, 2020, according to court documents. Garner divorced her husband in 2016.
The complaint said that Rural Hall residents had seen Marshall's Chevrolet Tahoe in Garner's garage numerous times over several months. Garner told Hill that she wasn't dating Marshall, the lawsuit said.
But in 2019, Marshall's then-wife discovered text messages between Marshall and Garner. When she confronted Marshall, he "admitted the personal dating relationship with Garner," the lawsuit said.
The lawsuit said that before dating Marshall, Garner had dated two other firefighters, and that Marshall retaliated against subordinates in the fire department over his relationship with Garner. The lawsuit does not detail what Marshall is alleged to have done. The lawsuit also does not identify the other two firefighters and it does not say whether those firefighters are still employed by the town.
The lawsuit alleges that Garner did not allocate enough money to the fire department, resulting in "fire trucks having bald tires, mechanical issues affecting basic performance of firefighting trucks, denial of firefighters access to Town Administration to voice concerns about Garner's relationship with (Marshall) or an objective review of employees job performance."
Hill told Garner that the rumors were hurting morale in the fire department and in other departments. James alleges in the lawsuit that the relationship should have led to both Garner's termination and disciplinary action against Marshall. And Garner, the lawsuit said, should not have been entitled to a severance package if the town council fired her for misconduct or she resigned to take another position.
"To counter the allegation of a relationship with Andy Marshall after being questioned by Jason Hill, Garner set about to create a narrative that she Garner had been falsely accused...by Hill and then Rural Hall administrative assistant Misty Meadows," James said in the lawsuit.
Meadows, who in August criticized the town's leadership, became interim town clerk last month and has now been hired as the town manager. Her annual salary is $78,995.
The lawsuit alleges that Garner told the former council members that she had been falsely accused. She also wanted Hill to be fired and suggested that Flinchum, Meadows and Gordon should be out of public office. The lawsuit alleges that she told the former council members that she needed to be compensated for "vile and public disrespect."
Job in Graham
She applied for the job in Graham in the spring of this year, and she got one or more of the former council members to provide references for her, according to the lawsuit. The lawsuit also alleges that she drafted the severance package on her computer during work hours and left out a notice about a pre-audit requirement in the final copy. The lawsuit said she misrepresented the agreement to Wade Gilley, the town's finance director.
Garner presented her signature on the severance package, or settlement agreement, twice — Oct. 14 and Oct. 20 but refused to "share the contents of the document" with Gilley, the town's finance director, according to the lawsuit.
After the council approved the severance package, the former council members and Garner attempted a transfer of the money from the town's account, but the transfer would not go through because the amount exceeded the town's transaction limits, the lawsuit said.
McDermon, Plunkett and Stigall are accused of violating their duties by approving the severance package. McDermon and Stigall could not be reached for comment on Thursday. McDermon has previously denied the allegations. Gordon referred all questions to Randy James, the interim town attorney.
Plunkett denied any wrongdoing. He said everything was done above board and in compliance with state law. He said that three attorneys worked with the council members in reaching an agreement on the severance package. One attorney was Burge, the other was an employment attorney whose name Plunkett said he couldn't remember. The third was Garner's attorney, Plunkett said. He said the employment attorney was hired to deal with employment issues. He declined to go into detail about what those issues were.
"There is no conspiracy and it was all done according to general statutes," he said.
The lawsuit seeks at least $25,000 in damages.