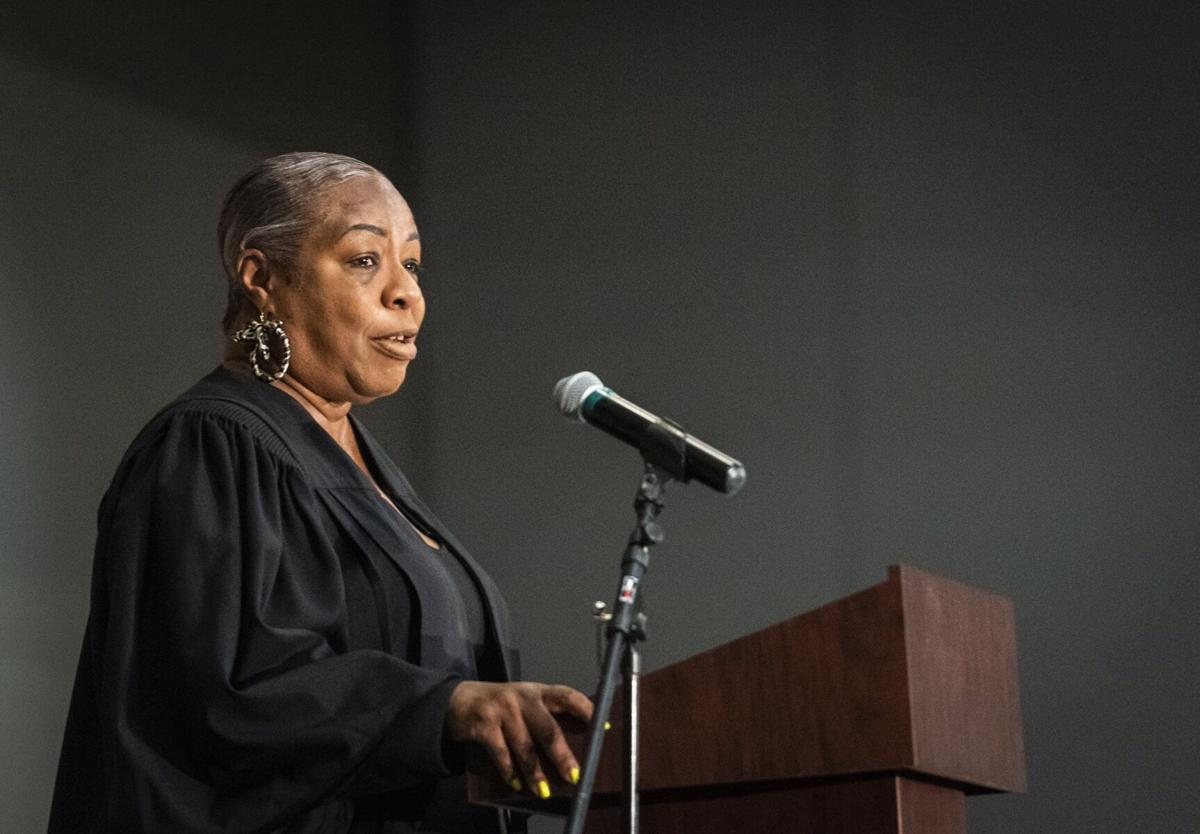 Forsyth District Court Judge Denise Hartsfield is retiring. Hartsfield was the county's second Black female judge on the district court bench.
Loretta Biggs, now a federal judge, was the first Black female district court judge in Forsyth County, serving from 1987 to 1994. 
Hartsfield, 67, is serving her fifth term and said Monday that the time was right to step down. Gov. Roy Cooper will appoint someone to serve the remainder of Hartsfield's term. Hartsfield's last day will be Dec. 1.
"For me, it's time to open the door so that someone (can come in) with a new vision and new ideas," she said. "It's part of a faith journey."
Hartsfield is a native of Winston-Salem and graduated with a degree in English from Spelman College in Atlanta in 1976. She obtained her law degree from Wake Forest University in 1991. Before becoming a judge, she worked as an assistant county attorney, handling child support, abuse and neglect cases for seven years.
Hartsfield was a law clerk for Judge Richard C. Erwin for the U.S. District Court from 1991 to 1993. She worked as an assistant district attorney and as an attorney for the Legal Aid Society of Northwest North Carolina.
She won election in 2002, winning the seat that was once occupied by the late Roland Hayes, the first Black district court judge in Forsyth County. Hartsfield ran for Hayes seat after Hayes opted not to run for re-election.
Hartsfield was the only Black district court judge in Forsyth County until 2008, when then-Gov. Mike Easley appointed Camille Banks-Prince as a Forsyth County district court judge. Frederick Adams II, a Black criminal defense attorney, was recently appointed to serve the remaining term of Lisa Menefee, who had served as chief district judge and who retired in August.
Hartsfield said she is proud of the work she did in juvenile court and presiding over juvenile drug-treatment court. She said she believes her presence on the bench and the conversations she and other judges were able to have provided a space for better decisions.
"I think what happened was that many of the old fashioned norms in the courthouse started to change," Hartsfield said.
"It's a better system and one that is not as punitive," she added.
Hartsfield also worked to establish the Forsyth County School-Justice Partnership, which would bring together school officials, law-enforcement officers and court officials.
The idea would be to examine ways to reduce the number of students who are referred to juvenile and criminal court proceedings because they have misbehaved or committed low-level misdemeanors in the school system.
In 2012, the N.C. Supreme Court suspended Hartsfield for two months without pay for judicial ethics violations based on allegations that she fixed traffic tickets.
The Forsyth County Bar Association held a meeting to consider nominations of people who could be appointed by Cooper to Hartsfield's seat. The top five nominees were Valene McMasters, Kristin Kelly Broyles, Andrew Keever, Benjamin Porter and Artrese Ziglar.
It's not clear when Cooper will make a decision.