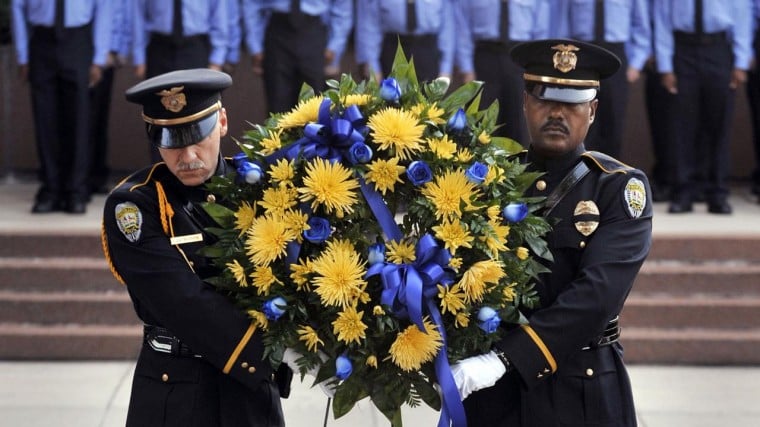 A state House bill advanced Tuesday that would allow some law-enforcement officers to purchase up to four years' worth of credits in the state employees' retirement system.
Both House Bill 417 and companion Senate Bill 381 are titled "The Sergeant Mickey Hutchens Act" after the Winston-Salem police officer who died in the line of duty in October 2009.
HB417 has to clear the Appropriations and Rules and Operations committees before going to the House floor for a vote.
The Republican members of the Forsyth County legislative delegation — Sen. Joyce Krawiec and Reps. Donny Lambeth, Lee Zachary and Jeff Zenger — serve as primary or co-sponsors of the bills.
"It is as much a way to recognize him, and acknowledge he was one of those who might have benefited from this change in law," Lambeth said.
"I'm not certain how many officers will be affected by this change," Krawiec said. "I know it has been an important issue for our law enforcement officers."
The bills would allow law-enforcement, probation/parole and correctional officers who hold an advanced law enforcement or corrections certificate "to purchase at full cost up to four years' creditable services in either the teachers and state employees' or the local government employees' retirement system."
The certificate must be issued by either the N.C. Criminal Justice Education and Training Standards commission or the N.C. Sheriff's Education and Training Standards commission.
The bill, if signed into law, would go into effect July 1.
Health Plan bills
The first of at least four State Health Plan-focused bills advanced Tuesday on a second legislative path.
House Bill 177 cleared the House Health committee and has been sent to the Rules and Operations committee.
A companion Senate Bill 159 was approved by a 45-1 vote in the Senate on April 15. It has not been addressed in the House.
The key element in both versions is the bill would increase the threshold from $500,000 to $5 million that a contract with the State Health Plan must reach before it requires approval by its board of trustees.
The bills also would permit the SHP to allow parents of a child who is disabled to remain on their coverage past their 26th birthday. Verification of the child's disability would have to be provided to the SHP within 60 days of the child turning age 26.
The rest of SB159 deals with technical changes.
The treasurer's office oversees the SHP, which has more than 727,000 participants that include current and retired state employees, teachers and legislators. It is North Carolina's largest purchaser of medical and pharmaceutical services.