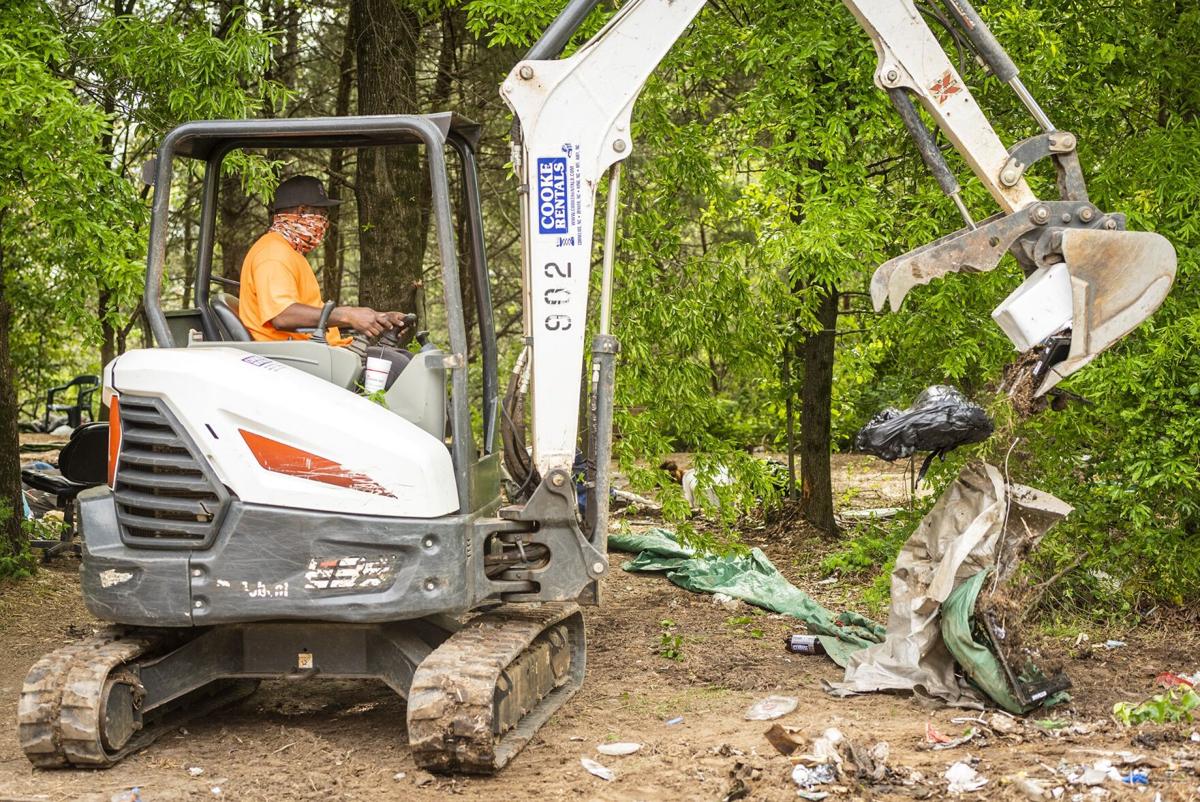 A single police officer stood near the former Tent City homeless camp off Akron Drive Thursday afternoon to keep anyone from going back onto the property.
A cleanup crew had finished the job of removing piles of bagged garbage and even the remaining tents that were abandoned on the city-owned property when Winston-Salem officials ordered the residents to leave on Wednesday.
Still, there was plenty of evidence that people had been staying there. Cigarette lighters, ink pens, tent cords and even hypodermic needles lay in the dirt among other assorted small items.
City officials say the death of a man at the camp on Tuesday forced their hands. No further information was available on the death, which local activists said involved an out-of-town man who had just come to the camp and who was found dead in a tent on Tuesday.
The camp was already under notice that it would eventually have to close. Police had begun to shut it down in March, but the city council backed off, deciding to give community agencies more time to work with the residents and find them shelter.
Community activist Arnita Miles, who organized past efforts to bring food and supplies to Tent City and other camps, said that after Tent City did close this week, about seven of the 15 former residents went to a vacant lot on Cleveland Avenue owned by one of the residents.
One or two former camp residents went to a shelter, said Andrea Kurtz, a housing director with United Way of Forsyth County. Kurtz said three others had gone to a hotel.
Miles said two of the homeless people are sleeping under bridges and that two others went to another homeless camp. Miles said she will continue to bring supplies to the other four or five homeless camps.
Kurtz said agencies that work with the homeless will continue their efforts to connect the former Tent City residents and other homeless people with services — and housing.
Kurtz said at least one couple from the Tent City was accepted into what is called a rapid rehousing program, but Kurtz didn't know if they have gotten into an apartment yet. Kurtz said Adult Protective Services is helping two others with housing options.
Miles, in a letter to city council members, said the city and agencies that have been helping the homeless "have failed them." Kurtz said it is not true that no one is being helped and said that since last March a least 75 people have been put into housing from a program to serve the medically fragile.
Kurtz said 19 homeless residents have been housed from homeless shelters since January, with three more signing leases on Monday.
But housing is tight, Kurtz said.
"We have an affordable housing crisis," she said. "We have been putting folks into housing every month of the pandemic. It is slow and it is hard."
One option available to all the residents of Tent City was to go stay in one of the city's homeless shelters, but that's not what some homeless people want to do for a variety of reasons. Some chafe at the rules. Miles said some won't go to shelters out of fear of assault, including sexual assault, or theft and abuse.
City officials said they have no plans at this point to shut down other homeless camps as was done with Tent City.
Assistant City Manager Tasha Ford said that a more detailed cleanup would be carried out at the Tent City site to remove any remaining items.
Ford said the city will be preventing people from returning to the site.
"We will go in and address some of the tree cover so that we have a clear line of sight," she said.