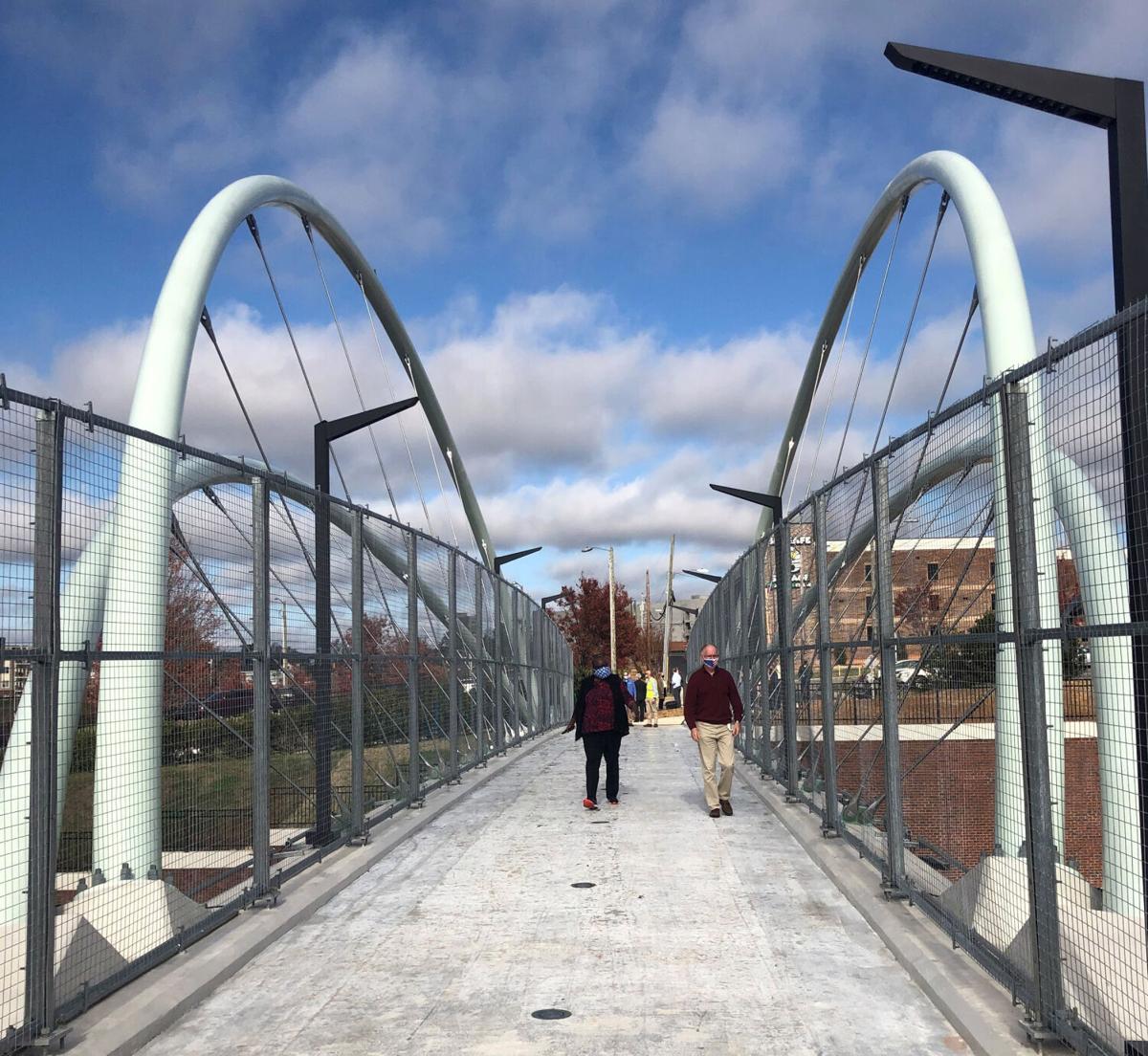 The Green Street and Strollway pedestrian bridges over Salem Parkway are now open, with cut ribbon ends to prove it.
State transportation and Winston-Salem officials, along with representatives of the contractor, joined members of the Creative Corridors Coalition on Friday morning as that group hosted ribbon cuttings at the bridges.
"This is one of the coolest projects that I and my staff have ever been a part of," said Pat Ivey, the division engineer for the N.C. Department of Transportation, as he spoke to a small audience invited for the event.
Creative Corridors is a citizens' group that raised money to add a creative flair to design elements along the renovated Salem Parkway, the new name for the downtown freeway once known as Business 40.
The group's efforts are reflected in the twin arches over the intersection of U.S. 52 and Research Parkway and in the commissioned designs for the two pedestrian bridges opened Friday.
Bill Davis, who formerly chaired Creative Corridors, told attendees how the metal arches of the Green Street bridge were inspired by Moravian architectural themes seen in Wells Fargo Center and in arches over doorways all over town, along with the pattern that bare oak tree limbs make against the sky.
The Green Street bridge was designed by Donald McDonald, who also designed the Cooper River Bridge in Charleston, S.C.
A different theme is literally emerging on the Strollway bridge, as plantings grow on what has been described as a "land bridge" that carries pedestrians over the freeway.
That project was designed by Walter Hood, a noted landscape architect.
Brenda Fulmore, who currently chairs the Creative Corridors group, said the idea was always to make improvements that would set Winston-Salem apart.
"It was a vision," she said. "Now, as we are standing here today, it is a reality."
Winston-Salem Mayor Allen Joines, South Ward Council Member John Larson and others joined in the accolades for the project, which Ivey said is already getting attention across the state.
Meanwhile, Creative Corridors has planned a coronavirus-safe party to celebrate the bridge openings from 11 a.m. to 3 p.m. Saturday. The public is invited to drop in and see the bridges at any time during the period, but they're also asked to register at creativecorridorscoalition.com for giveaways.
Event organizers promise free parking at Truist Stadium, food and drinks for purchase and music. Guests should wear a mask and practice social distancing.
Get local news delivered to your inbox!
Subscribe to our Daily Headlines newsletter.