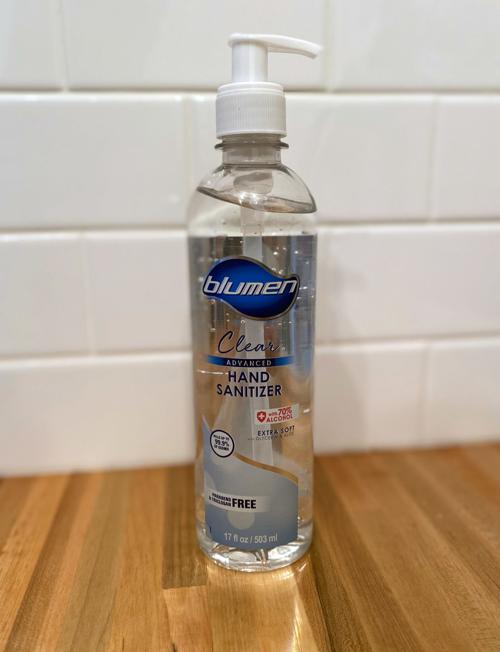 A hand sanitizer recently distributed by Forsyth County under a COVID-19 relief effort has been recalled because it contains methanol, a toxic substance.
Businesses that took part in the county's relief program are getting emails from the county warning them not to use the hand sanitizer, which was flagged by the U.S. Food and Drug Administration.
The product, distributed in a 17-ounce bottle, is labeled Blumen Clear Advanced Hand Sanitizer. The methanol in the product can be poisonous when absorbed through the skin or fatal if consumed.
Local health officials are also warning consumers in general that they need to check their hand sanitizers against a recall list the FDA issued for hand sanitizers that consumers should not use.
"Methanol is a wood alcohol," said Joshua Swift, the Forsyth County health director. "It could be life-threatening. Methanol can result in nausea, headaches, permanent blindness, coma and damage to the central nervous system."
"I would encourage the general public to look at their hand sanitizer, look at the lot number and name of the company that produced it, look at the NDC (National Drug Code) and check that with the FDA web site," Swift said.
The FDA said it had seen a sharp increase in the number of hand sanitizers that were labeled as containing ethyl alcohol, or ethanol, but which tested positive for methanol contamination.
Kyle Haney, the administrator of Forsyth County's economic development program, said that about 200 bottles of the contaminated Blumen hand sanitizer were distributed in recent days to local businesses.
The hand sanitizers were distributed under a program to help businesses reopen during the coronavirus pandemic by supplying them with masks, sanitizer, gloves and other items.
Luckily, Haney said, almost half of the bottles on the FDA list were handed out Thursday, which made it possible for the county to quickly contact the businesses and tell them not to use them.
That leaves about 108 bottles that may have gone out to other businesses taking part in the COVID-19 relief program, Haney said. Lacking a specific list of those businesses, the county is sending an email to all participating businesses and asking them to check their stock.
The county will replace contaminated bottles with another kind it has been distributing, one that isn't on the FDA list.
The FDA says that people should wash their hands to defend themselves from the coronavirus, but that consumers can use an alcohol-based hand sanitizer that contains at least 60 percent ethanol if they can't readily access soap and water.
"Obviously, the first defense is to have people wash their hands with soap and water for 20 seconds," Swift said. "People should not put any hand sanitizer in their mouths."
The FDA said that while all who puts the contaminated hand sanitizer on their hands are at risk for methanol poisoning, young children who accidentally consume the product and people drinking it as an alcohol substitute are most at risk.
The FDA said people should also watch out for hand sanitizers that make false or misleading claims, including claims of prolonged protection. People should beware of products that claim to be FDA approved, since the agency does not issue approvals for hand sanitizers.
Concerned about COVID-19?
Sign up now to get the most recent coronavirus headlines and other important local and national news sent to your email inbox daily.