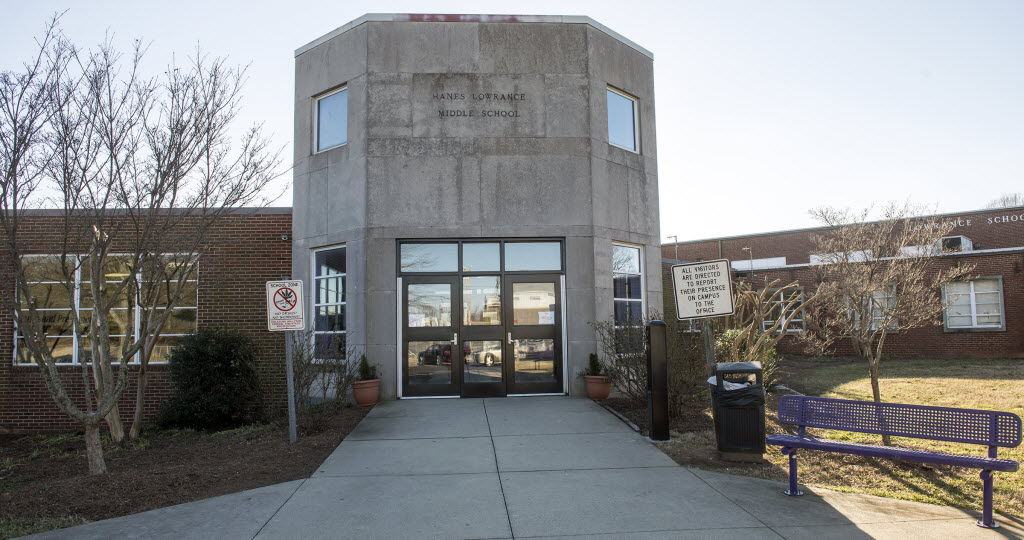 Hanes and Lowrance middle schools will stay empty next year while school officials decide how to address the threat of toxic vapors that tests conducted earlier this month found in significant levels in the soil below the schools but not inside classrooms.
The Winston-Salem/Forsyth County Board of Education voted 7-1 Thursday night to keep students off of the campus for the 2015-16 school year, instead keeping Lowrance students at Atkins High School and putting all Hanes students on the former Hill Middle School site.
Board members said the decision would allow families to plan and make choices about where to send their children in the fall while giving the district time to address the issues caused by groundwater contamination under the property – the result of chemicals spills at a manufacturer across the street decades earlier.
Elisabeth Motsinger was the lone opposing vote. Vic Johnson was absent.
Monitoring wells on the school property have measured concentrations of two chemicals – PCE and TCE – well above state safety standards. Earlier this month, a consulting firm hired by the school district conducted indoor-air, outdoor-air and soil vapor tests to see what, if any, threat those underground chemicals posed to students and staff inside the schools.
Tests conducted Feb. 14 and 15 for toxic gases below the buildings found levels of PCE above the screening limit set by the N.C. Department of Environment and Natural Resources in 14 of 31 locations tested.
Forty-five indoor-air samples were also collected, 31 of which corresponded to the location of the sub-slab tests. While PCE was detected in all 45 of the tests, it was found in concentrations far below screening limits. TCE was found in nine rooms, also in concentrations below safety standards. Will Service, an environmental toxicologist with Mid-Atlantic Associates, said the PCE detected was comparable to what is often found inside buildings without a subsurface source, like groundwater contamination.
"The indoor air results we got are within the expected range of concentrations in indoor environments for buildings not impacted by subsurface (contaminants)," Service said. "The data do suggest there is contribution from subsurface sources in the indoor air, but in very low concentrations – well below any … screening levels."
In a 7-2 vote Feb. 10, the school board voted to move students off the Hanes and Lowrance campus for the remainder of the school year. After hearing the results, board members said they stuck by that decision.
"I stand by my decision," said Mark Johnson. "Volatile compounds are entering classrooms through vapor intrusion as a result of the contaminated groundwater."
Dana Jones, the board chair, said there is still no 100 percent guarantee that students and staff would be safe in the buildings.
"I still think it was the right decision," she said. "When you have students, children… you do what's right. You err on the side of caution."
David Singletary was one of two board members –with Motsinger – who voted against moving students from Hanes and Lowrance for the remainder of the school year. Thursday, he voted in favor of keeping students off of the campus next year.
"The move was already made," he said. "We're past that point … Now, we have to move forward."
School officials began the process of moving the schools Wednesday night and were expected to finish today, ahead of schedule. The Lowrance program, which serves special-needs students, will finish the school year at Atkins, while Hanes seventh- and eighth-graders will move into Hill and Hanes sixth-grade will move temporarily to Smith Farm. Outdoor pods will be added to the Hill campus over the summer to accommodate the entire Hanes program in the fall.
The concentrations found in the buildings during this most recent round of testing are similar to results from earlier indoor-air tests conducted between 2005 and 2007 and again in 2014. This was the first time, though, that sub-slab soil gas samples were taken. Holes were drilled in classroom floors and samples collected from the ground below. Preliminary results indicate that toxic vapors are being emitted from the plume of hazardous waste in the groundwater below the property, but those chemicals are not getting into the buildings, Service said.
"There is stuff under the slab… but it doesn't appear that it's finding its way into the building at concentrations that are significant," he said.
Low concentrations were also measured in the five outdoor air tests. The testing weekend was particularly windy, with wind speeds as high as 39 mph and gusts as high as 49 mph. Service said wind could have impacted those results.
Service said one test was not enough to make any claims about the buildings' safety and that more tests could be needed. Volatile organic compounds, like PCE and TCE, are known to occur in varying degrees over time with short spikes of higher concentrations possible. Service said they can be unpredictable, which is why samples are collected over long periods. Indoor-air samples were collected over eight hours.
"I did measure some puffs of (chemicals) coming from the subsurface during very high wind conditions …" he said. "I saw some puffs, but then again in those rooms over an eight-hour period, (concentrations) were very low. We have to look at, not the peaks and the valleys, … but average exposure over time. Only then can we quantify risk."
Service said in many cases, a preemptive mitigation system is cheaper and provides more certainty about safety than additional testing.
Mid-Atlantic's final report, due mid-March, will include more thorough analysis of the findings and possible recommendations for future action.