Macy's Inc. said Tuesday it is closing its Hanes Mall store, the second of five anchor tenants to depart in the past year.
A clearance sale will begin this month and run about eight to 12 weeks. The company said an exact closing date has not been set and will depend mostly on the success of the clearance sale.
The three-level Macy's store is 151,415 square feet, with the overall property contains 9.68 acres when including its parking lot.
Macy's owns the property.
The anchor space was added to Hanes Mall in 1990 — the same year as the Dillard's anchor store — and was originally owned by the Thalhimers department store chain. Thalhimers stores were converted to Hecht's in 1992 after a sale to the May Company. Hecht's became Macy's in 2006 after the merger of May and Federated Department Stores.
As for the closure, "Macy's previously shared this information with our valued colleagues," said Julianne Olivo, a media-relations manager for Macy's. "Regular, nonseasonal colleagues who we are unable to place at nearby Macy's stores will be eligible for severance, including outplacement resources."
Olivo said the decision to close a store "is always a difficult one."
"Macy's is proud to have served the Winston Salem community, and we look forward to continuing to do so at Macy's Friendly Center (in Greensboro) and online at macys.com," she said.
Sears, an original Hanes Mall anchor from 1975, closed in January 2019. The Sears property is owned by the real-estate arm of Novant Health Inc.
Hanes Mall officials deferred comment on the Macy's closure to its corporate owner and operator, CBL Properties.
Stacey Keating, CBL's senior director of public relations and corporate communications, said the company was recently made aware of Macy's plans.
Based on news reports, Macy's is closing at least 15 stores in early 2020. It announced plans in August 2016 to close at least 100 stores nationwide.
Olivo said Macy's doesn't yet know the total number of stores that will be closed but will have more information on Feb. 5, the company's investor day.
The Hanes Mall Macy's appears to be the only one closing in North Carolina. In addition to Macy's Friendly Center, the retailer retains two stores in both Charlotte and Raleigh and one each in Durham and Fayetteville.
"We've not been made aware of any other closures in our (CBL) portfolio," Keating said.
Keating declined to comment when asked how CBL would work with Macy's to find retailers or others willing to buy the vacated space and parking lot.
"We are evaluating alternatives and will share more information when plans are finalized," Keating said.
Mall's challenges
The pending departure of a second anchor tenant creates replacement challenges for Hanes Mall and CBL.
All five Hanes Mall anchors — counting Belk's, Dillard's, J.C. Penney and Sears — own or owned their store properties and parking areas.
The 151,415-square-foot Macy's store is valued at $2.57 million, according to Forsyth County tax-parcel data, while the 9.68 acres are valued at $6.6 million.
The mall and CBL were fortunate with the Sears nationwide downsizing in that Novant Health's real-estate arm spent $14.5 million in October 2018 to buy the 175,000-square-foot mall space, the outparcel automotive building and the parking lots — 16.72 acres total. Novant hasn't made its plans for the space public.
Real estate as an asset
Business Insider reported Tuesday that several of the Macy's stores were chosen for closing in large part because their leases were expiring.
The Motley Fool financial website said in a May 29 article that between fiscal years 2016 and 2018, Macy's generated more than $1.5 billion of proceeds from selling real-estate assets.
At that time, Macy's management told The Motley Fool that the pace of asset sales would moderate in 2019.
Macy's has discussed partnering with Brookfield Asset Management to pursue potential retailers interested in leasing space in outparcel storefronts built on its parking lots, as well as mixed-use developments that might include multifamily housing, office and hotel space.
For example, Belk's parking area contains two outparcels owned by a CBL affiliate — Red Robin Gourmet Burgers and Brews at 188 Hanes Mall Circle and BJ's Restaurant and Brewhouse at 192 Hanes Mall Circle.
"The upside from these development projects is substantial," The Motley Fool said. "However, they will take years to pay off, which is why asset sale gains are moderating for now."
A study by Cowen & Co., a financial-services research firm, put the value of Macy's real-estate assets at $16 billion as of late 2017.
"The vast majority of Macy's real estate value will remain 'trapped' unless the company decides to sell and downsize, or close, stores," according to The Motley Fool. "Crucially, if the bears are right and Macy's plan to reinvigorate sales growth fails, it would probably make sense to downsize the chain, including selling some of the more valuable stores.
"The proceeds could be used to pay down even more debt or could be returned to shareholders."
Remaking of malls
Michael Walden, a N.C. State University economics professor, said he wouldn't be surprised if Hanes Mall — and other North Carolina malls — begin losing J.C. Penney as an anchor.
J.C. Penney, an original Hanes Mall anchor, owns its 13.86-acre property and 198,724-square-foot store. Because it has held onto its property since the mall opened, there is no property and building value listed on the county's tax-parcel website.
"Look for a major re-making of the mall, possibly including offices and residences," Walden said.
"This transformation is occurring to a couple of malls in Raleigh.
"The location is still valuable — it's the use of the location that will change."
Hanes Mall signage

Hanes Mall Boulevard extension site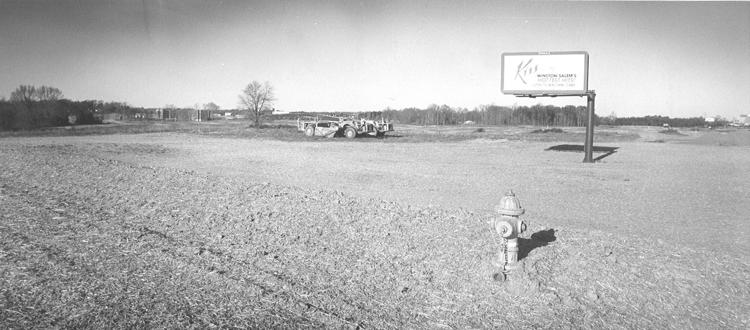 Hanes Mall shopping center site, 1981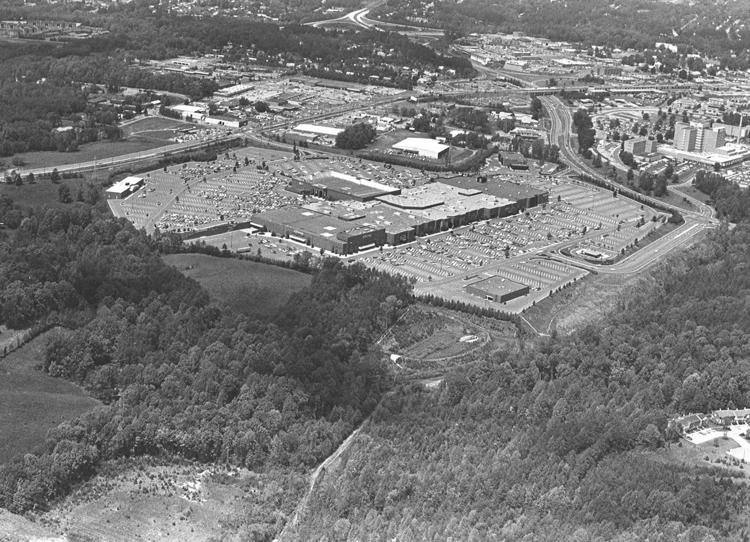 Hanes Mall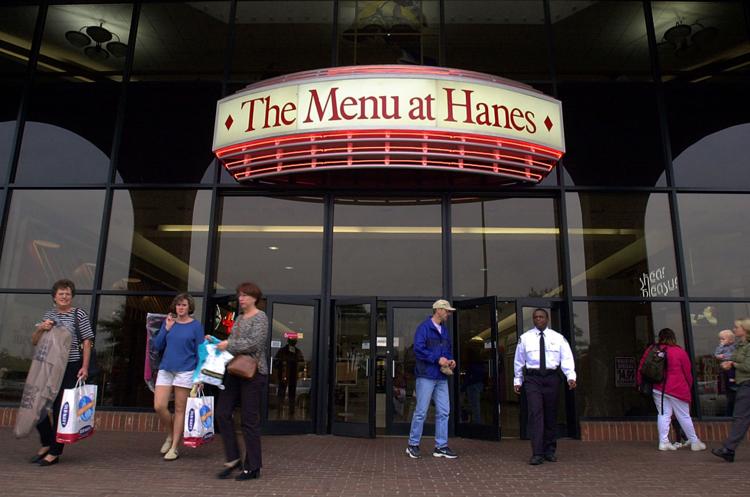 Aerial view of Hanes Mall Blvd. construction, 2001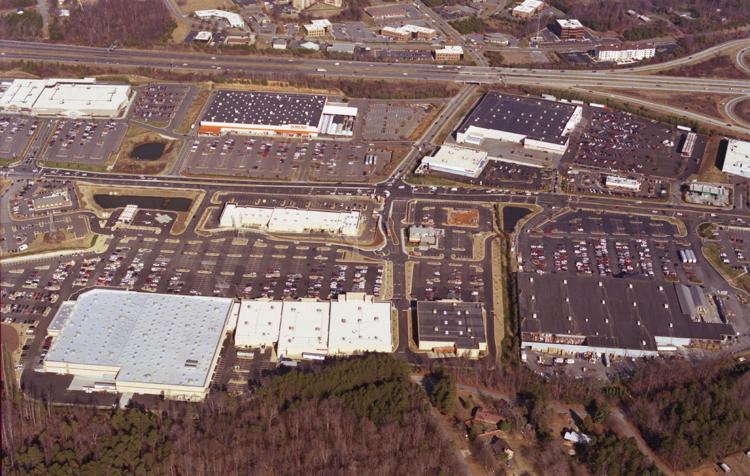 Christmas shopping at Hanes Mall, 2001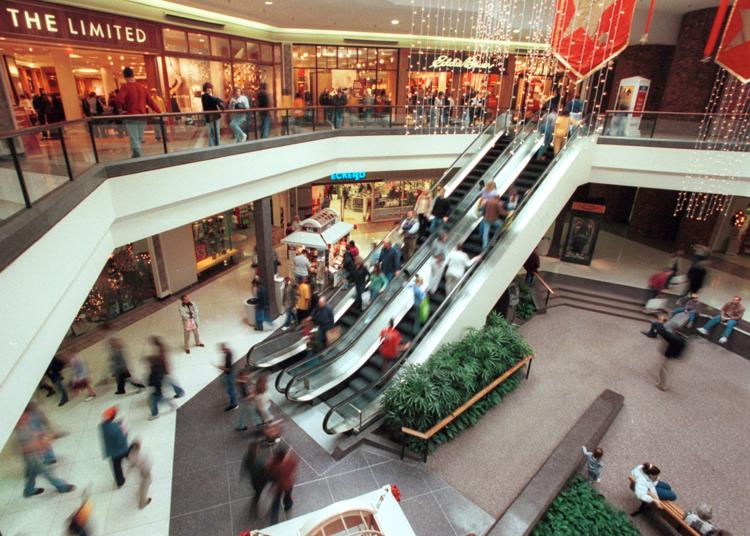 Carosel at Hanes Mall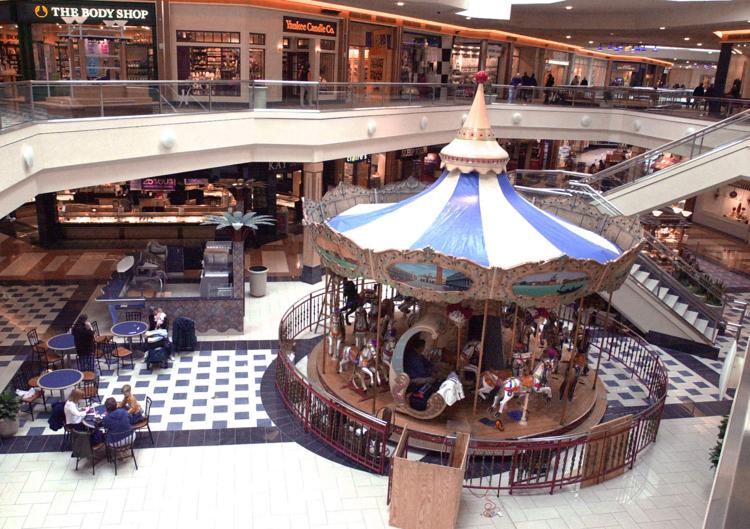 Silas Creek Crossing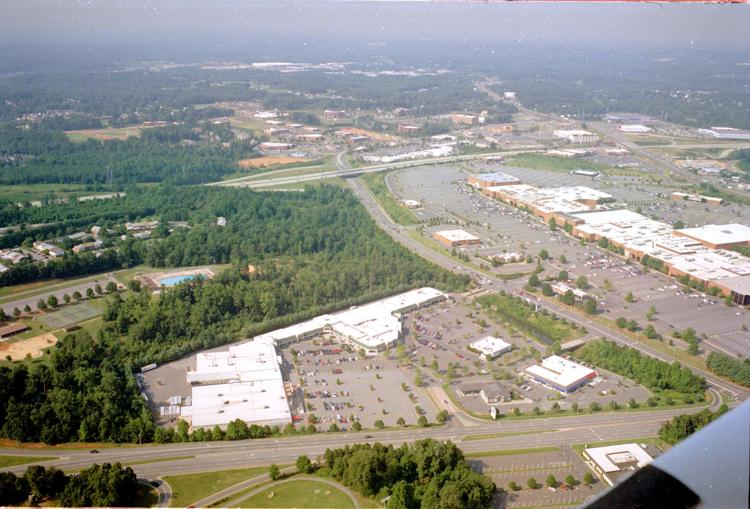 Hanes Mall Food Court, 2002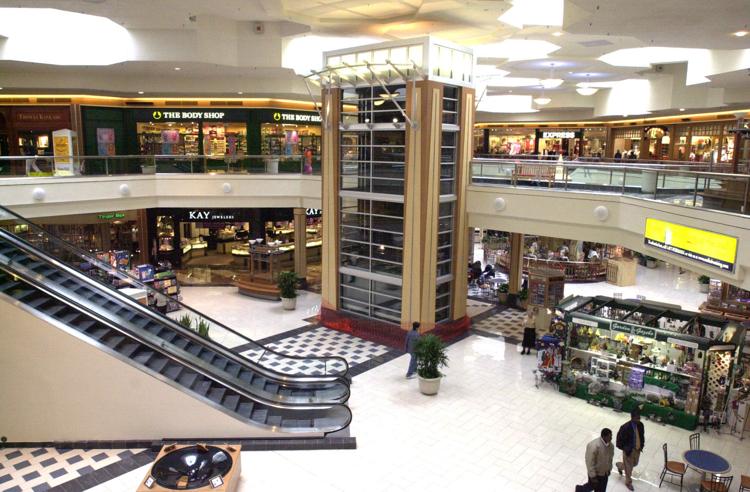 Christmas shopping, 2002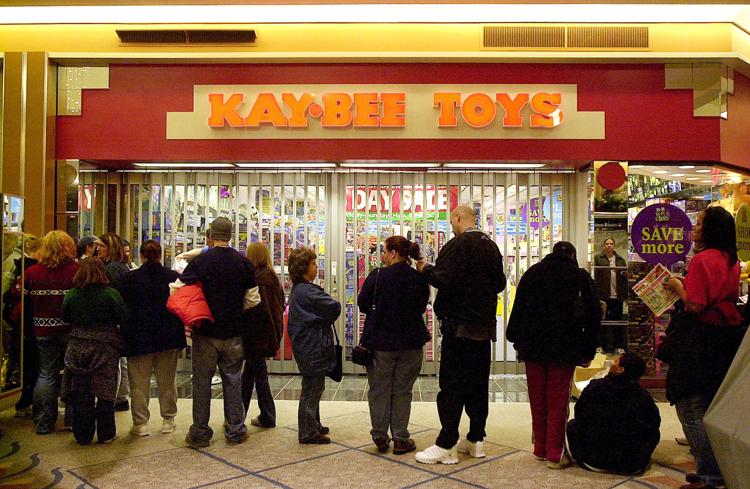 Renovations at Hanes Mall