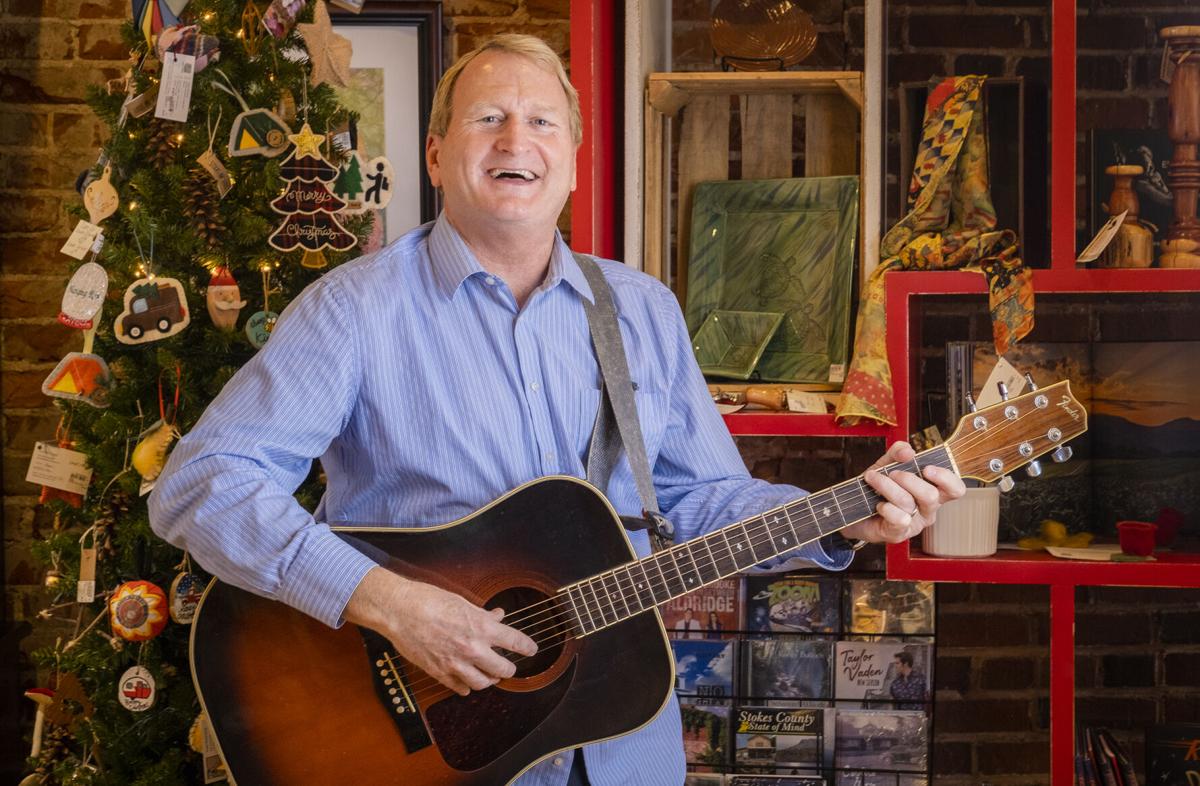 More than 15 years ago, Eddy McGee sat down to write a Christmas song for all the folks who spend the holidays alone in rest homes, reflecting on happier days.
"Another Christmas Eve, as I look out my bedroom window, and wonder where the kids could be, it seems so long ago," he sings in the opening verse of the melancholic, three-hanky folk song. 
This song has special resonance for McGee this year. For the first time in his life, he won't get to see his mother, Martha, on Christmas. She became a resident at Priddy Manor in King a few weeks before the spread of COVID-19 forced assisted living homes to restrict visitors. 
"Typically, we'd have a big family gathering," said McGee, who is the executive director of the Stokes County Arts Council. "We'd be there Christmas morning. This is different, and I'm definitely relating to this now. I didn't know it at the time, but she's the someone I was singing about when I wrote this. Years later, she's the subject of my song."
What hits home even more is that his mother played the role of a rest home resident in the 2010 video of the song. 
Shot at an assisted living home in Walnut Cove, the video includes black-and-white photos of Martha McGee that capture the loneliness of what many residents or assisted living and nursing homes must feel around the holidays.
In the photos, she looks out a bedroom window into the darkness, stares plaintively at decorations on a Christmas tree, holds a framed photo of her children and sits by herself in a wheelchair in an empty hallway as McGee sings wistfully "and here I sit alone with all my Christmas memories and all I have is one Christmas wish: sing 'Silent Night' for me."
Years ago, McGee was asked to sing a Christmas song at the church he attended. Rather than sing one of the tried-and-true carols, McGee decided to write his own song. About 10 days before he was to sing, and with not one word written, he took a run past an assisted living home in his neighborhood.
"I glanced over and there appeared to be a lady sitting in a dark room looking out the window," McGee recalled. "I could only see her silhouette. I thought, 'Oh my God. I know what I'm going to write.'
"Rest Home Christmas Eve" touches on the sadness that many residents feel at the holidays and their memories of Christmases' past. It includes school children singing a refrain of 'Silent Night.'
McGee sang his new composition at church and, upon finishing it, was met with silence.
"People were crying or just pondering it, and I thought that maybe I had written something that was too heavy," he said.
McGee added the song to his setlist when his oldies band played at holiday parties, using it as an opportunity to remind people of all the older folks spending the holidays alone.
In 2010, David Dalton with Blue Water Media shot a video for the song. Initially, they thought they would photograph stills of residents of Walnut Ridge Assisted Living Walnut Cove, but that got complicated.
McGee found an easier route. 
"I told my mom, 'We're going to Walnut Ridge. You're not being admitted but bring a gown. And you've gotta look old,'" he said. "The residents there thought she was one of the new residents."
He also recruited some of his wife's second-grade students to sing the "Silent Night" chorus. Those kids are now seniors at South Stokes High School.
Musician Taylor Vaden, a Stokes County native, remembers hearing the song for the first time.
"I was like, 'Wow.' It's such a true song. It sounds bad, but you don't really think about it this time of year," Vaden said. "It's relevant even more so with everything that is going on. It's definitely a song for the times."
Through the song and video, McGee has developed a soft spot for senior citizens in assisted living homes. Despite the work of staff members to create a warm atmosphere, McGee said he knows some older folks feel isolated. 
"I wanted to remind people, 'Don't forget your family.' That was the entire purpose of it," he said.
Now 86, Martha McGee is not forgotten. Though she has some issues with memory, her family plans to call or stop by the window of her room on Christmas. They've only been able to see her a few times since the pandemic began.
McGee said he hopes that anyone who listens to the song will think of family members or other folks in rest homes or make a contribution to organizations that support senior citizens.
"If people will do that, then the song has done what I wanted it to do," he said.