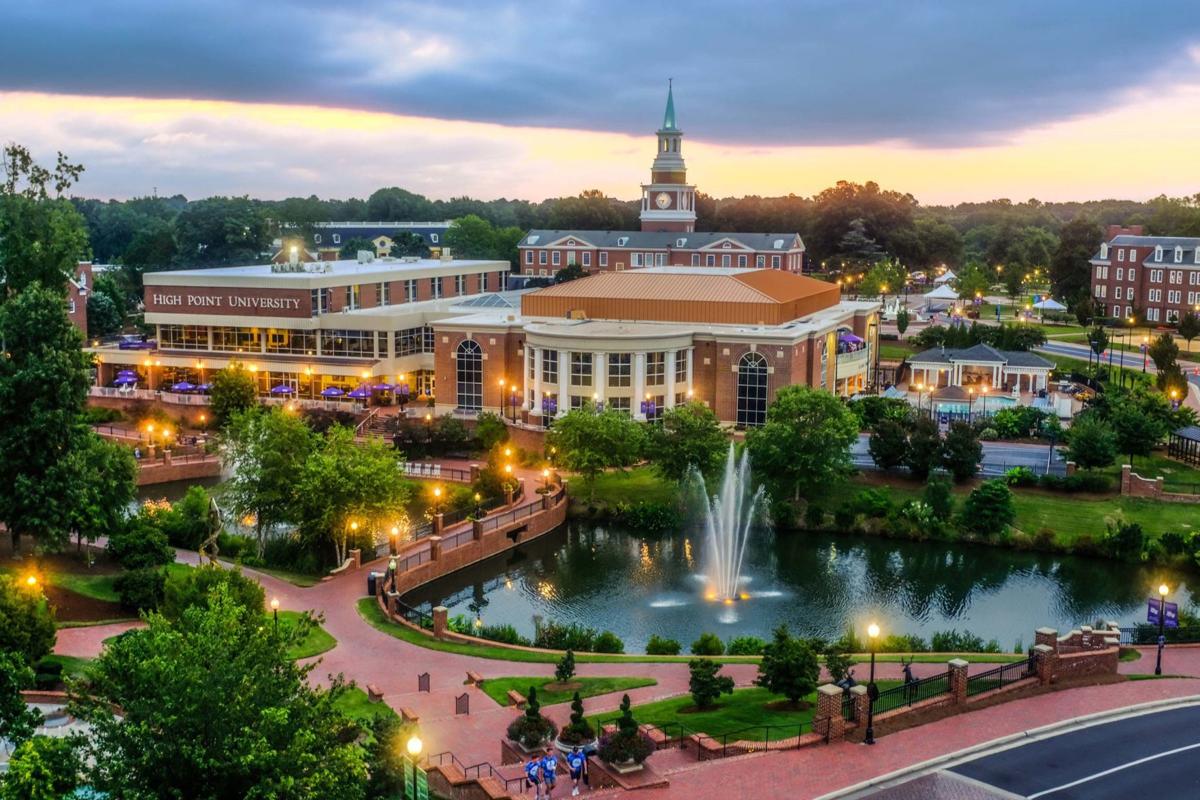 HIGH POINT — Shortly before the start of each new school year, High Point University gives its employees some HPU gear — things like shirts and coolers and camping chairs in purple, the school color.
This year, High Point handed out HPU swag and a big surprise.
High Point University on Tuesday stunned its 2,000 employees with news that they'll share $5 million in bonus money.
Full-time employees will get 1% of their salaries times their years of service up to $15,000. The minimum bonus for full-time employees is $1,500. Part-time workers, adjunct professors and contract workers — people who work on campus for companies hired by HPU — will get smaller bonuses.
In an interview, President Nido Qubein said the bonuses commemorate his 15th year at the private university. They're also a way to say thanks to HPU employees.
"Since I've come here, we've generated a mega-transformation of this university," said Qubein, who started work as HPU's president in early 2005. "We want to reward the people who have helped us on this remarkable journey — it's that simple."
In 15 years, High Point's campus has grown to 460 acres — four times the size it was when Qubein arrived. The number of faculty has tripled, and so has enrollment. When classes start Tuesday, High Point expects a record 5,400 students.
In 2016, HPU launched the region's first pharmacy school. A new undergraduate science building will open this month. A basketball arena, conference center and hotel facility that bears the name of Qubein and his wife is under construction on the north end of campus. It's scheduled to open next fall.
Qubein said the bonuses also show that HPU is on sound financial footing at a time when many small and mid-sized private colleges are worried about their futures. Qubein said HPU hasn't borrowed money to put up new buildings since 2011. In 2017, according to the university's latest publicly available tax filings, HPU took in nearly $53.4 million in revenues over expenses.
"We are thriving," Qubein said. "We're running a solid school that has great demand and seems to be continuously growing and has a strong national brand."
Qubein said HPU awarded $3 million in employee bonuses in 2015 to mark his 10th year as president. HPU has saved for Tuesday's bonuses since then. Qubein said these latest bonuses won't preclude raises or other annual bonuses for HPU employees.
Qubein surprised gatherings of faculty and staff members Tuesday with the news.
La-Nita Williams, who has worked at HPU for 32 years — it was still called High Point College when she was hired — said she looks forward to the start-of-the-year staff kickoff. The HPU swag is nice, she said. So, too, is Qubein's annual praise of HPU employees.
When Qubein announced the bonuses from on stage at the Hayworth Fine Arts Center on campus, Williams said staff members in the audience looked at each other for a moment and then burst into applause.
"I was like, 'Really? Oh, my goodness!'" said Williams, a circulation librarian at HPU's Smith Library. "It was not expected. We were very pleased."
Qubein, meanwhile, said he's already thinking ahead to his 20th work anniversary.
"We try to do this every five years," he said. "We'll do it again in the 20th year."
Contact John Newsom at (336) 373-7312 and follow @JohnNewsomNR on Twitter.