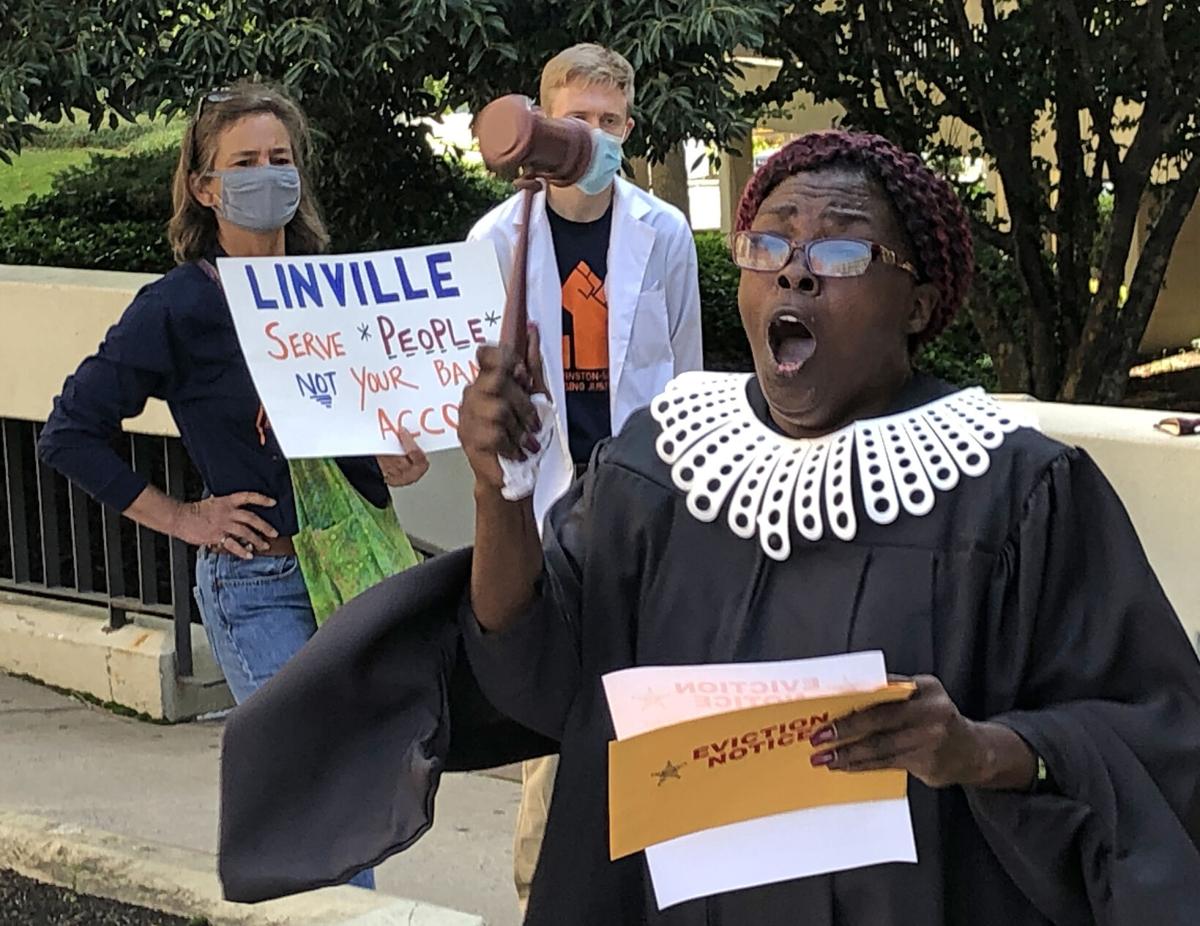 Words of anger turned into shouts of victory on Thursday afternoon, as members of a group protesting evictions said they learned that some of their demands may be met soon.
Around a dozen members of Housing Justice Now held an "eviction hearing" in front of the courthouse, complete with a mock announcement that Forsyth County Clerk of Superior Court Renita Linville had until Oct. 8 to extend the period for hearing eviction cases and to stop any evictions covered by a recent federal order.
Sara Hines, a member of the local housing advocacy group, put on a robe and held a gavel as she issued her "eviction notice" to Linville, who was not present.
"I am putting you on notice that all past due, unpaid and delinquent accountability to the residents of Forsyth County must be paid in full," Hines shouted, brandishing her gavel and holding a paper marked "eviction notice."
Then, before the protest broke up, Eric Weiss, a member of Housing Justice Now who is also running for county commissioner, sent the members at the protest a text in which he said that Linville had called him and told him that she would be making some changes to eviction procedures.
Weiss told members of the group that Linville had said she would "extend the gap" in the scheduling of eviction hearings, and encourage more landlords to take advantage of mediation in disputes with tenants.
"What we have seen today is what good trouble can do," Hines said on hearing the news. "What we have seen today is what civil disobedience can accomplish."
Dan Rose, a member of Housing Justice Now, noted that Linville still did not say she would abide by a moratorium on some evictions that was announced recently by the Centers for Disease Control.
Housing Justice Now members said Linville has continued to order evictions in the face of the CDC order.
They also complain that Linville has not extended the time between eviction notices and hearings from seven to to 30 days, as clerks across the state have been told they could do in order to ease the burden on tenants affected financially by the coronavirus pandemic.
Evictions are happening elsewhere despite the CDC order. 
The Associated Press reported that the American Civil Liberties Union on Wednesday filed a federal lawsuit against a Missouri court order allowing some Kansas City area evictions to continue during the coronavirus pandemic.
Attempts to reach Linville on Thursday night were not successful.
Weiss, contacted after the protest, said he and Linville have conversed on the phone periodically and confirmed that he had had the conversation with her that he reported to the protesters. 
Weiss said that in his conversation with the clerk of court, Linville was not specific about what kind of extension she might grant for eviction court hearings.
The CDC moratorium on evictions, which went into effect Sept. 4, requires tenants facing economic hardship to provide their landlords with a declaration to that effect.
The relief does not relieve the tenant of the obligation to pay rent, and doesn't prevent landlords from carrying out evictions for reasons other than non-payment of rent.
Marvin Blue, who took part in Thursday's protest, said he lost his job because of the effect of the coronavirus on the place he had been working and can't work now because he has cancer.
Blue said he presented his landlord with the CDC declaration at his eviction hearing on Sept. 23 but that it didn't make a difference. He has to come up with $690 by Oct. 5, he said.
"The landlord is saying I have to leave because I don't have the money," Blue said. Ironically, Blue is getting a disability payment Oct. 25 that could meet his expense.
Members of Housing Justice Now who have been watching eviction proceedings in court say they've seen perhaps 25 to 30 hearings a day taking place.
Rose said he has talked with Sheriff Bobby Kimbrough in a bid to have deputies stop serving eviction papers, but that the sheriff takes the position he has to serve court-ordered papers.
"Most tenants have no idea of a moratorium," Rose said, adding that his group tries to get the word out to tenants facing eviction.
Renee Wimbush, another member of the housing advocacy group, said she complained to state court officials about evictions taking place here and got no satisfaction.
Hines, who did the speaking during the protest, called housing "a human right."
"It is not only there for the rich and privileged," she said. "It is a right we all acquire to be healthy citizens."
The CDC moratorium was put into place as a way of curbing the spread of COVID-19, federal officials said when they put the order into place.
The idea is that people who are evicted may end up living in more crowded quarters as they seek someplace to stay after an eviction; the CDC said more people might end up in homeless shelters or staying with other people in conditions that would make it hard to observe social distancing.
And more people would join the population the unsheltered homeless, the CDC said.