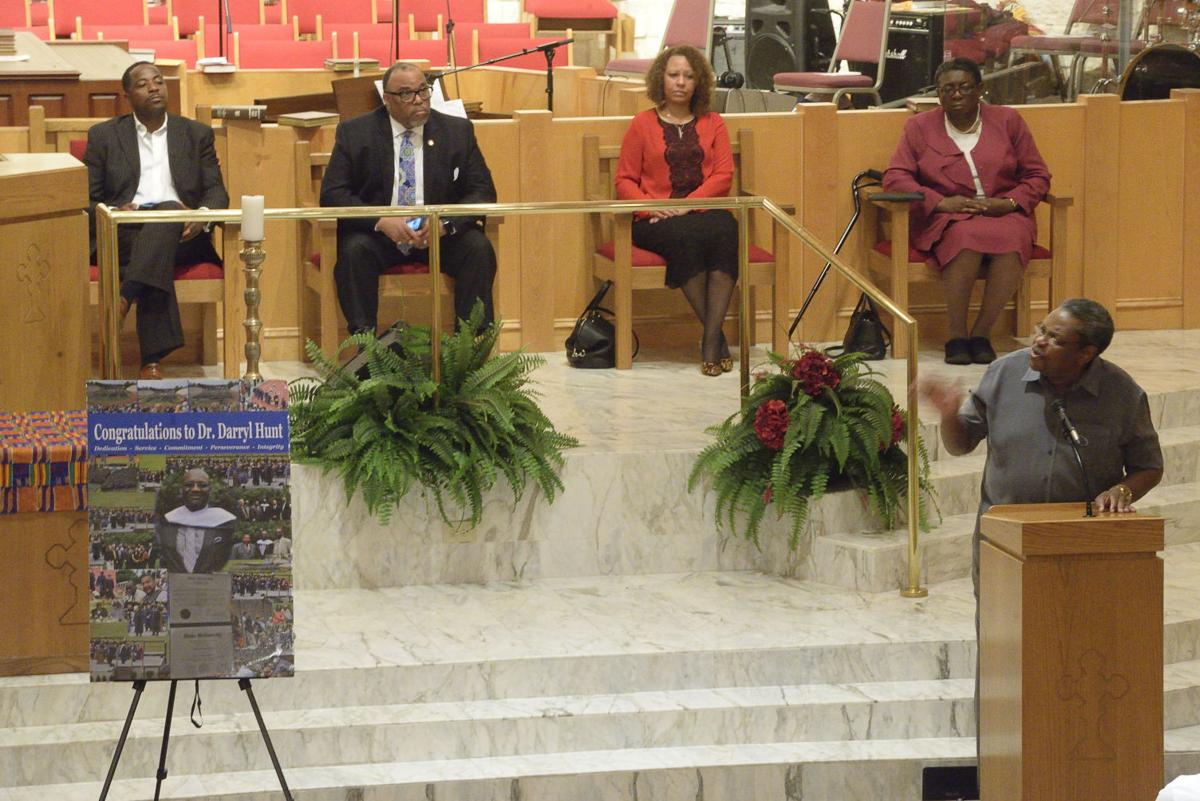 The perception about Darryl Hunt during and after his fight for freedom from wrongful conviction was that he was an uncomfortable symbol of division in the Forsyth County community.
But as more than 150 members of the community came together Sunday night to celebrate Hunt's life, the reality was that he left a legacy of racial and social unity for those who are willing.
The diversity displayed at a quickly arranged vigil for Hunt at Emmanuel Baptist Church would have pleased him, said Bishop Todd Fulton, president of the Ministers Conference of Winston-Salem.
There were whites and blacks intermingled like a chessboard in the pews, people who supported Hunt's quest beginning in 1984, and people who were helped, if not saved, by the redemption found his namesake Darryl Hunt Project.
"There is love and solidarity in this community that Darryl had a role in creating through his humbleness and faith in God," Fulton said.
Emmanuel was the site for several community Hunt celebrations, whether his release from prison on Christmas Eve 2003 after 19 years in prison, or when he was exonerated in February 2004.
"It's good that we can come together like this during a time of grief, but it would be even better for us to come together in times of peace," Fulton said.
Fulton said when he first heard that Hunt has passed away, "I had a lot of questions for God."
"But now, I realize Darryl is no longer bound by the chains of injustice in this life. We can mourn and grieve, but ultimately we know he is free."
Mark Rabil, Hunt's defense attorney and later a close friend, said that "once you touched Darryl, you can't un-touch him."
"His inspiration touched me for 32 years and will continue to touch me the rest of my life."
Several speakers stressed Hunt's uncanny ability to take a criminal justice system that let him down for 20 years and turn it into an instrument for justice for the wrongly convicted, such as learning and explaining how jury selections works and how to address in court examples of police brutality.
"His humility and forgiveness taught me and others so much, while he could hold accountable a broken system," said Rev. Kelly Carpenter of Green Street United Methodist Church.
Dr. Steve Boyd, a religion professor at Wake Forest University, recalled Hunt's faith in a story about when black and white clergy met at a local IHOP to discuss how to support Hunt in a next step in his legal process.
Hunt, who was on speakerphone from prison, was asked his advice on what to do next, Boyd said.
"Darryl told us 'God has brought us this far, and He'll bring us the rest of the way,'" Boyd said. "Here we were clergy and Darryl spoke the truth to us."
Theresa Newman, a clinical law professor at Duke University, said she asked Hunt and Rabil to come speak with her first-year law students for 10 years to give additional perspective to a showing of the documentary "The Trials of Darryl Hunt."
"Some of our first-year students come in rich and jaded," Newman said. "Their presentations changed hearts and minds about students' perception of the criminal justice system."
Gus Dark, father of Kalvin Michael Smith, spokes about how Hunt demonstrated that "God can work miracles."
Hunt rallied support for Smith's and Dark's efforts for freedom for Smith, who was sentenced to nearly 29 years in prison in the 1995 beating of Silk Plant Forest store employee Jill Marker.
Smith has maintained his innocence and has unsuccessfully sought to overturn his conviction in state and federal courts. An investigative series by the Winston-Salem Journal and independent reports have raised questions about the Winston-Salem Police Department's handling of the case.
"Darryl was a flesh-and-blood example of encouragement, a person I could touch, have insight into what Kalvin is going through, to cry with," Dark said.
"He has encouraged my son to keep fighting. Kalvin is totally broken down about Darryl's death, but has high hopes that others will continue his support."
Rev. John Mendez of Emmanuel summed up the vigil by saying Hunt had "a wounded victory born of tragedy — his arrest, the length of his incarceration, even his freedom."
"Darryl was human and all the good he did these past 12 years, and even while he was imprisoned, he did because of his wounds, his scars, his hurt and suffering.
"We're a better community because of those scars and wounds. God rest his soul."
(336) 727-7376
@rcraverWSJ
Get local news delivered to your inbox!
Subscribe to our Daily Headlines newsletter.