The 450-mile journey that 16 young Moravian women embarked on in 1766 has long captured the imagination of many Salem Academy and College alumnae.
It's a classic adventure story set in Colonial America, with the intrepid walkers sleeping in barns, skirting hostile Lutheran territory in central Virginia, suffering the taunts of town drunks and slogging through mud in full-length dresses and stockings.
Six years later, the women who made the 30-day journey from Bethlehem, Pa., to the new settlement of Bethabara played a central role in the founding of a school for girls that became Salem Academy and College, the oldest continuous educational institution for women and girls in the country.
In honor of the academy and college's 250th anniversary, five alumnae have been recreating the journey, sticking as close as possible to the original route, while not worrying so much about the Lutherans.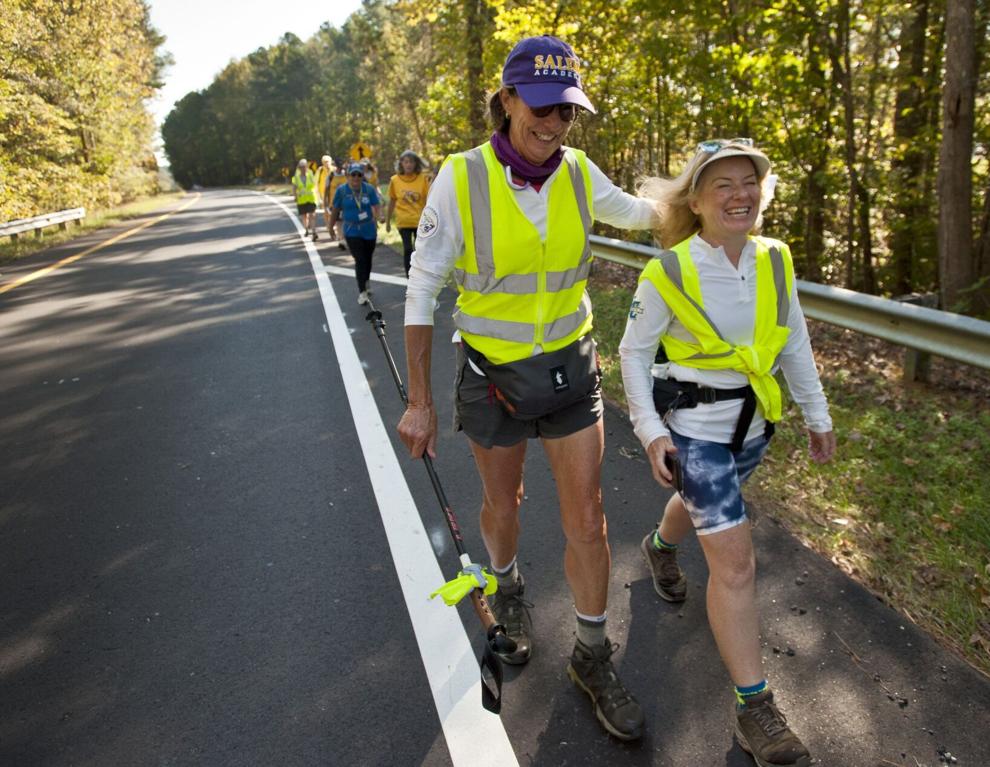 They will arrive in Bethabara on Monday afternoon to a celebration that will have some of the same touches that marked the reception back on Oct. 31, 1766, when the party was greeted with much fanfare, including a love feast and a band performing "God Bless Thy Arrival." Besides the 16 young women, the trip included a married woman and an English preacher and his wife.
The current journey started on Sept. 28 when 38 women set out from Singles' Sister House in Bethlehem for an 18-mile walk to Allentown.
Debbie Stansberry Faires, a 1982 graduate of Salem Academy, was among the walkers. She remembers hearing about the earlier journey while a student.
"I couldn't imagine how it could have happened," Faires said. "When they told us the story, I was enthralled by it. And I love physical and mental challenges."
Faires is one of five alumnae who are walking the entire route. The others are Frances Cronlund (Salem College class of 1998); Lucy Rose (Salem College class of 1976); Marcia Wood Shawler (Salem Academy class of 1975); and Elizabeth Wade (Salem Academy class of 1988).
Lisa Bankoff (Salem College class of 1973) is driving the support van.
Shawler, a long-distance hiker, initially was going to walk the first day but enjoyed it so much she decided to sign on for the month.
"The joke was that I wanted to test the women out to see how I liked them," she said with a laugh. "And they were awesome. They were strong. It was so historical. How could I not do it?"
Though a few women have walked or bicycled the route over the years, this has been a far-reaching effort involving dozens of alumnae who have helped coordinate the daily routes, joined in for a day of walking and welcomed the walkers each day. One alumna, Laura Ferguson Esleeck, even greeted them one morning in Hillsborough dressed in period clothing and carrying a basket of sugar cake.
Salem alumna Annie Jenkins said the idea to recreate the walk on a grand scale has been kicked around for years.
"So when we were planning for the 250th anniversary, we thought, 'OK, this is the year to go for it,'" she said.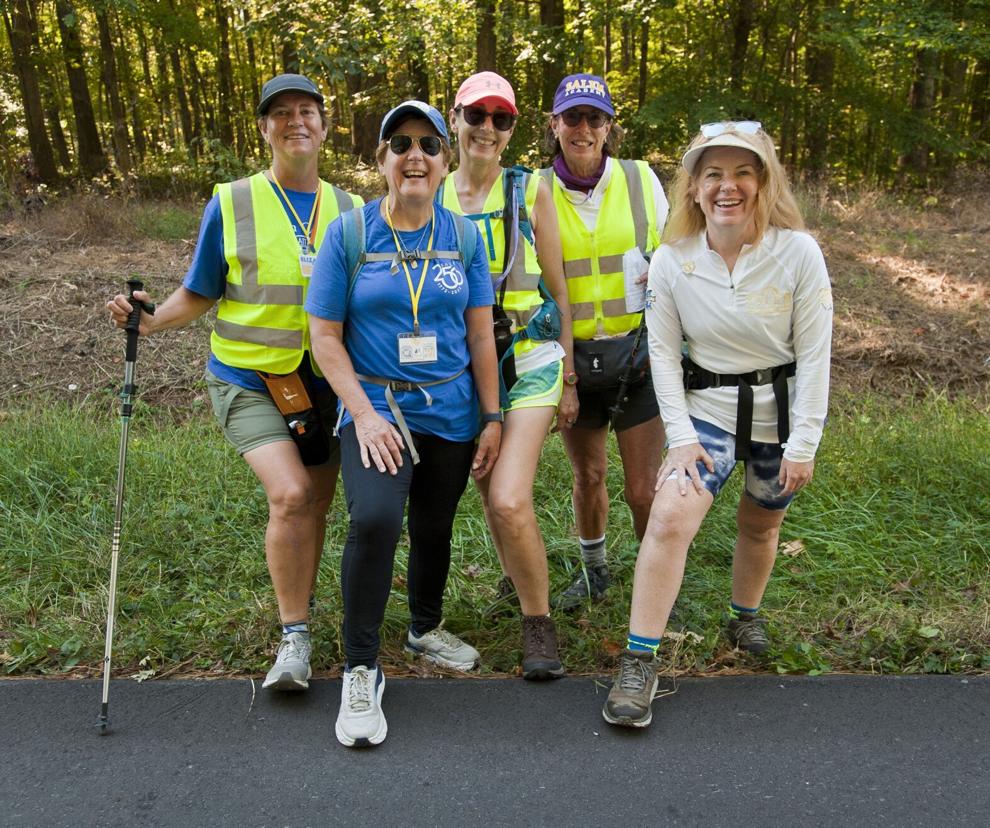 One of the original walkers from 1766 played a key role in helping organizers plan the route. Salome Meurer, 16, kept a diary of the trip that was translated from German to English in 1994 by Aaron Foglemen, then a professor at the University of South Alabama.
The diary is a fascinating account of Colonial-era travel with entries that describe the travails of the trek, which ranged from amorous Irishmen to treacherous river crossings. One example is dated Oct. 2, 1766, the first day of their trip:
"As Sister Brentlin and Liesel Bflhlern went into the barn to make places for us to sleep a drunk sprang upon them. They quickly called to Jacob Blum for help, who had to save them. Thus we went into the barn. We did not think it possible that we could sleep here, for the sides were open and full of holes. Sister Kraugin stuffed some of the holes with turnip greens, but then the pigs came and ate them all up. They stuck their heads through the holes the whole night."
Meurer writes of the Moravian settlements where the travelers stayed in Pennsylvania and Maryland. But once they hit Leesburg, Va., she doesn't mention another town until Hillsborough.
Virginia Hart (Salem Academy class of 1975) surmised in a history blog that the route may have looked unremarkable to Meurer since it no longer included visits with Moravian settlers. The Moravians were not able to establish communities in Virginia because of hostilities from German Lutherans, according to Fogleman.
As a result, Moravians did not travel on the Great Wagon Road after the first 1753 migration to Bethabara.
After exhausting all leads, the Salem route planners elected to have the walkers stick close to U.S. 15, between Interstates 81 and 95.
Salem alumnae living near the route agreed to become "section captains," suggesting pretty and safe roads, restaurants, motels and other points of interest.
Before the walkers set out each day, someone reads an excerpt from Meurer's journal, giving them a moment to reflect. Most days, they cover between 18 to 22 miles.
As they walked through rolling farmland, along narrow shoulders on busy highways and down the sidewalks of Main Streets, they thought often of Salome and the other young women.
"It's so impactful to think how they did it, without the tech gear, the GoPros, cellphones. It was their courage. It's a big part of this," Shawler said. "Our walk is different because it's pavement, and it's nothing like they endured."
The original walkers worried about infected feet and where to sleep at night. The current group most worries about traffic, narrow shoulders and 18-wheelers, Rose said.
None of the walkers knew each other before the walk, but over thousands of steps they've bonded. They sing songs, trade stories of their Salem days, laugh and solve problems.
"Every day I wake up and say that there's nothing I'd rather be doing than this right now," Cronlund said.
Besides a few blisters and some hot days early on, the women are in good physical and mental shape as they make their way to Bethabara. They have relished in telling their story to folks in the small towns they have passed through; feasting on Krispy Kreme doughnuts upon arriving in North Carolina; and finding clean bathrooms and Cheetos in Dollar Generals sprinkled through the countryside.
Though so much of the anniversary walk is rooted in the past, Rose said she hopes it serves as an inspiration to the young women now enrolled in the academy and college.
"I really want us to send a message about women who had a vision," said Rose, shortly before taking off to Mebane. "I hope this serves to inspire young girls and women that we can do big things. You just break it down day by day and think to yourself, 'Yes I can.'"