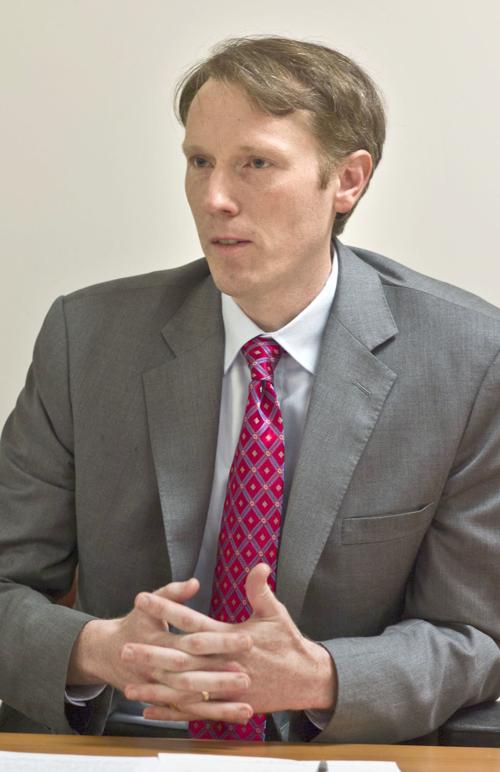 Some voters in Kernersville will try out new voting equipment in November that all voters in Forsyth County may be using next year.
The Forsyth County Board of Elections on Tuesday selected precinct 067 in Kernersville to be the only polling place to be trying out the new equipment during municipal elections on Nov. 5.
Acting in accordance with a new state law designed to upgrade election security, the county is required to buy new voting equipment and have it in use for both the primary and general election in 2020.
Part of that process involves testing the new equipment at one polling place in each county. Precinct 067, selected to test the equipment in Forsyth, votes at Kernersville Fire Station No. 2 at 1385 South Park Drive off N.C. 66 on the south side of town. Elections director Tim Tsujii recommended the precinct, saying it had an experienced staff.
Many voters in that precinct may not notice much of a change, since they will continue to mark paper ballots and feed them into a tabulator for counting. The tabulator will be a new model, although it is manufactured by Election Systems and Software, which made the equipment the county now uses.
People whose disability requires them to vote by machine will see a difference, in that the machine used to cast their ballots will be a different type from the one now in use.
Under the new state law, all voting machines must produce a paper ballot. The iVotronic voting machines that the county has used do not produce a paper ballot and can no longer be used after Dec. 1.
The Forsyth County Board of Commissioners is considering the purchase of the new election equipment at a cost of about $1.7 million.
Meanwhile, the five-member elections board on Tuesday grappled with the always-contentious task of picking the sites for early voting during both the primary and general elections in 2020.
The usual division between Republicans and Democrats over using Winston-Salem State University as an early-voting site came to the fore once again during the discussion on Tuesday.
Susan Campbell, a Democrat who chairs the five-member board, said that she's committed to getting early voting back at WSSU after a long absence.
Although Republicans on the elections board have long objected to early voting at WSSU, GOP elections board member Stuart Russell seemed willing to consider the idea, although he also suggested Democrats should be willing to grant the GOP some other site-switch in exchange.
"If we are going to compromise, there needs to be some compromise," Russell said. Russell suggested having early voting at Polo Park instead of Miller Park, as one possibility.
The GOP has nixed early voting at WSSU since it was last done there in 2010. That year, the GOP complained that emails promoting Democratic candidates had been sent out over the university system in the run-up to the election.
Democrats now hold a 3-2 majority on the five-member election board here. But Democrats can't simply force through their preferred early-voting sites, since anything but a unanimous decision by the local board forces the issue to the state board.
Democrats hold a majority on the state board, but one state elections board member, Republican Ken Raymond, is a Forsyth County resident and former local elections board chairman with a record of strong opposition to the WSSU early-voting site.
After some discussion, the local board decided to postpone action and discuss early voting again during meetings scheduled for Monday and Tuesday.
The primary is scheduled for March 3 next year, while the general election will be Nov. 3.
Robert Durrah, a Democrat on the local board, said members won't get very far if they are "polarized about whether WSSU is a polling site." "So far this looks like tit for tat, and I don't want to play this game," he said.