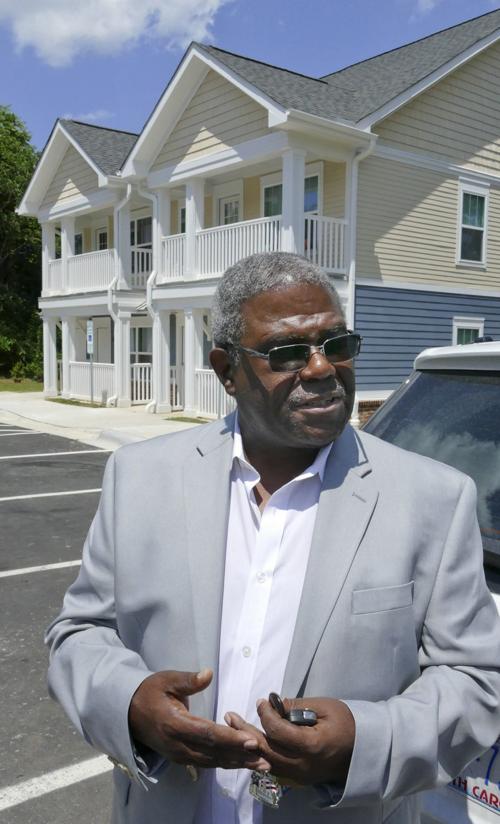 Larry Woods retired as chief executive of the Housing Authority of Winston-Salem on Dec. 31, concluding a run of more than 13 years as the leader of the agency that provides public housing in Winston-Salem.
"Everybody knows a leader when they see one, and he has been an exceptional leader," said Arthur T. King, who chairs the HAWS Board of Commissioners. "He grew up in public housing, so he knows the kind of pull that environment can have on one's ambition. He lifted himself up by his own bootstraps, and looked at ways to try to help others do so as well."
King said the board is deep into the search for Woods' replacement, and should have someone lined up by mid-January.
Woods got a standing ovation in late 2006 when he took over the leadership of HAWS at a troubled time. The previous year, the authority had forced out an executive director after a federal audit had revealed more than $4 million in unauthorized spending.
Woods also took over at a time when the U.S. Department of Housing and Urban Development was sending less money to housing authorities. The response, Woods said at the time, would have to include running the authority as "a business model with a social conscience."
Woods said he told his board 15 months before his retirement that the day was coming, to give the commissioners time to search.
"I have been there 13 years, and I think we have done a great job of turning it around," Woods said. "We think we have left our mark on Winston-Salem. I was also able to bring many of our innovations and concerns to Washington, D.C., and have been invited to meet with other innovative groups. We view ourselves as in the vanguard of low-income housing."
From 1999 to 2006, Woods had served as deputy director of the Wilmington Housing Authority. Taking the helm here, Woods vowed to clean up the image of HAWS and put public housing in better condition, too.
"Repairing the relationship of HAWS with the federal government will be a big feather in his cap," said Derwin Montgomery, a former member of the Winston-Salem City Council long active on housing issues. "We had our differences at times in how we move forward on housing policy. But there existed and still exists a mutuality of respect."
Woods faced controversies along his way, most recently when HAWS announced plans to sell the Crystal Towers housing tower for the elderly and disabled to a private developer, only to have the Winston-Salem City Council give a flat "no" when HAWS asked the city to endorse the deal.
Nearly everyone agrees Crystal Towers needs repairs, but many are saying that it would be wrong to eliminate housing for the poor located so close to downtown.
D.D. Adams, who chairs the city council's general government committee — one of its jobs is to monitor housing — said Wednesday she wishes the city and HAWS had worked more closely together on housing issues.
Adams and other city officials were disappointed when HAWS failed on a couple attempts to get a $30 million Choice Neighborhoods grant to improve the Cleveland Avenue neighborhood. Another attempt is currently in the works.
"I think he has done the best he could do," Adams said, commenting on Woods' tenure. "If we had started earlier on the Choice Neighborhoods initiative and worked together, we would have fared better. I commend them for applying for it. It could have been better if we had been on top of our game and realized we can't do anything by ourselves anymore."
HAWS is an entity run independently of the city, although the mayor appoints the members of the HAWS board.
Woods said not getting the Choice Neighborhoods grant would rank among his two major disappointments during his time over HAWS. The other would be not getting a Moving to Work designation that would give HAWS more flexibility in spending. Both efforts may yet bear fruit under Woods' successor.
HAWS created the Cleveland Avenue Master Plan in 2010 with the goal of transforming a community that had become blighted, Woods believed, by the concentration of too much public housing in the area. That was an outdated model, he said, calling instead for an approach that would encourage people of different incomes to make their homes in the neighborhood.
Even then, it was seen as an effort that would take 15 or 20 years to bring about.
In 2013, HAWS introduced a new housing concept called "Step-Up" housing in the Cleveland Avenue neighborhood with the opening of The Oaks at Tenth. Featuring 50 modern apartments with separate entrances, the apartments were designed, Woods said, to have a feel and appearance that didn't say "public housing."
The apartments also came with work requirements. Woods said the idea was that people who lived there would eventually move into private housing, opening up spaces for new tenants. Another Cleveland Avenue development, Camden Station, opened in 2015.
Showing off the modern apartments, Woods said the hope was that the work requirements and other aspects of the program would help residents climb out of poverty.
Montgomery, who now represents N.C. House District 72, said Woods "rightfully pushed forward the perspective of individual responsibility in the creation of Step-Up housing."
"But at the same time, that bumped heads with the economic realities," Montgomery said. "Where are the jobs and opportunities?"
JoAnne Allen, a candidate for mayor who has been actively opposing the sale of Crystal Towers, faults Woods for not taking a stronger line with the city in terms of asking for help for housing needs. Woods should have been pushing for help with the maintenance of Crystal Towers, she said.
"It is unfortunate that Woods has gone along to get along with the city and others," she said. "You have all these individual lives in your hands, and when you do not do your job, you have failed."
Woods said the proposal to sell Crystal Towers arose from HUD encouragement to look at how private industry operates in property management: If a property becomes too expensive to maintain, sell it off and put the proceeds into modern housing with lower maintenance costs.
Mayor Allen Joines called the idea of selling Crystal Towers, even though he disagreed with it, an example of how Woods has been willing to make hard decisions.
"I think Larry did a great job of righting the ship," Joines said, referring to the chaotic conditions Woods faced on arrival here. "He got it going in the right direction, got her finances well in place. He had to make some hard decisions, some not so popular, but ones that had to be made — getting some of the unprofitable projects into profitability. He took some of the older housing projects and had them redone."
Woods said he and his wife Carolyn are moving to Raleigh, where they can be closer to children and grandchildren. He likes to fish, plans to take up woodworking, and maybe do some small-engine repair. But he hasn't totally thrown in his housing hand:
"I've gotten calls from individuals asking to do consulting work," he said.