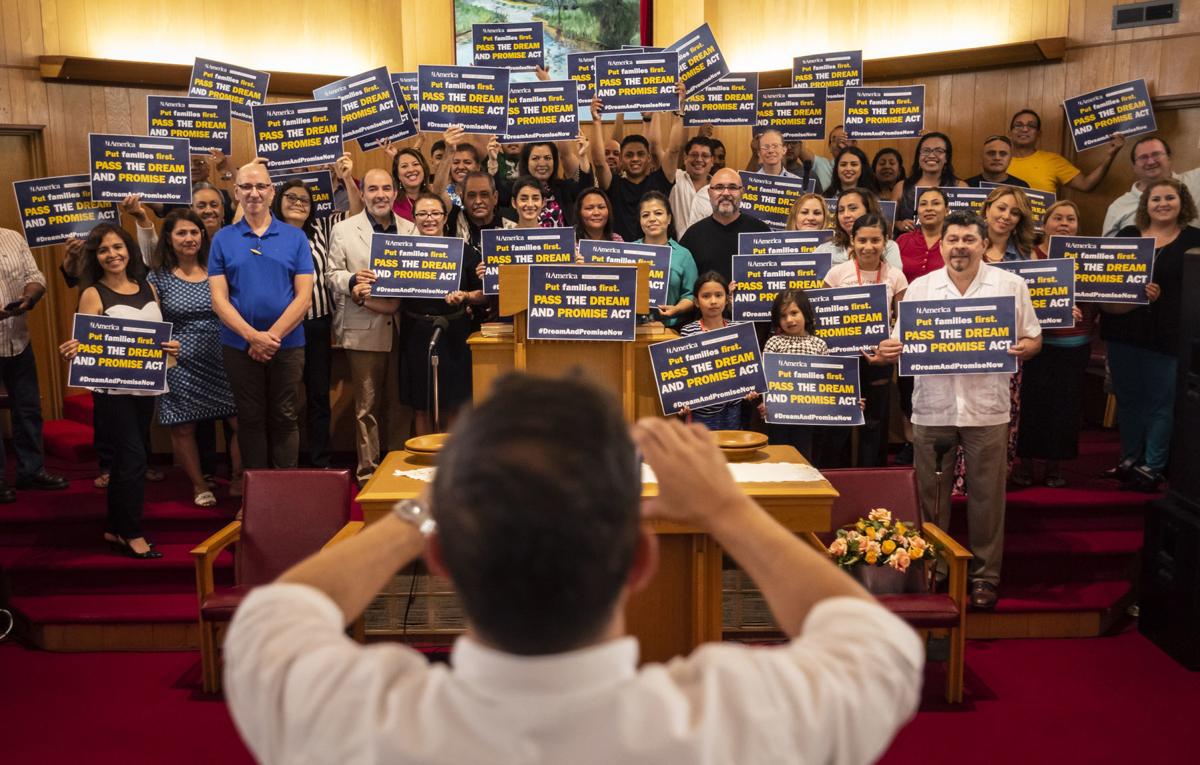 On the eve of anticipated nationwide raids to deport undocumented immigrants, community leaders from across the state gathered in Winston-Salem to say enough is enough.
At a meeting Saturday night, about 50 members of North Carolina Latino Power announced a plan of action to address their frustrations with current immigration policy.
Some did their speeches, at the Iglesia Sin Fronteras church on Shattalon Drive in Spanish, others in English, but all called for change.
"The strong anti-immigration climate in this country requires an organized response from the community," said Ivan Parra, one of the event's organizers. "We've gathered since noon to develop a statewide plan to address the anti-immigration climate."
About 200 members of North Carolina Latino Power — a conglomeration of congregations, nonprofits and community groups from across the state — are planning to march to Washington, D.C., to advocate for the passage of the American Dream and Promise Act of 2019.
The act would provide a pathway to citizenship for those protected under Deferred Action for Childhood Arrivals (DACA) or who have temporary protected status.
One speaker, Reina Rodriguez, said she must renew her temporary protected status every 18 months and that the payments take a financial toll on her.
"In the past 18 years, I have complied with everything that has been requested and every renewal I suffer (financially)," said Rodriguez, a native of El Salvador who has children protected by DACA. "I want a more stable and safer life so I can continue to contribute to my state and my country."
North Carolina is home to 65,400 immigrants who are eligible for protection under the Dream and Promise Act, speakers said.
David Ortigoza — who spoke in front of a backdrop of people waving signs that said "Put families first. Pass the Dream and Promise Act — said many immigrants work jobs Americans don't want for lower wages and longer hours. They should not be rejected or forced to live in fear, he said.
U.S. Immigration and Customs Enforcement (ICE) is reportedly expected to arrest thousands of undocumented immigrants nationwide beginning Sunday.
"What I want most for each person is to feel safe in our city, to feel welcome and at home… without threatening them with separation from their families," Ortigoza said.
The statewide organization also pledged Saturday to hold meetings in 2020 with local candidates for the Republican and Democratic parties to evaluate how they will address the Hispanic community.
The speakers, who came from Cary, Charlotte and other cities in North Carolina, said they also plan to register as many voters as possible before the 2020 elections.
"Immigrants have given a lot to the enrichment and growth of the U.S. in areas like technology, business, science, teaching, the Army," speaker Alicia Acuna said in Spanish. "As part of the Hispanic community here, I encourage Thom Tillis and Richard Burr to be a part of making progress."
Get local news delivered to your inbox!
Subscribe to our Daily Headlines newsletter.