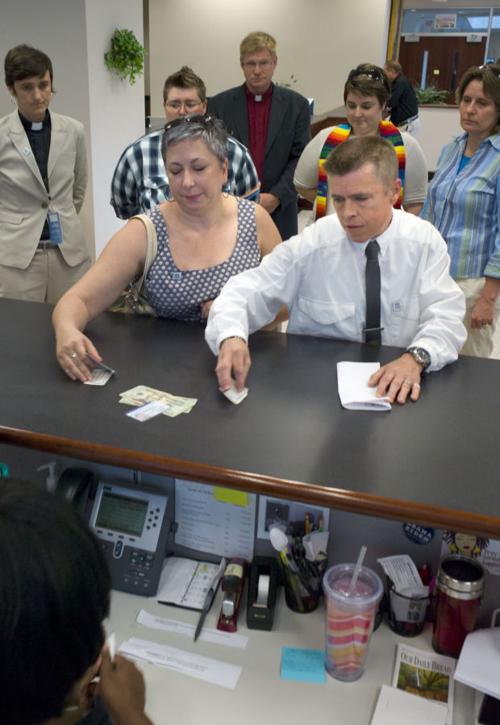 Those were the words of encouragement offered by the Rev. Jasmine Beach-Ferrara, executive director of the Campaign for Southern Equality, after two same-sex couples were denied marriage licenses at the Forsyth County Register of Deeds office Friday morning.
The couples and their supporters were gathered in a circle outside the Forsyth County Government Center where just minutes before Li Hooper and Diana Coe, followed by Kristin Hedin and L Rankin, had been told by register of deeds clerks that they were not allowed to issue them marriage licenses under current state law.
"We're not backing down. Love won't be denied," the group sang while holding hands. The couples, their friends, clergy and members of the Campaign for Southern Equality also joined in prayer outside, before the couples made their license requests.
Beach-Ferrara said the action Friday represents a new stage of the WE DO campaign, which was launched by Campaign for Southern Equality in October 2011. The organization has stood with more than 85 LGBT couples who have sought marriage licenses despite state bans on gay marriage.
Lesbian, gay, bisexual and transgender couples are calling on register of deeds employees to issue marriage licenses as an act of conscience.
"What we are doing here is calling publicly for the full equality and dignity of LGBT people to be recognized in all spheres of life – employment, housing, health care, family rights, marriage," Beach-Ferrara said.
Hooper and Coe were the first couple to enter the Register of Deeds office Friday to ask for a marriage license. It was their third time asking for a license.
"I'm inviting you to join us in an act of conscience," Hooper told the clerk while sharing the couple's story.
Hooper and Coe met 30 years ago in art school in Philadelphia and remained friends over the years. They reunited in 2009 and are raising a child together.
"We plan to spend the rest of our lives together. … We believe we belong together," Hooper said.
The clerk quietly said she was not allowed to give them a license under current state law.
"You grant joy to couples every single day," Coe said, repeating the request.
After Hooper's and Coe's request was denied, Rankin and Hedin entered the office and spoke to another clerk.
Rankin and Hedin have been together for almost four years. They just bought a house together, they informed the clerk. Their also request was denied. They wished the clerk a happy Labor Day before leaving.
Norman Holleman, the Forsyth County register of deeds, stood in the Register of Deeds office as the requests were made. He said he had been told ahead of time that the couples would be asking for licenses on Friday.
"I'm sworn to uphold the laws of the state of North Carolina, and that's what I'm here to do," Holleman said afterward. "If the law changes, I'll be happy for these folks to come in and (we'll) give them a license."
Both couples were willing to make public their very personal requests.
"I believe that we are uniquely positioned in a very living, metaphoric way, to draw attention to how ridiculous this law is," said Hooper, who is currently undergoing the sexual reassignment process.
"In a few months from now when my name changes and my gender marker changes, I can ask them for a marriage license and by law they have to give it to me, because I will no longer be a same-sex partner," Hooper said.
"But we are the same couple that has appeared before them three times and been turned down," Coe said.
Rankin and Hedin also had requested a license before in Forsyth County. Rankin said the process felt different this time, because they made a personal plea to a register of deeds employee's conscience.
They said the clerk maintained eye contact with them, looking away when she said "no."
"So it felt hopeful but sad at the same time," Rankin said.
"We're giving our voices to people who, for whatever reasons, feel like they can't have a voice or don't have a voice," Hedin said.
In June, the U.S. Supreme Court ruled unconstitutional the Defense of Marriage Act's prohibition against federal recognition of legally married same-sex couples.
Same-sex marriage is still illegal in North Carolina. Beach-Ferrara said in some other states where it is illegal, such as Pennsylvania and New Mexico, some local clerks have issued licenses based on their belief that same-sex couples have a right to marry.