People searching for COVID-19 vaccinations in Forsyth County have had mixed results, whether through the county health department or the two health-care systems.
When vaccinations first became available in mid-December to those ages 75 and older, many of those pursuing an appointment with the health department spent hours at a time, for days at a time, hoping to get through to a call center.
Instead, they constantly got a busy signal, were told to call back or they were cut off in their attempt.
Joshua Swift, the county's health director, said the department received about 50,000 calls for its first 2,500 vaccination appointment slots.
As a result, the department stopped accepting calls to 336-703-2081 on Jan. 7 and opened an online appointment link on Jan. 16 that it has used twice to fill about 5,000 slots.
One reason for the overwhelming initial rounds of calls to the health department was confusion about how the vaccines will be offered.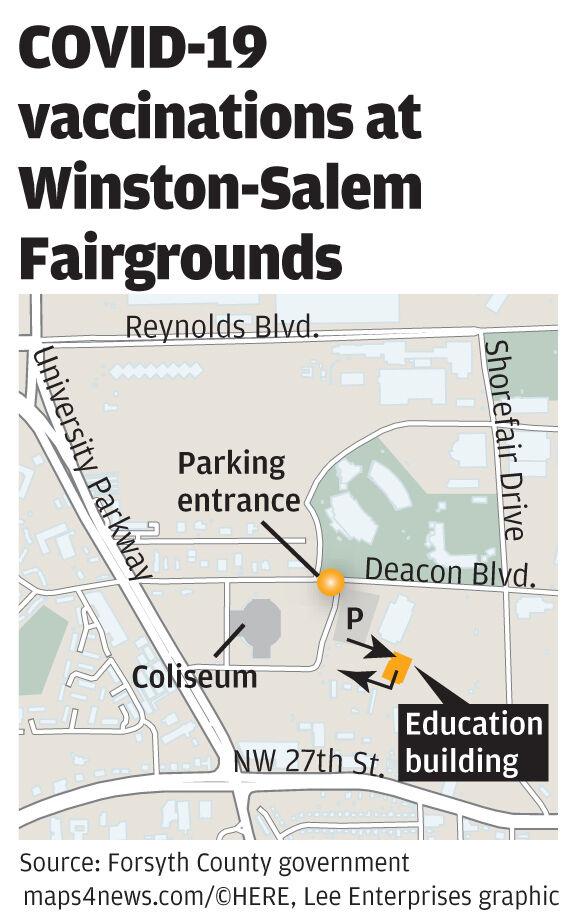 Nikki Nissen, Novant Health Inc.'s chief nursing officer, said "the strategy is for Novant and Atrium hospitals to vaccinate their own patients and employees, and the county health departments will be for those individuals and essential workers who are unattached" to a health care provider.
The department said the vaccination initiative already has become "an unprecedented situation that Public Health staff are working hard to adapt to and are looking for better solutions for scheduling appointments.
"While supplies are currently limited, more vaccine will become available in the coming weeks and months, and there will be enough for everyone to get a vaccine who wants one."
Limited heads-up 
Meanwhile, the Forsyth health department, Novant and Wake Forest Baptist Medical Center have been asked to be as fair, efficient, effective and diversified with the dispensing of limited allocations of Moderna and Pfizer vaccine doses from the N.C. Department of Health and Human Services.
Yet, those groups typically are given a limited heads-up — typically Thursday night or Friday morning — about the next week's allotment.
All of which has contributed to layer upon layer of confusion for many of those eligible for vaccination, particularly among individuals ages 65 to 74 who were added recently to the eligibility list in the Phase 1A and 1B categories with health-care workers and those ages 75 and older.
Callers and emailers to the Winston-Salem Journal, as well as those on social media, have expressed concerns about being in competition for the limited vaccination appointments and doses, particularly as it appears at times that securing an appointment is more a matter of luck as timing.
Since Dec. 14, Novant has received systemwide 31,850 vaccines for first doses, along with 14,625 first doses for Wake Forest Baptist and 12,675 first doses for Cone, according to DHHS totals obtained by the Winston-Salem Journal.
The county health department has administered at least 8,700 doses as of Friday.
By comparison, Atrium Health in Charlotte has received 86,825 doses.
Novant said Friday its systemwide allotment dropped from 5,325 last week to 5,075 this week. It represents 4% of the total state allocation for next week when including supplies to county health departments.
"That number is disappointment and insufficient for the patients and the communities that we serve," said David Priest, an infectious disease expert with Novant.
In the past two weeks, the groups have been encouraged — based on federal pledges of an unleashing of new doses — to expand from vaccination clinics to mass-vaccination sites capable of handling several thousand individuals a day.
The groups have ramped up online appointment options after call-in lines were overwhelmed by demand.
For example, about 5,000 county health department vaccination appointments were taken within a few hours of opening up.
"We are limited by the allocations from the state, so while we are poised and ready in space, work flow and staffing, we can only deliver the amount that we get from the state," said Nikki Nissen, Novant's chief nursing officer.
The county health department said its schedule for vaccination appointments is full through Tuesday, though it has a wait list for individuals who can respond quickly when a cancellation occurs.
"The goal is to get into a rhythm of opening up appointments in the later part of one week for the following week," Swift said. "Once those are booked up, we'll close appointments" until the next weekly cycle begins.
The county plans to begin Sunday a mass-vaccination site at the Winston-Salem Fairgrounds, which is where all future doses will be administered.
"We are using community outreach efforts, as well as through the media, to get the word out about the switch in vaccination sites," said Shontell Robinson, Forsyth's deputy county manager.
Novant is making vaccination appointments for people 65 and older through MyChart, or by calling 855-648-2248 or 877-9NOVANT.
Novant plans to open Monday its mass vaccination site at the former Sears department store at Hanes Mall. The goal is to operate on a 7 a.m. to 7 p.m. weekday schedule. Winston-Salem Transit Authority said it will begin Monday a temporary bus stop at the site.
Novant also is offering appointment-only clinics on the weekend that are focused on about 150 individuals in minority communities. The plan is to rotate the clinics around three different church or school sites.
"Host sites manage outreach and scheduling to ensure that community members most in need are able to easily access an appointment," Novant spokeswoman Samantha Williams said.
Wake Forest Baptist has opened vaccination appointments to in-network individuals ages 65 and over by calling 336-70-COVID. Patients will be updated about access to vaccinations through myWakeHealth and at www.wakehealth.edu/Coronavirus/Vaccine.
Atrium, the parent company of Wake Forest Baptist, has committed to a mass-vaccination site in Forsyth, but hasn't disclosed a site or when it would begin.