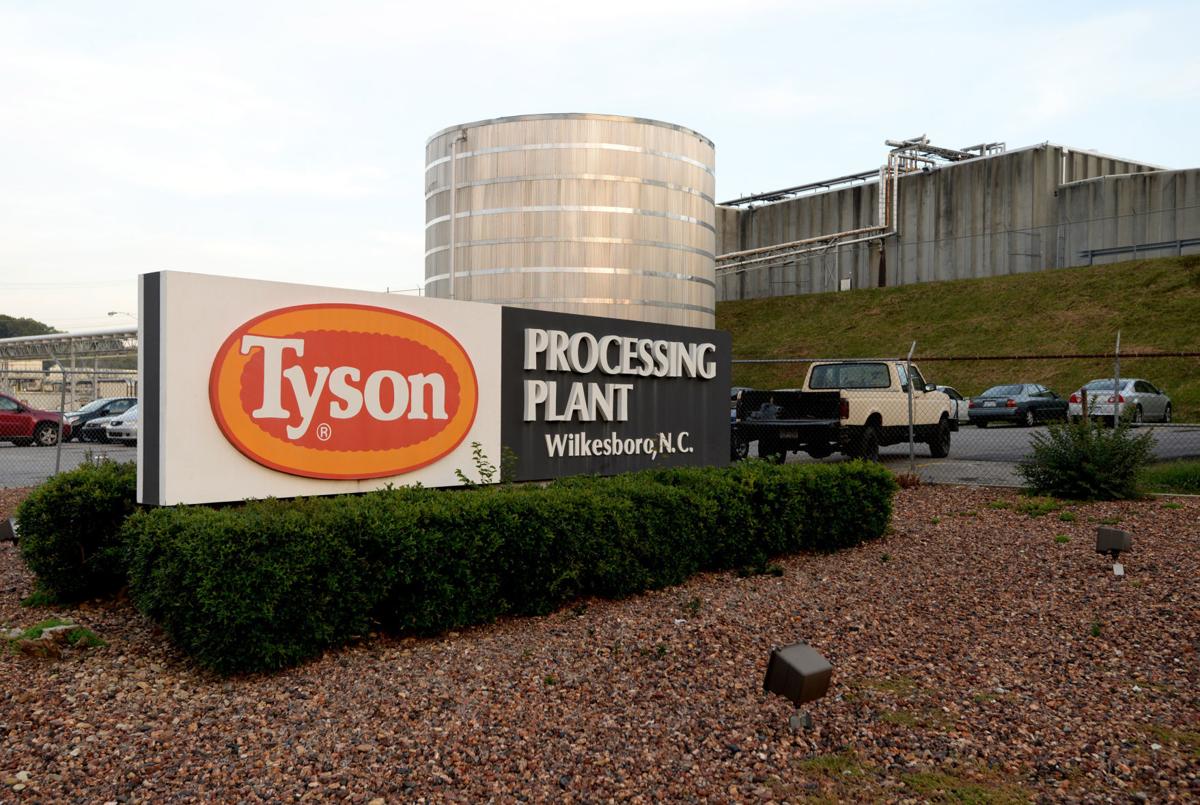 Twenty-seven new cases of COVID-19 were reported Wednesday in Forsyth County, the majority of them connected to the Tyson Foods Inc. plant in Wilkesboro, according to Forsyth Department of Public Health.
Since Monday, 57 residents of Forsyth have tested positive for coronavirus, and most of them are connected to the Tyson plant, Public Health Director Joshua Swift said.
N.C. Department of Health and Human Services said the local COVID-19 cases related to the Tyson plant are from workers who reside in Forsyth.
There have been at least 210 cases of COVID-19 in Forsyth, and 89 of those cases are considered active. There are more than 9,950 cases of COVID-19 in North Carolina, according to DHHS.
Forsyth's Assistant Health Director Tony Lo Giudice said county staff is working to trace people who came into contact with the infected workers. He said it is not yet clear how many of the county's COVID-19 cases involve Tyson employees.
It's also unclear how many Tyson employees have tested positive. Wilkes County reports 26 cases of COVID-19, with several of those cases linked to Tyson employees, according to health officials there. A company spokesman said the number of infected employees would not be released publicly.
Tyson employs more than 1,000 people and is Wilkes' largest employer, according to the N.C. Department of Commerce.
In a full-page advertisement in Sunday's edition of The New York Times, the chairman of the board of Tyson Foods, John Tyson, wrote that the "food supply chain is breaking" and warned of meat shortages nationwide.
"As pork, beef and chicken plants are being forced to close, even for short periods of time, millions of pounds of meat will disappear from the supply chain," Tyson wrote in the letter published as an advertisement. "As a result, there will be limited supply of our products available in grocery stores until we are able to reopen our facilities that are currently closed."
On Tuesday, President Donald Trump declared meat-processing plants "critical infrastructure" and signed an executive order meant to make sure those plants remain open to protect food supply chains.
Nationwide, at least 20 meat-plant workers have died of COVID-19, according to the United Food and Commercial Workers International Union. Workers at these plants often work 12-hour shifts standing shoulder-to-shoulder in refrigerated spaces, according to the U.S. Centers for Disease Control and Prevention.
Medical professionals on the Tyson Foods staff are performing additional contact tracing inside the plant, while the Wilkes Health Department is tracing contacts that the infected employees have had with people outside the plant.
Health officials in Wilkes said that they are "working to ensure that the plant can stay safely open," and point out that meat-processing plants are considered to be essential businesses.
At least 6,688 people in North Carolina were tested for the virus Tuesday. It's unclear how many of those people live in Forsyth, as the county updates its test count once a week.
At least 88 people in North Carolina were hospitalized because of the virus Tuesday, bringing the state total of hospitalizations to 551. More than 350 North Carolinians have died from the virus so far. The death toll in Forsyth remains at five.
336-727-7339
@LeeOSanderlin
Journal Reporter Wes Young contributed to this report.
Concerned about COVID-19?
Sign up now to get the most recent coronavirus headlines and other important local and national news sent to your email inbox daily.