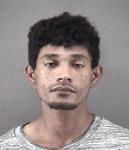 Winston-Salem Police charged a 33-year-old man this week in a string of store break-ins.
Jose Ivan Chaulizant, of 2504-C Green Oaks Court, was charged with 10 counts of breaking and entering, eight counts of larceny, possession of a stolen firearm, possession of firearm by convicted felon, carrying a concealed handgun and possession of drug paraphernalia.
According to information from police, Chaulizant was tied to an April robbery spree that targeted numerous city businesses including Mock Tire Service, 3131 Peters Creek Parkway; Douglas Battery, 575 N. Broad St.; Car Quest Auto Parts, 1210 Link Road; Five Points Tire & Auto, 3075 Kernersville Road; Quality Towing & Recovery, 3504 Harmon Road; Boost Mobile, 387 Peters Creek Parkway; Boost Mobile, 621 E. Sprague St. and Nuestra Farmacia, 516 Waughtown St.
During Chaulizant's arrest, he was found in possession of stolen property, including a stolen firearm, police said.
Chaulizant was booked in the Forsyth County Detention Center under a $100,000 secured bond.
North Carolina court records show numerous previous property crime convictions for Chaulizant dating back to 2005. He was most recently convicted of breaking and entering in 2014. Past convictions include possession of stolen goods and tampering with a motor vehicle.