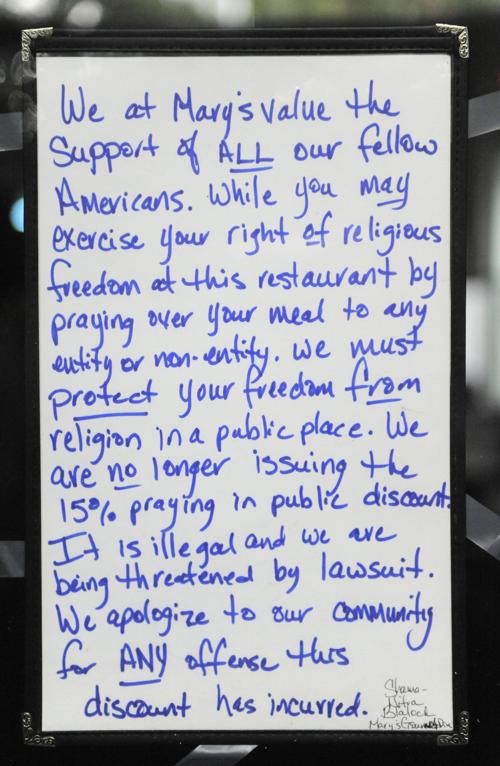 Mary's Gourmet Diner has announced it will no longer offer occasional discounts to people who pray before eating, citing the threat of legal action.
The restaurant's prayer discount had gone viral in recent days, making national news shows and sparking heated arguments on the Internet.
On Wednesday, the restaurant posted a handwritten notice in its front window stating that it must "protect your freedom from religion in a public place."
"It is illegal and we are being threatened by lawsuit," the note goes on to say, offering apology for "any offense this discount has incurred."
The discount made national news after some customers – Dan Bremnes, a Christian recording artist, and Jordan Smith, a promoter at Capital Music Group – posted their receipt on their Facebook pages after they passed through Winston-Salem and got a 15 percent discount at Mary's for "Praying in Public."
The lawyer for a group called the Freedom From Religion Foundation then sent Haglund a letter branding the discount illegal under federal civil rights laws.
Mary Haglund, the co-owner of the restaurant could not be reached for comment Wednesday evening.
On Tuesday she had said in an interview that the discount was never meant to promote any particular religion – or lack of religion – but was meant to show appreciation for people who had what she called "an attitude of gratitude." She said that calling it a discount for prayer may have been "a bad choice of words."
The co-president of the Freedom From Religion Foundation said that the group did not threaten to sue the restaurant, but that it has mounted and won lawsuits in other similar situations. A lawsuit against the restaurant "would not have been off the table," said Annie Laurie Gaylor, the co-president and co-founder of the foundation.
"People who are atheists don't pray," Gaylor said, adding that it is illegal to "charge an atheist more than a Christian."
Haglund told WGHP/Fox 8, the newsgathering partner of the Journal, that she dropped the discount out of fear of a lawsuit from the Wisconsin group.