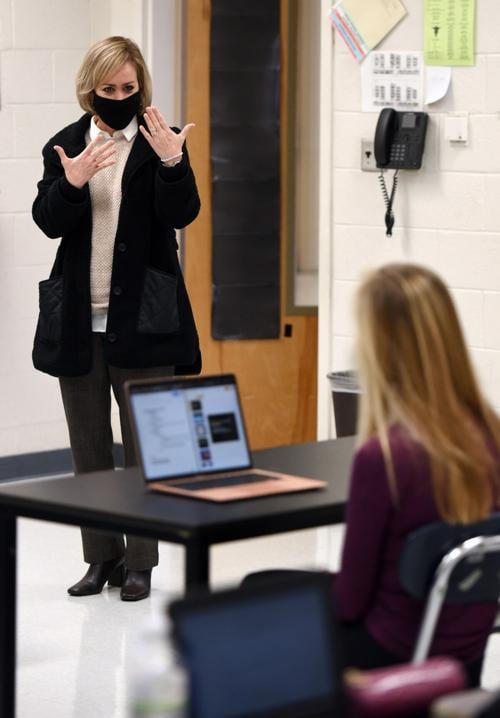 Tricia McManus, who has guided Winston-Salem/Forsyth County Schools through a cautious but deliberate reopening process, has been named the new superintendent of the school district. 
The school board unanimously approved McManus' hiring at its Tuesday meeting. McManus has been serving as interim superintendent since November, taking the district's top leadership job after Angela Hairston abruptly resigned some 14 months after she was hired. 
The board was slow to name an interim, even extending an offer to former superintendent Don Martin, now a county commissioner. 
McManus, 52, is a newcomer to the district, starting as deputy superintendent to Hairston last June. She spent most of her 30-year education career with Hillsborough County Schools in Florida. The district includes the city of Tampa and has a student enrollment of about 205,000. McManus worked a variety of jobs in that district, from elementary school teacher to a leadership position focusing on equity. 
"We've spent the last four months observing the work of Ms. McManus in her role as interim superintendent," chairwoman Malishai Woodbury said Tuesday. "We need solid, proven, continuous leadership right now." 
The contract is for 28 months.
The school board approved an initial three-month contract with McManus in November. In that time, the board had not publicly discussed any sort of superintendent search, leading to speculation that it was pleased with the way McManus has handled the challenges of getting thousands of students and teachers back into school buildings during a pandemic. The board was also just two years removed from an extensive six-month search that resulted in Hairston's hiring. That search, conducted by the N.C. School Boards Association, included parent surveys and a series of community meetings. 
McManus accepted the interim position at a crucial time, when a spike in COVID-19 cases collided with a reopening plan that called for all but high school students to return to classes by the start of winter break. In her first major decision, she recommended the district pause that plan until Jan. 11, a recommendation that won support from most of the board members.
"Every decision I make, first and foremost, I do what is in the best interest of children and students," McManus told the Journal in November. "It's completely driven by what is best for students, how is my decision going to impact every single one of them."
Dana Caudill Jones called McManus the "perfect leader for the district."
"I believe she is the right person to lead the district at this time," Jones said.
Board member Elisabeth Motsinger called the district "upright but bruised."
"Ms. McManus is a deeply kind and caring person who has immersed herself deeply into relationships with people in our districts," she said.
Details of McManus' contract were not immediately available.