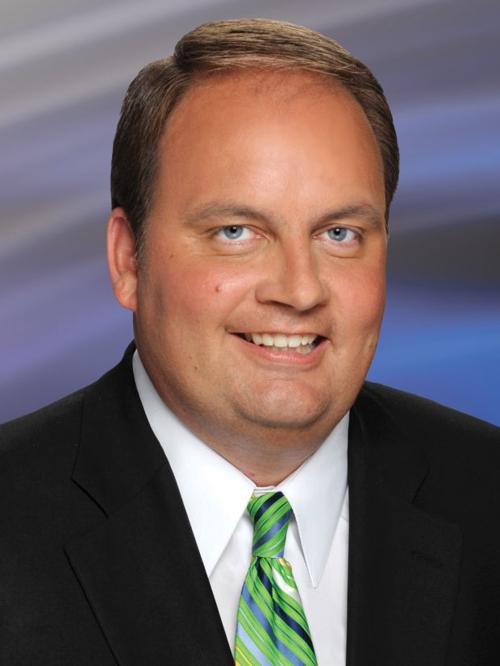 After 17 years as a meteorologist for WXII-12 News, Austin Caviness is taking on a new title – pastor.
Caviness announced Monday that he is leaving the news station to serve as the pastor of Salem Fork Christian Church in Dobson.
His last day at WXII is May 30.
Caviness announced his departure during the morning newscast.
"I love doing this and I will miss doing this in your guys' homes, but I tell you what, there's something I love even more – it is sharing the gospel," Caviness told viewers.
Caviness has been involved in lay ministry for several years. He has been open about his Christian faith as a TV personality and gets frequent invitations from churches to preach and share his testimony.
"Being able to do the weather is something I love and certainly felt called to, but the more I've shared my faith … the more I've really felt drawn to what people call the Lord's calling," Caviness told the Journal on Monday afternoon.
Hank Price, president and general manager of WXII, said Caviness came to him about a week ago with the decision. It wasn't a total shock, since Caviness has grappled with it for a while.
"I wished him the best. … Austin feels that he has a call by God to do this, and I fully support him," Price said.
Price said Caviness' decision to leave a prestigious job with good pay to go into full-time ministry says a lot about his character.
"We sure hate to lose him," Price said.
Caviness said his contract with WXII was up for renewal, and in discussions he said he would like to prayerfully consider a potential pastorship. He said it became apparent that he couldn't give all that he gives to the station and to being a pastor.
The decision required a lot of prayer but was ultimately a matter of the heart, Caviness said. He was first invited to speak at Salem Fork Christian, a small church in Surry County, last year and has felt increasingly connected to the church as he helped fill in there while they searched for a pastor.
The church voted him in as pastor two Sundays ago, and he has already assumed the role. He had a busy first week, leading Easter services at the church, visiting with church members and taking part in a church work day on Saturday.
Caviness said while he has enjoyed helping people plan their day by delivering the morning forecast, he also sees a big need when it comes to matters of faith.
"If I'm going to forecast anything, forecasting the grace of the gospel is a guarantee whereas the weather is a little iffy," Caviness said.
Caviness said WXII and Salem Fork are being supportive during the transition.
"That means a lot to me, because I care deeply about both of them now," Caviness said.
Caviness began working at WXII in 1997 after spending three years at WCTI in New Bern. He grew up in Burlington and graduated from Appalachian State University before earning a degree in meteorology from UNC Asheville.
"Viewers love Austin," Price said. "This leaves a big hole."
Price said WXII is doing a nationwide search to find Caviness' replacement and will consider inside candidates as well.
"We're going to take our time, because it's a very important job," Price said.