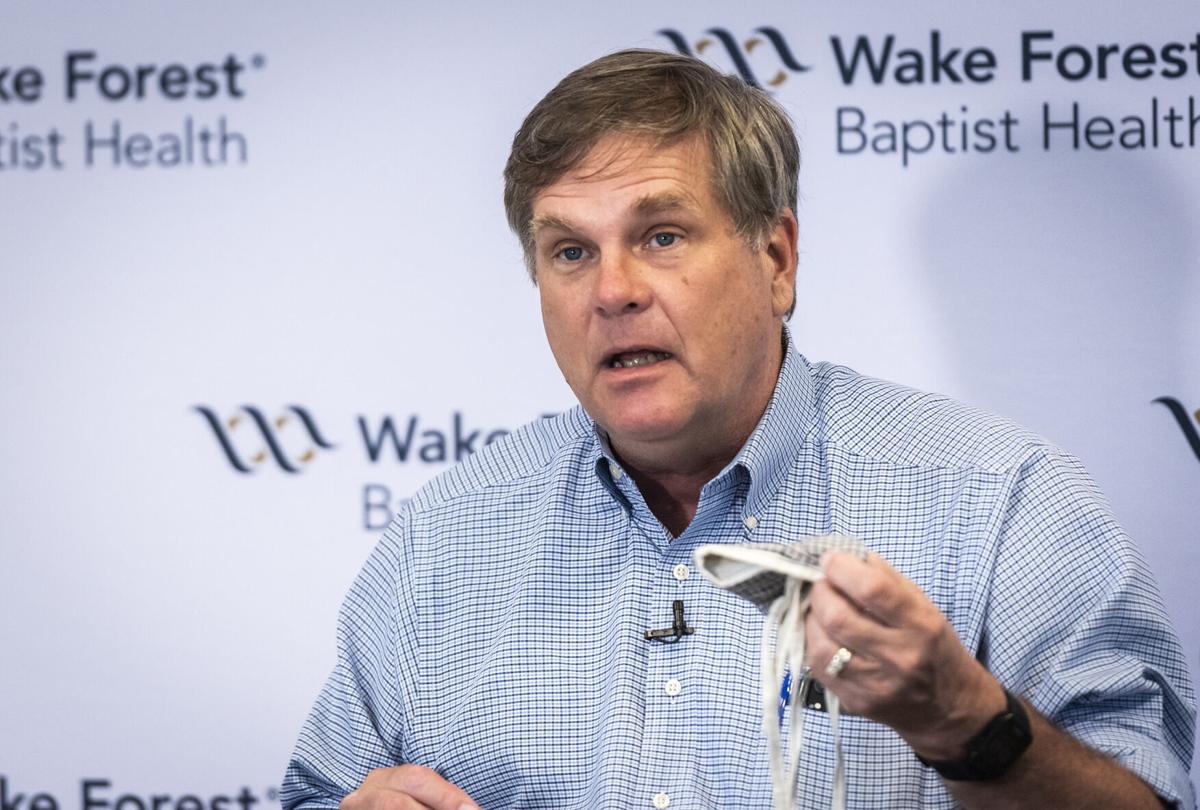 North Carolina ended 2020 at a record level of hospitalizations amid what may be the first wave of an expected Christmas holiday surge in cases.
The N.C. Department of Health and Human Services reported Thursday there are 3,493 North Carolinians hospitalized with COVID-19-related symptoms.
That's up 154 from Wednesday's report and up 116 from the previous high of 3,377 reported Tuesday.
By comparison, there were 1,966 individuals hospitalized with the coronavirus on Nov. 30.
DHHS reported 6,715 cases Thursday for an overall total of 539,545.
DHHS will not provide a report Friday, resuming its daily schedule Saturday.
The 17-county Triad region has 968 hospitalized COVID-19 patients, down one from the record high of 969 on Tuesday.
The region has had more COVID-19 hospitalizations than any other region in the state for the past 10 weeks. The Charlotte region currently has the second-highest number, with 863 COVID-19-related hospitalizations.
In response, Novant and Wake Forest Baptist are limiting the number of non-essential elective surgeries for adults. Novant said elective surgeries continue at Medical Park Hospital and its ambulatory surgical centers.
Dr. Christopher Ohl, an infectious disease expert at Wake Forest Baptist Medical Center, said Thursday that the Triad's hospital systems "are going to be able to handle anything, one way or another."
"You just change how you do things. It's a matter of how much do you have to disrupt what you normally do."
Vaccine status
The Cooper administration has adjusted its COVID-19 vaccination distribution priority to move up — potentially to as soon as next week — North Carolinians ages 75 and up regardless of their health and living conditions.
Cooper and state Health Secretary Dr. Mandy Cohen said the initial Phase 1A distribution round remains committed to health care workers caring for patients with COVID-19, individuals who are at the highest risk of being hospitalized or dying, and those at high risk of exposure to COVID-19.
"You can also schedule at a site providing vaccinations to get registered when it is your turn in the prioritization groups. Soon, people may be able to register themselves for vaccinations through the COVID-19 vaccine management system."
The federal DHHS has formed a partnership with CVS Health and Walgreens to handle vaccination for most of the nation's long-term care facilities. North Carolina's first round of doses for its long-term care facilities was scheduled to begin this week. 
Ohl said the fragile nature of the Pfizer vaccine, which has to be kept at ultra-cold temperatures before a five-day window for use, likely means primary care physicians won't provide the vaccine in their offices.
It's more likely there will be clinic settings established when the vaccine becomes available to the general public in the April-May timeframe.
COVID cases
DHHS said a glitch in COVID-19 reporting metrics resulted in Wednesday's report including 36 hours' worth of data, while Thursday's report contained just 12 hours of data.
DHHS lists COVID-19 cases and deaths on the day they are confirmed by medical providers and public-health officials so individuals may have been infected or died days before their cases are counted.
The primary impact of the reporting glitch is 8,551 new COVID-19 cases being reported statewide for Wednesday. That represents a daily high for the pandemic, surpassing 8,444 reported Dec. 19.
There were 19 deaths reported statewide Thursday, down drastically from the daily high of 155 reported Wednesday. The overall death total is 6,748.
For Forsyth County, there were 269 new cases reported Thursday with no additional deaths. The highest number of new daily cases in Forsyth was 353 on Dec. 19.
The overall Forsyth totals are at 20,643 cases and 221 deaths. With 55 of those deaths occurring this month, December had the most since the pandemic began.
According to Forsyth public health officials, as of 1:30 p.m. Thursday, 85.6% of Forsyth residents infected by COVID-19 had recovered, or 17,682 out of 20,643. There are 2,740 active cases in the county.
Dr. David Priest, an infectious disease expert at Novant Health, said the next surge in cases is likely to last longer that those over Thanksgiving because Christmas, New Year's Day and other holiday social gatherings likely began in mid-December and will last through this weekend
"We do expect higher (COVID) numbers from Christmas," Cooper said.
"We hope that a lot more families are being more careful" in following social gathering restrictions and guidelines that includes the statewide curfew of 10 p.m. to 5 a.m. through at least Jan. 8.
The state had a 13.3% positive test rate based on 35,149 tests conducted Tuesday. The record high for positive test rate is 14.8% out of 20,925 tests conducted Monday.
DHHS reported about 1,200 tests were conducted in Forsyth on Tuesday with a 12.2% positive test rate.
The highest positivity rate Forsyth has seen was 12.9%, reached four times this month with the last time being Dec. 19.
DHHS said its next outbreak reports for child care, K-12 schools and long-term care and correctional facilities won't be released until Tuesday.