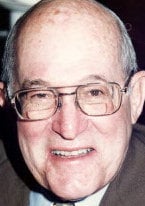 Abraham "Abe" Brenner, whose family established Brenner Children's Hospital 25 years ago at Wake Forest Baptist Medical Center, died Tuesday. He was 93.
Brenner, 93, died of natural causes, said his son, Frank Brenner of Greensboro.
Abe Brenner was "an exceptional role model," his son said. "He looked after everyone else before he looked after himself."
Abe Brenner was born Dec. 25, 1917, in Roanoke, Va., according to his obituary. His family moved to Winston-Salem in the early 1920s. He graduated from Reynolds High School in 1933.
Two years later, he went into business with his brother Morris Brenner, forming Brenner Iron and Metal Co. Their brother Herb later joined them, and they diversified their business over the years, establishing Amarr Co., Brenner Steel and other companies.
Abe Brenner rose to become chairman of the board of Brenner Cos. Inc. and a director of Amarr Co., which manufactures garage doors.
He and his brothers started the Brenner Foundation Inc. in 1961 to contribute money to charities. The family began financing the Brenner Center for Adolescent Medicine in 1981.
The family later established Brenner Children's Hospital in 1986 after officials at Wake Forest Baptist persuaded the Brenner brothers to contribute the lion's share of money to start the hospital.
In a 1989 interview with the Winston-Salem Journal, Abe Brenner said he and his brothers wanted to do something extraordinary for the city.
"The community has given something to us, and we felt we should give something back," Brenner said.
The brothers were proud of the hospital, Frank Brenner said, and they were pleased that the city residents supported it.
Lynn Brenner Eisenberg, Abe Brenner's niece, described her uncle as a "great man."
"(Abe Brenner and his brothers) felt it was a privilege to have businesses here," Eisenberg said. "They had a true commitment to philanthropy. They learned this throughout their lives."