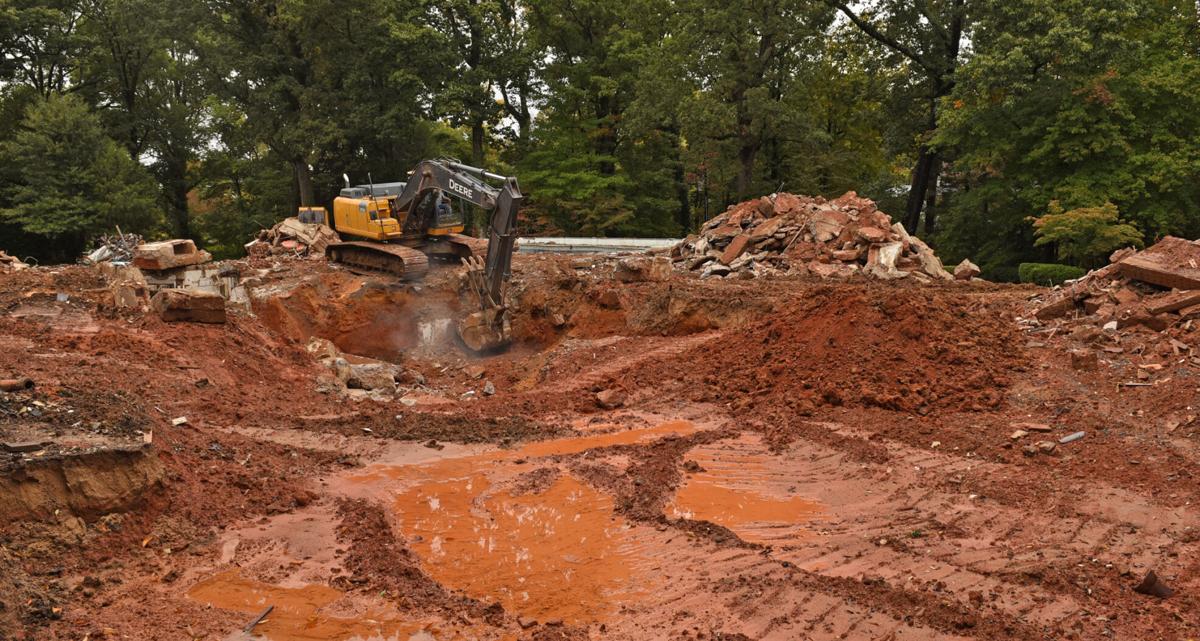 "We have a cautionary tale."
That is how Preservation Forsyth began a recent Facebook post about the demolition of a house that was built in the 1920s at 1701 Reynolda Road.
"We were stunned to learn this past week that one of famed architect Charles Barton Keen's homes in Reynolda Park had been razed! Bulldozed to the ground," according to the post.
The 5,125-square-foot home on a 2.35-acre lot was known foremost as the Lola Johnston residence and was designed by Keen with landscaping by Thomas Sears.
The house and property sold April 17 for $1.25 million to CBKL LLC.
The four-bedroom, 5 1/2-bath home had been listed for months for sale at $1.27 million.
The home was part of a real-estate initiative undertaken by Katharine Reynolds Johnston involving 65 acres on the family estate's southeastern edge. Johnston's mother-in-law, Lola, was the first resident.
"(Keen) designed both the Reynolda House and R.J. Reynolds High School, among other projects in Winston-Salem," says Preservation Forsyth's post. "Losing one (Keen home) — while gaining whatever will replace it — fundamentally alters the character of the neighborhood."
However, according to a local lawyer affiliated with the current property owner, the demolition eventually could breathe new life into the property, while paying homage to the neighborhood's ambience.
Although the owner of CBKL is not listed in its initial corporation filing with the N.C. Secretary of State's office, it is someone who lives in the neighborhood, said A.J. Ceberio, an attorney with Surratt Thompson & Ceberio PLLC who helped form the limited-liability company.
According to state corporation law, owners of LLCs don't have to identify themselves in the first year of formation.
Ceberio said that while the property owner does not want to be identified for now, he was authorized to speak on the owner's behalf.
"Their long-term goal is to put up one or two single-family homes consistent with the neighborhood, not commercial or anything like that," Ceberio said. "I don't think there is any indication they plan to move there.
"The reason they bought it is that they don't want (redevelopment) to change the neighborhood."
Rehab too costly
The Facebook post acknowledged that the residence and property "had been on the market for (it appears) several years, and we are making no assumptions about the issues involved."
It was listed for sale for $1.59 million in October 2016, with the price being reduced to $1.49 million in August 2017 and then to $1.19 million in June 2019.
The Realtor.com listing described the residence as having "breathtaking Foyer with original marble floor, new gourmet kitchen, library, office and large master suite on main-level with his and her bath. Master closet addition. Six fireplaces. Enclosed heated pool. Guest house. Rose garden. Wonderful home designed for entertaining. Additional lot available."
Ceberio said the owner bought the property "not knowing exactly what they would do with it. They explored all options, including rehabbing it."
"They had three different engineers come out to talk with them about what they would need to do to bring it up to code. It was in really poor shape, and that was part of the reason it was on the market for such a long time.
"The estimates they got were upward of $1 million to repair the property and bring it back up to its glory days," Ceberio said. "It was deteriorating to the point it was absolutely necessary to make renovations, though it wasn't condemnable."
Ceberio said the owners "salvaged what they could ... they want some of the items to go to good places."
Background
The Johnston residence was prominent enough that it is being included in a book titled "Great Houses & Their Stories: Winston-Salem's 'Era of Success' 1912-1940" by Wake Forest University emeritus arts professor Margaret "Peggy" Supplee Smith. The book is scheduled to publish in fall 2021.
Smith shared with the Journal a portion of her write-up on the Johnston residence.
"One of the earliest homes in Reynolda Park, this shingled Colonial Revival cottage was designed by architect Charles Barton Keen for Katharine Reynolds Johnston's new mother-in-law, Lola Johnston.
Three Reynolda Park residences, all designed by Keen, were located directly on Reynolda Road as it rose uphill to the Reynolds Estate.
"Of the three, Lola Johnston's property, which occupies two lots, was closest to Reynolda. Mrs. Johnston had the prime position because her son, J. Edward Johnston, who had been hired in 1919 as the principal of The Reynolda School, had married R. J. Reynolds' widow, Katharine."
" 'Tell grandmother her lot is being laid off and is going to be lovely,' " Katharine wrote her older daughter Mary, who was visiting Atlantic City with Mrs. Johnston in July 1923. Less than a year later, in May 1924, Katharine died from complications after childbirth, and everything changed.
"After Katharine's death, Lola Johnston cared for the infant, and sometime after 1927, she, her son and the baby boy left Winston-Salem and relocated to Baltimore."
"By 1930, the Johnston house at the corner of Reynolda and Arbor roads belonged to tobacco dealer Robert Norfleet and his wife, Sophia. In 1950, as plans for the restoration of Old Salem gained momentum, Museum of Early Southern Decorative Arts cofounders Frank Horton and his mother, Theo Liipfert Horton Taliaferro, lived in the spacious house.
"In 1950, Keen's Cape Cod Cottage was even considered as a possible home for MESDA," but ultimately was deemed too small for that purpose.
"The house has been remodeled several times through the years, but it retains its Colonial Revival charm and remains a significant landmark for everyone who drives up Reynolda Road."
Another owner was Lisbeth "Libba" Evans, senior member of West Third Street Media of Winston-Salem, who was N.C. Secretary of the Department of Cultural Resources from 2001 to 2008 during the Easley administration. She has served on several boards at Wake Forest University.
A reminder
Joyce Pope, an organizer with Preservation Forsyth, said the former 1701 Reynolda residence serves as a reminder of what the group tries to do.
"We try to educate the community that our history is important, and these buildings and places are part of what makes Winston Salem and Forsyth County unique," Pope said.
The Preservation Forsyth posting said that "the point of this example is to again emphasize the importance of protecting your historic house for future generations through a preservation easement."
"Please do not assume this could never happen to your historic home, please do not assume it will just be OK. There are a number of national listing sites just for historic homes, and a large pool of buyers looking specifically for historic homes.
"Adding an easement is not the detriment to a home sale that many assume."