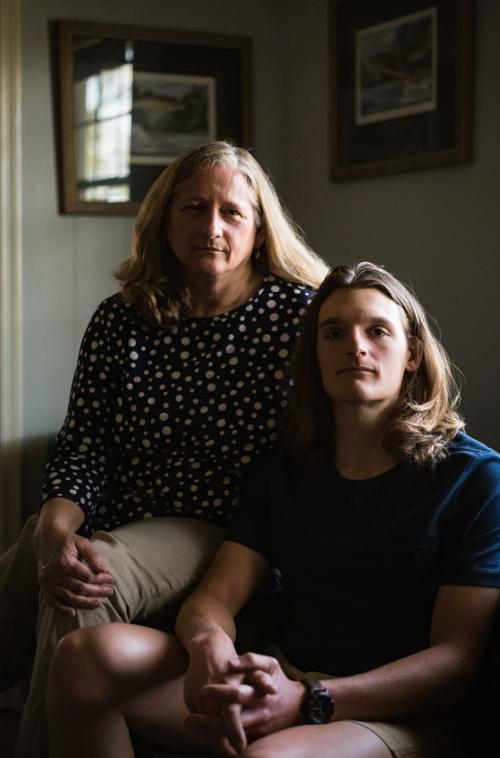 The noise, a vague banging around coming from the basement, didn't particularly bother Beth Hardin, even though a bedside clock showed 1:30 a.m.
Her son, Will, a college senior, is home — classes at Lees-McRae College are being conducted online — and night-owl hours for a 21-year-old aren't unusual.
Still, she went down the hall to check. And when she found Will sound asleep, she knew something bad was happening.
"I knocked on his door and thought 'If he's here .... who's down there?'" Beth Hardin said. "Someone was in the basement."
Cops would classify it in the paperwork as a first-degree burglary — a break-in when the victims are home. You and I might call it a home invasion.
"I could see out the bathroom window and saw the shadow of a man," she said. "It might have been dumb, but I started banging around making noise hoping to scare him away. Then we had to get out of the house."
And the very next morning, Will Hardin went to apply for a pistol-purchase permit from the Forsyth County Sheriff's Office, where overworked deputies saw applications this March double from a year ago.
Feeling a need for security
Flipping on the lights and making a racket worked. Whoever broke into the basement hightailed it out of there.
The Hardins did, too. They ran barefoot in the rain to a neighbor's house while dialing 911. About a half dozen officers from the Winston-Salem Police Department arrived within 10 minutes.
An old safe had been dragged halfway into the yard, and three long guns — a shotgun and two old rifles (unloaded) were stolen.
"The police were definitely prepared," Will Hardin said. "It was weird. We usually don't have to worry about this kind of stuff in our neighborhood."
For that they're grateful. They know they're fortunate to live somewhere where locking doors isn't always a priority.
Now, and for the foreseeable future, that's changed. Locking — and double checking — is part of the routine.
So, too, is an upgrade in the approach to home security. Hence the urgency for Will to apply for a permit to purchase a pistol. "I want to do it right. I should have it April 8," he said.
He's far from alone in feeling a pressing need for personal security.
According to data compiled by the Forsyth County Sheriff's Office, 1,464 permit applications were filed last month. In 2019, the number was 590.
That's a lot of paperwork.
In Wake County, demand was so great that, last month, Sheriff Gerald Baker suspended applications for gun purchase and concealed carry permits — a decision that prompted Grassroots North Carolina, a gun-rights organization, and other pro-Second Amendment groups to file suit.
A backlog in applications, which averaged 290 per day in one week in Raleigh — triple from 2019 — caused Baker to take action.
State law requires sheriff's offices to inform pistol permit applicants within 14 days whether their permit has been approved.
So far in Forsyth County, the increase in demand has not been an issue. Applications in March for concealed carry permits — a more detailed process requiring fingerprinting — decreased from the same time period in 2019, from 541 last year to 391 this year.
Part of the reason for the decrease may be that Forsyth County stopped fingerprinting March 19 and, as such, is not processing new concealed carry permit applications.
Sheriff's officials made the decision reluctantly out of concern for deputies' health during the coronavirus pandemic. Taking fingerprints requires close person to person contact. It can't be done wearing gloves.
"To be clear, we are not interfering with any Second Amendment rights; we are still issuing purchase permits, concealed permit renewals, and of course people may open carry," wrote Christina Howell, a spokeswoman for the sheriff's office, in an email. "We are simply trying to protect the health of the public during this pandemic by suspending fingerprinting services."
The natural reaction
Since a couple weeks have passed since someone shattered the Hardins' peace of mind — the burglary happened March 25 — they've had some time to consider whether the break-in was related to the pandemic.
"I think it has to be connected (to coronavirus)," Beth Hardin said. "It's related at least."
That's a natural reaction. Shortages in stores, soaring unemployment and uncertainty have ganged up on the collective psyche. Fear is normal in times of duress.
Yet, it's still too early to say with stat-backed, scientific certainty that crime has increased even though a two-week comparison from 2019 to 2020 would seem to indicate that may be the case.
Winston-Salem police responded to 504 "part-one" property crimes — burglaries, auto break-ins and the like — March 9-24, 2020 and recorded some 1,978 arrests and citations. (That figure seems high, but it includes everything from traffic tickets to murder warrants.)
Over the same two-week period in 2019, city police responded to 420 part-one property crimes and recorded 2,587 arrests and citations.
"The response to the COVID-19 pandemic is a rapidly evolving and changing situation which requires a daily assessment of our response to the community," wrote Lt. Jose Gomez of the WSPD in a prepared statement.
The numbers — and any underlying explanations — matter little to someone awakened in the middle of the night by thieves.
"The one funny part of this is, the safe had nothing in it," Beth Hardin said. "A pair of sunglasses, an old inhaler and a roll of nickels. It would have been funny if they'd hauled it off, paid somebody to open it and found nothing."
More concerning is the lost sense of security. Beth Hardin admitted that she has wondered whether she'd see the thieves casing the neighborhood in the days before the break-in.
A teacher, she also would like for the investigation to result in arrest — but not out of an eye-for-an-eye thirst for punishment.
"I'd like for them to be caught," she said. "Not necessarily to go to jail but to stop them before they hurt themselves worse by getting in more trouble.
"This took our security away. The weird part is that they touched my stuff. Not because of the virus, but because someone was in your house uninvited."
336-727-7481
@scottsextonwsj