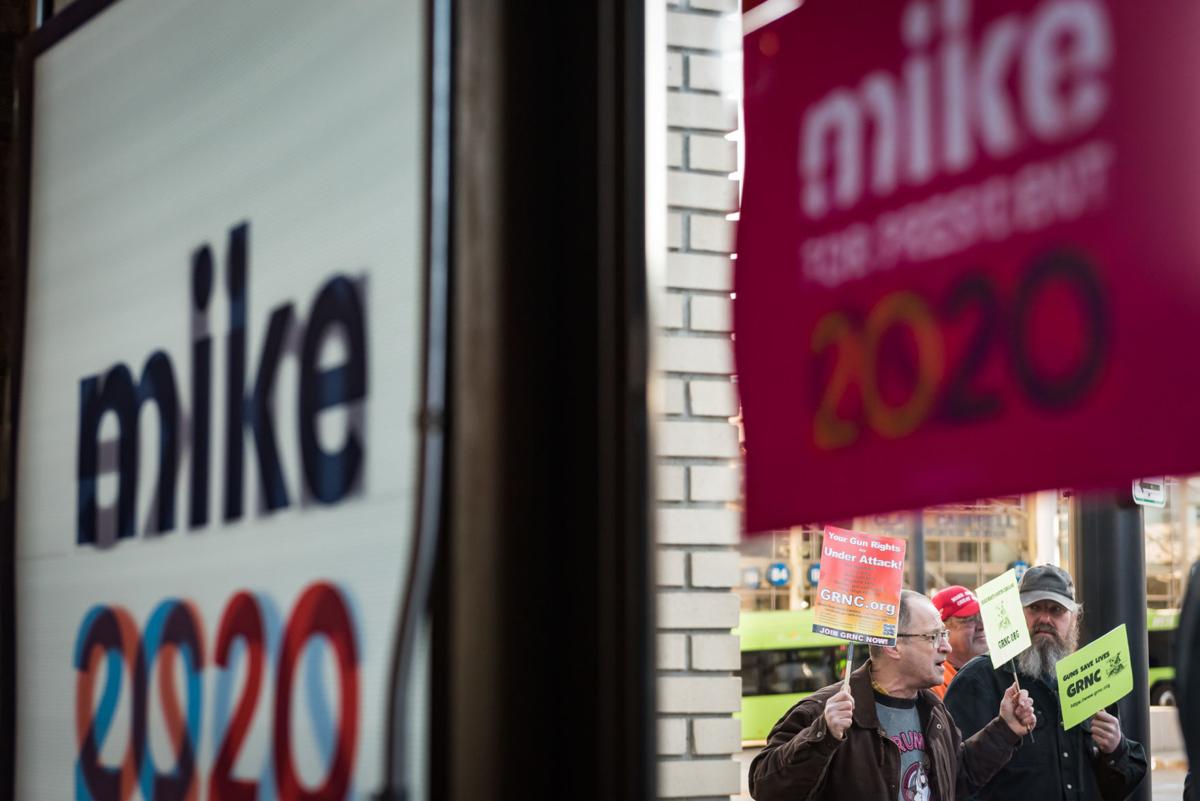 Protesters unhappy with Mike Bloomberg's stance on gun laws greeted the Democratic presidential candidate's campaign bus in downtown Winston-Salem, as the bus made its way on a gun-violence prevention tour across the state on Friday.
The small group of protesters gathered at the corner of Liberty and Fifth streets, right beside the Bloomberg campaign headquarters there. The protesters held up signs in support of gun rights and shouted slogans as the bus parked in front of the campaign headquarters and discharged its passengers.
"Forsyth County just passed a Second Amendment resolution, so we are in the right place at the right time," said protest organizer Andy Stevens. Stevens went on to say that the state would "not be bought by New York money."
Stevens, who said he organized the protest, is the director of legislative affairs for Grass Roots North Carolina, which describes itself as a "no-compromise" gun rights group. Bloomberg, the former mayor of New York who announced his campaign for president in late 2019, was not on the bus.
A Bloomberg campaign flyer available at the campaign headquarters said the candidate "helped build a movement to take on the NRA (National Rifle Association) and Trump on gun violence," resulting in "stronger gun laws in states across the country."
The street corner protest came almost 24 hours after Forsyth County became the latest North Carolina county — and the biggest one in population so far — to pass a resolution in support of the right to keep and bear arms.
The county passed its resolution 4-3 on a party-line vote, with Republicans in favor and Democrats opposed. The wave of county resolutions in North Carolina and elsewhere have come in the wake of events in Virginia, where Democrats took control of state government in recent elections and began proposing various gun control measures.
Some of the Bloomberg supporters inside said they weren't bothered by the protesters and that their protest signs were too small to read clearly.
"It is their right to do that," Justus Harris said as he stood inside the campaign headquarters waiting for the event to begin. "I disagree with them, but that is their right."