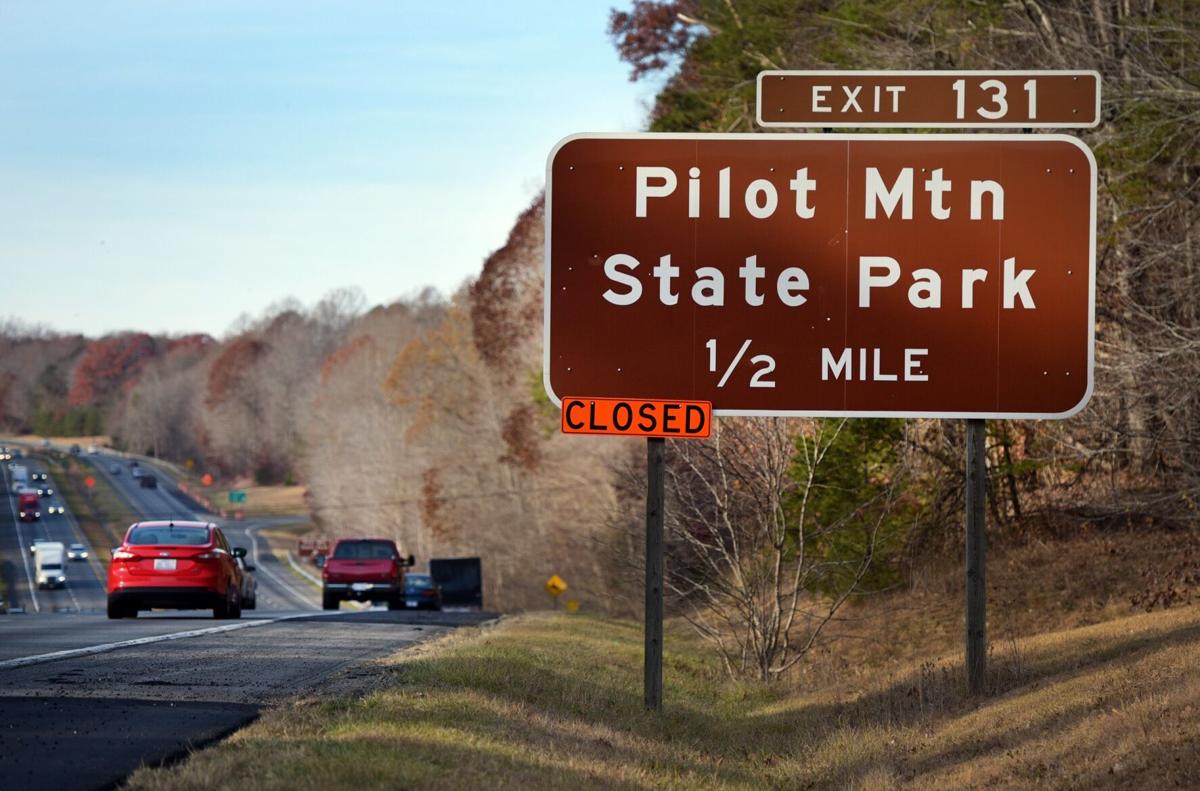 The effects of what would become the Winston-Salem area's biggest environmental story of 2021 were impossible to avoid for anyone who spent any time outdoors during the final few days of November.
A wildfire at Pilot Mountain State Park in Surry County produced an acrid haze that flowed into Forsyth County and other areas of the Triad and hung in the air for days.
The blaze also offered a stark reminder of weather's outsized impact on nature while providing a glimpse into climate change's potential influence on the environment, scientists who study the causes and effects of a warming planet noted.
The Pilot Mountain fire came at the end of North Carolina's third-driest November since 1895, according to the N.C. State Climate Office. Statewide, just 0.76 inches of rain fell for the month. The last time North Carolina experienced a November that dry was in 1931, which corresponded with the onset of the Dust Bowl period that ravaged the southern Plains, the climate office noted.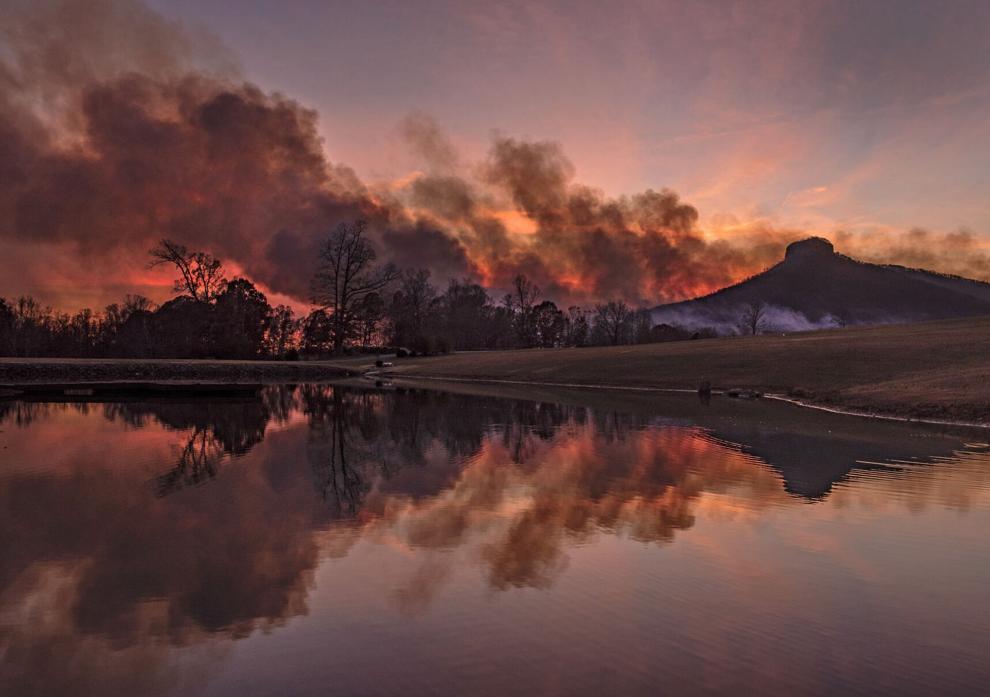 In November 2021, the Triad was even more parched than the rest of the state. Just 0.30 inches of rain fell in the region during the month, creating tinderbox conditions made potentially more explosive by a thick blanket of newly fallen leaves simply waiting for a spark.
That spark came Nov. 27 in the form of a campfire set in an unauthorized area near the park's Grindstone Trail, investigators with the N.C. Forest Service concluded. By the time the blaze was finally fully contained a week later, 1,050 acres in the park had burned, and as many as 80 firefighters at one time had battled the flames at a cost of more than a half-million dollars, according to reports submitted to the National Interagency Coordination Center.
More to come
Warmer temperatures tied to climate change will continue to cause deeper droughts and drier conditions like those that contributed to the Pilot Mountain fire and a 40-acre blaze at Sauratown Mountain in Stokes County Nov. 9-14, said Robert Scheller, a professor in N.C. State University's Department of Forestry and Environmental Resources who is studying the potential impacts of climate change on forests in North Carolina.
"We've created the perfect conditions for wildfires, and I don't see that changing anytime soon," he added. "And we're not just going to see more fires. We're going to see more 'surprise' fires where people aren't expecting it to happen."
According to predictive models developed by Zachary Roberts, a doctoral candidate at N.C. State, the areas in North Carolina that are highly susceptible to wildfires could be 16 times larger within 80 years.
"Some of these fires are going to be very unfortunate surprises," Scheller says.
Natural cycle
While some areas still smoldered, Pilot Mountain State Park reopened Dec. 11, a week after the fire was declared 100% contained.
Those first visitors experienced a place that looked much different than it had two weeks earlier. No one understood that transformation more than Corey Davis, an assistant state climatologist at the N.C. State Climate Office.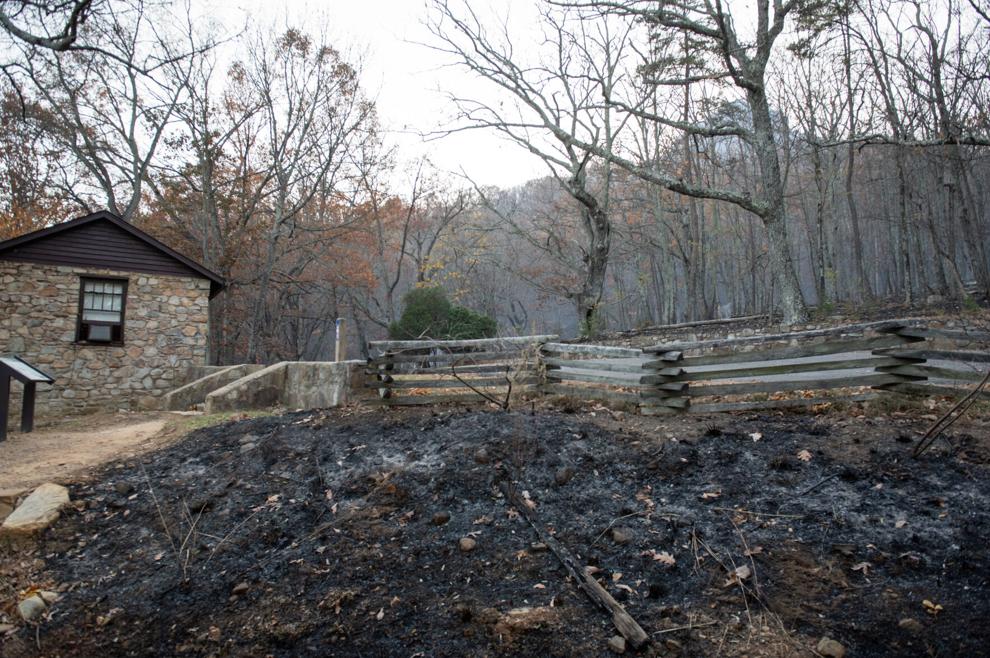 "It hurts to see such a distinctive place up in flames," said Davis, a Kernersville native who often visited the park as a child with his family.
It was a sentiment shared by many who were mortified by scenes of the iconic landmark consumed by fire. But large blazes such as the one on Pilot Mountain act like a reset button, clearing out much of the old vegetation and invasive species and encouraging the return of native plants and wildlife, Davis explained.
Still, Davis' longer-term optimism was tempered by a more immediate reality.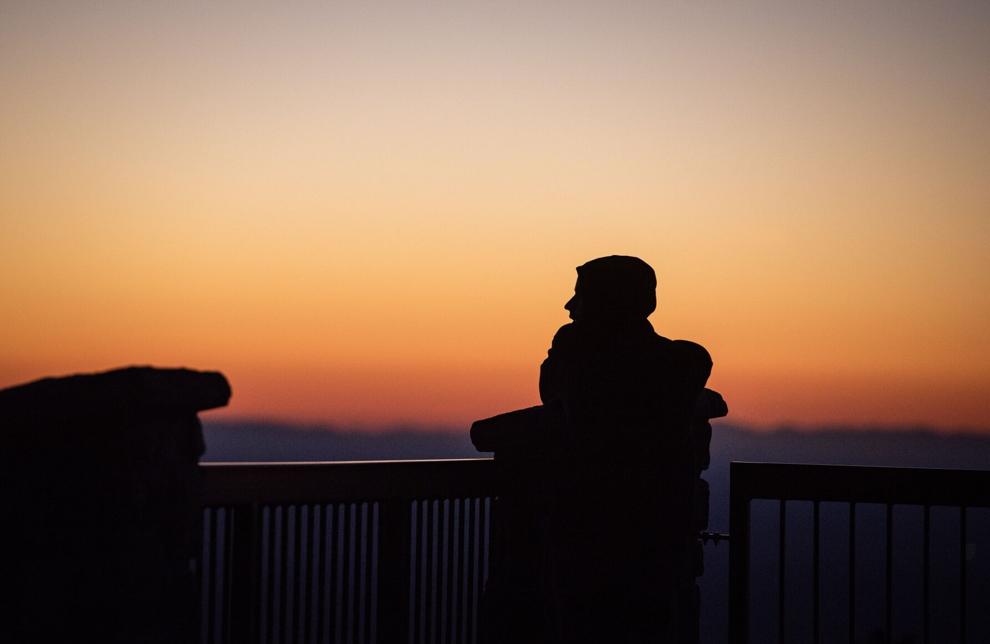 "In a historically dry fall, it's also tough to ignore the impacts of this sort of extreme weather, and it reminds me not to take our beautiful but delicate ecosystems for granted," he said.
Extreme end
For the year, November and December were the historical weather outliers.
An arid November was followed by the century's second-warmest December ever in the Triad, according to historical data from the National Weather Service.
The average temperature for the month (which factors in daytime and nighttime conditions) of nearly 50 degrees was about 7 degrees above normal. The only warmer December since 2000 was in 2015, when the average temperature was 53.5 degrees.
While the year ended on an extreme note, the average temperature of nearly 60 for the entire year was just slightly above the average of 59.8 for this century.
For all of 2021, the warmest temperature reported in the Triad was 95 on July 29, according to the weather service. The lowest was 22 degrees reported on Jan. 10 and 29, and Feb. 4 and 21.
Temblor time
Fire wasn't the only phenomenon shaking up the Winston-Salem area in 2021.
Five small earthquakes in late November struck portions of the city and sent tremors through social media channels.
The quakes, all within a few miles of each other, caused no damage or injuries but left some residents wondering if the cluster — referred to by seismologists as a "swarm" — was a precursor to a more violent temblor.
Not likely, according to North Carolina's state geologist.
Kenneth Taylor, who leads the N.C. Geological Survey at the N.C. Department of Environmental Quality, said he was reassured by the fact that the last three November quakes were smaller than the first two. That meant stress between tectonic plates — whose sudden shifts triggered the shaking — likely was easing rather than building, he explained.
"It's basically, 'pop, pop, pop,' and we're done,'" Taylor said.
That was the case locally when three of the local quakes were detected within nine minutes of each other in the early hours of Wednesday, Nov. 24.
After a 2.4 magnitude earthquake Nov. 21, the three on Nov. 24 registered 2.3, 1.7 and 1.8, followed by a single 1.9 quake two days later.
John Deem covers climate change and the environment in the Triad and Northwest North Carolina. His work is funded by a grant from the 1Earth Fund and the Z. Smith Reynolds Foundation.