Winston-Salem's oldest radio station, WSJS at 600 on the AM dial, has been off the air since earlier this week after vandals destroyed the last of three working radio towers on a 44-acre tract off Robinhood Road, according to Stu Epperson Jr., the president of the Christian broadcasting company that owns the station.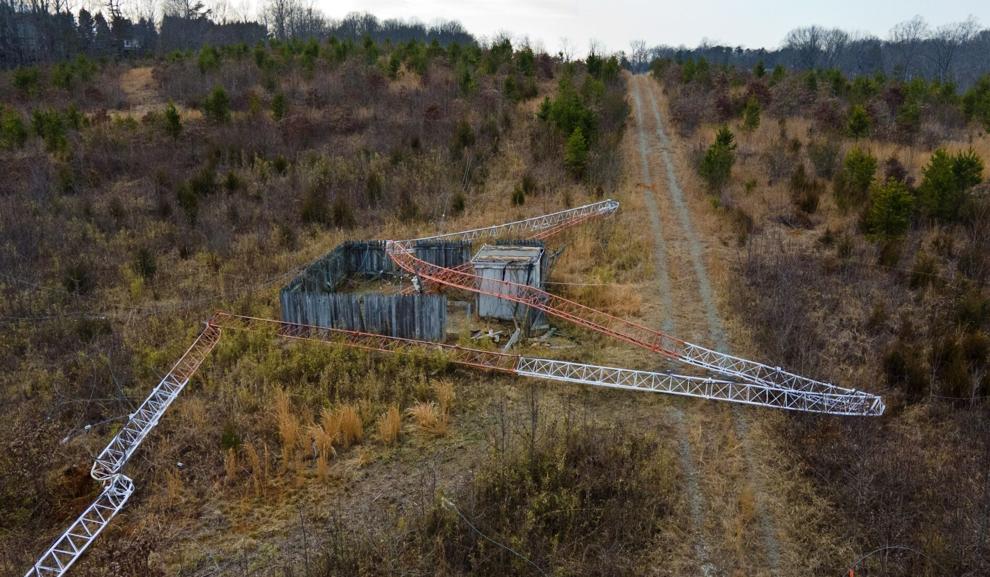 Winston-Salem police are investigating the vandalism of the towers operated by Truth Broadcasting Co. and located in the 4800 block of Robinhood Road, Epperson said.
Epperson said the first of the three towers fell days before Christmas, taking out 101.5 FM. Another tower was destroyed late last week, taking out WSJS. Epperson said staffers were able to execute a patch to put the 600 AM signal onto the last of the remaining towers on the property, but vandals took down that one earlier this week, he said.
"We are working on a couple band-aid solutions to get back on the air," Epperson said Thursday. "We are a 24-7 service that people depend on for news, talk, weather and inspiration. We are getting calls from everyone. The ones who can't hear us want their AM radio back."
WSJS began broadcasting in April 1930. The Truth Network, which was founded in 2000, is owned and operated by the Truth Broadcasting Corp., according to its website. It broadcasts predominantly preaching and teaching on Christian and Bible based topics in North Carolina, Virginia, Iowa and Utah.
On Tuesday, Epperson posted a picture on his Facebook page showing him with his head down as he sat on a fallen radio antenna frame. He called it "one of the toughest days of my broadcasting life, noting that law enforcement authorities are working on the case, and asking people to pray for the conversion of the person responsible for the damage.
At first Epperson thought the damage was weather-related, but as the towers kept falling he realized "it was actually criminal activity," Epperson said.
"During all of my years, we have never had this type of attack and violent action taken against us," he said. "They destroyed FCC-licensed towers. It's a major federal crime. It's very bad."
Kira Boyd, a spokeswoman for the Winston-Salem Police Department, said the vandalism case "is an active, ongoing investigation," but added that police would not be revealing further information at present.
Epperson said he doesn't know how much the towers were worth or how much money it will take to replace them, but determining that cost is one of the tasks ahead, he said. The towers were insured, Epperson said.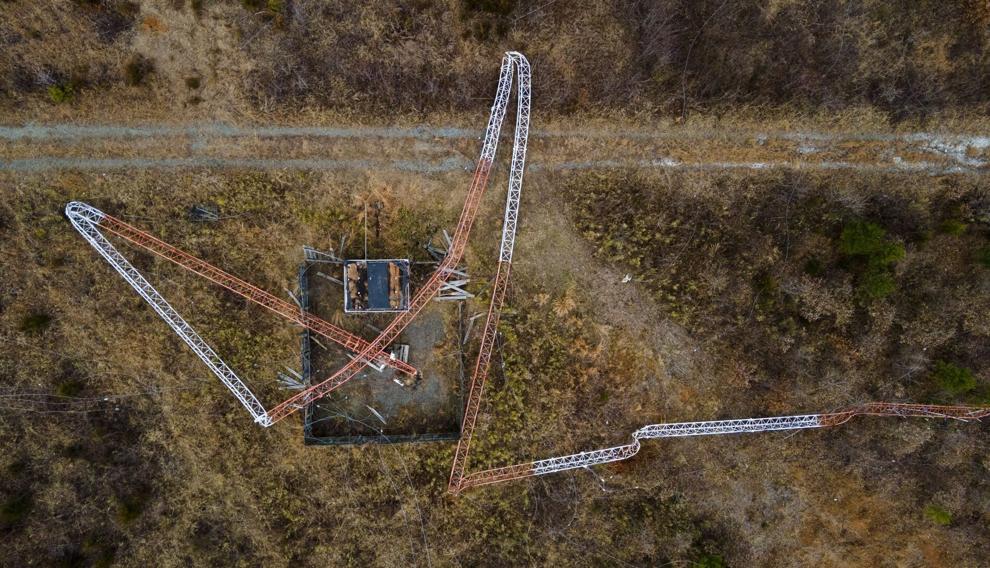 The FBI "is aware of a radio station tower vandalism investigation in Winston-Salem," said Shelley Lynch, a FBI spokeswoman in Charlotte.
"If during the course of the local investigation by the Winston-Salem Police Department, a federal crime comes to light, the FBI is prepared to investigate," she said.
Under federal law, anyone convicted of damaging or destroying the property of any radio station can be fined or imprisoned for 10 years.
Truth Broadcasting acquired WSJS from Curtis Media Group last year. Epperson said that there was a fourth tower on the site when it was owned by Curtis Media, but that it came down before the sale. Now, Epperson is wondering if that, too, was an earlier act of vandalism.
The property off Robinhood Road is owned by 4870 Robinhood Road TRTORV LLC, a company formed by Truth Broadcasting, Roanoke Vinton Radio Inc. and TOV Corporation. Epperson's father, Stuart Epperson Sr., is president of Roanoke Vinton, and Todd DeNeui is president of TOV Corporation.
On Jan. 3, the owners of the towers property obtained a rezoning of the property for a residential mix of 156 apartments, 14 twin homes and 178 units of senior housing. While the plans called for the eventual removal of the three towers as the new development took shape, Epperson said that would have happened in an orderly way.
"We needed those towers to broadcast," he said. "If and when they would come down, that is a controlled process, handled very deliberately, safely and legally, under the authorization of the FCC."
Two opponents of the rezoning spoke during the public hearing but said their objection was not to the development as such but to city requirements that the new development connect to other nearby developments.
One speaker, Cliff Orgnon whose house is near the towers property, told council members during the hearing that he had personally watched one of the towers falling down on Dec. 21.
Listeners can still access Truth Broadcasting's radio signal at 103.FM in Winston-Salem, 104.9 FM in High Point and 93.7 FM in Greensboro, Epperson said.
The local vandalism doesn't affect his company's operations outside of Winston-Salem, he said.
The radio station is evaluating how the loss of its broadcast signal is affecting its advertising revenue, Epperson said. No layoffs have occurred among the company's 40 employees in Winston-Salem, Raleigh and Greensboro, he said.
However, the vandalism has prevented the radio station "from a making a positive difference in our community," Epperson said. "This is our hometown, and this is a big hit. We have a couple challenges."
Epperson and the staff at the radio station are grateful for the support and prayers that they have receive from the community, he said.
Epperson is urging anyone with information about the vandalism to call the Winston-Salem police at 336-773-7700.