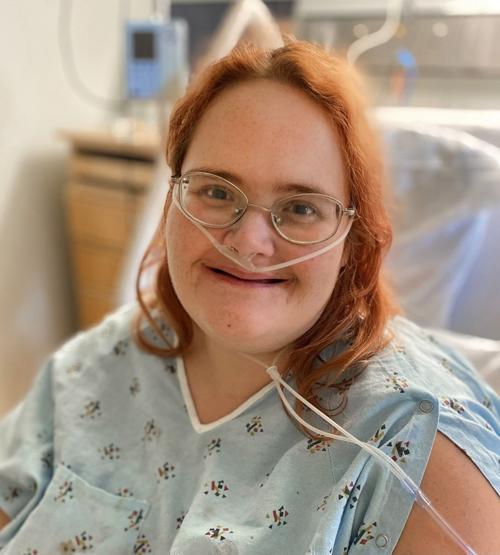 Eketrina Wilson fumbled with her cell phone. Her camera was off-kilter — it's hard to tell horizontal from vertical in selfie-mode sometimes — and she struggled with the volume.
It may not have been Wilson's first experience with Zoom, but Tuesday morning's call surely was her most important.
But it wasn't the technology that spooked her. Nor was it the tube gently pushing oxygen into her nostrils; she's used to that by now. Rather, it was the subject that likely caused the most distress.
Wilson, 39, is recovering from a debilitating bout with COVID-19. And like an overwhelming majority of people requiring serious in-patient care, she didn't heed the many and repeated warnings to take the vaccine.
She's well down the road to recovery, thank goodness, and has an urgent message about vaccinations to share with the hesitant and the lazy.
But first, she needed to clear some technological hurdles.
'I was scared'
The rest of the Zoom call participants logged in a few minutes before 11 a.m.
Officials from the Wake Forest University Baptist Medical Center, including moderator Eryn Johnson and Dr. Kinchit Shah — Johnson to help relay questions and answers if need be, and Shah to speak to the challenges presented by a surge in the delta variant of the coronavirus — and reporters to amplify and spread Wilson's message to anyone who still needs to hear it waited patiently for Wilson to arrive on the small screen.
When she did, questions came at her from different directions via Zoom audio, a chat-room function and relayed through Johnson. Most boiled down to the same basic theme:
What does she want people, in particular those who have not yet been vaccinated, to hear?
"I wasn't vaccinated because I was scared," Wilson said. "I got the vaccine when I was in the hospital with COVID because I can't go through this again."
Wilson, like hundreds of thousands of other vaccine-hesitant Americans, didn't take the threat of infection seriously enough. She's young, 39, and didn't feel particularly vulnerable. She thought she was safe; she thought wrong.
"It hurts too much to breathe," she said to no one in particular following a short harsh coughing fit.
"I didn't think it would be this bad … I thought it would be simple and it's not."
Wilson earlier this month contracted the coronavirus — God only knows where — and suffered with such symptoms as shortness of breath and fatigue for nearly two weeks before seeking medical attention at Wake Forest Baptist Health — High Point Medical Center on July 19.
"She had a terrible shortness of breath and low levels of oxygen," said Shah, one of several doctors who helped care for Wilson. "After the first three days, it was time to send her to the ICU. She was not getting better."
Making matters worse, Shah said, Wilson's condition had deteriorated past the point to qualify for some of the medications now being used to treat COVID-19. Doctors struggled to stabilize her oxygen and get her even to the point where drawing a breath wasn't painful.
Her oxygen levels dropped "even when going to the bathroom or talking continuously, more than a few sentences," Shah said. "We had a hard time getting her comfortable using oxygen and able to function."
A call for sanity
The great re-opening of schools, businesses, restaurants, churches and anywhere people typically gather makes contact tracing difficult, if not impossible.
The delta variant, Shah said, is highly contagious and striking younger people who often lack predictable comorbidities such as obesity or conditions such as asthma.
So attempting to figure out the how and the where of Wilson's infection is near pointless at this juncture.
"We honestly don't know," Shah said. "Before, it was easy to tell who went to a gathering and (got infected.) Now someone could have gone anywhere and gotten infected from that."
Mask mandates and shutdowns are mostly in the rearview mirror. Thank goodness. Any attempts to re-implement any such measures, even in the face of increasing infection rates and hospitalizations, surely will be met with fierce resistance.
And honestly, that's fair. Judging by casual conversation and daily interaction among the happily vaccinated, there is a level of resentment building toward those who have refused the shot and continue to spread the disease through fear, sloth, ignorance or some combination.
But speaking only for me, seeing (and hearing) Wilson cough violently and still using oxygen softened that stance. It's hard to watch someone suffer, and witnessing it makes the message more urgent.
Wilson spent five days in the hospital before recovering enough to where she could be safely discharged, a milestone in a weeks-long ordeal she obviously would prefer to have avoided.
She ducked the shot, she said, for the simplest of reasons. Negative (and demonstrably false) information tainted her view.
"I was scared to get vaccinated," she said.
An explanation that, when compared to what she's just gone through, just doesn't stand up to experience. And because of that, Wilson wants to add her voice to a growing chorus of unvaccinated COVID survivors — and doctors, epidemiologists and those inclined to trust science and modern medicine — to plead for the unvaccinated to roll up a sleeve.
"It's not scary," she said. "It's just like the flu shot. You have to have it or you're going to get sick."