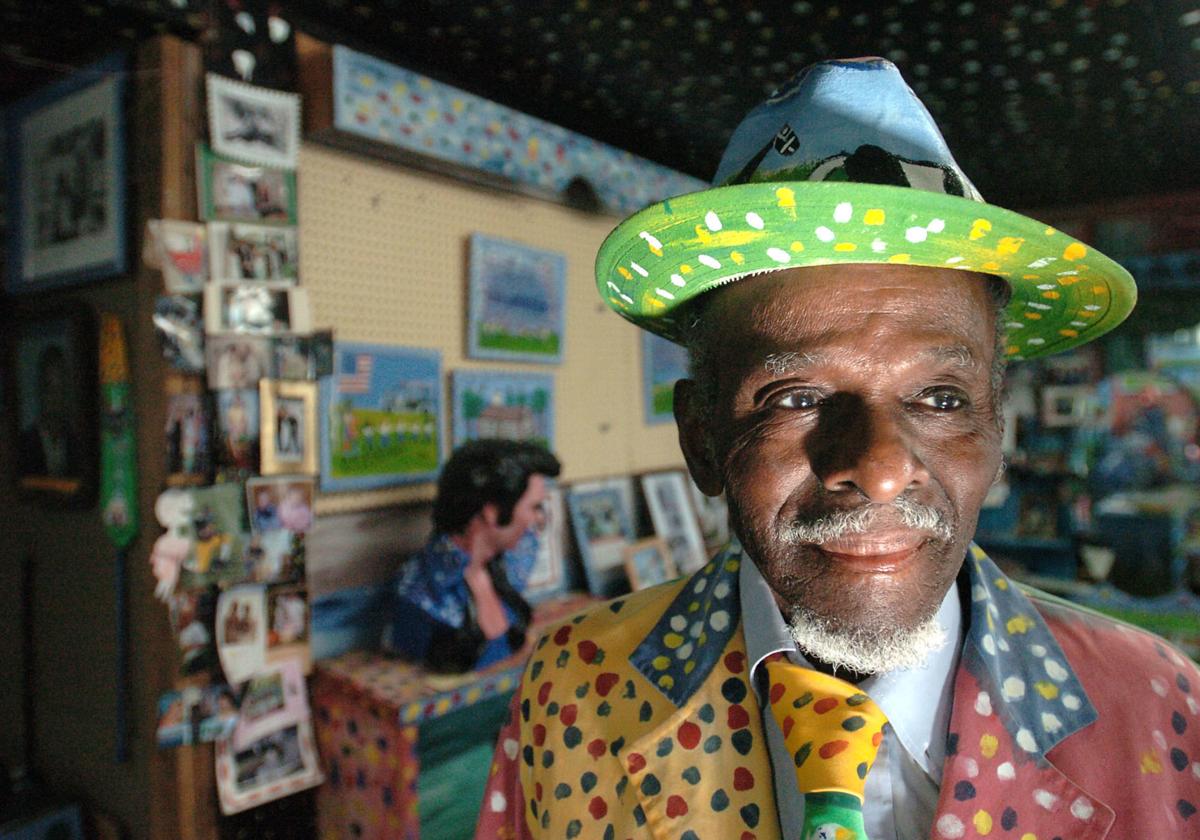 Sam "The Dot Man" McMillan, known for his colorful and eclectic dotted artwork, died Wednesday in Winston-Salem at the age of 92, his family said.
The self-taught folk artist and native of Fairmont was known for painting anything he could find — clothes, toys, appliances, furniture, bicycles, bookends, shoes — in bright colors with his signature splash of polka-dots.
"Uncle Sam was a character. He loved his artwork, and, of course he loved his dots," his nephew, David Julius Ford, said. "He meant a lot to the Winston-Salem community and to the art world."
Though McMillan took up painting later in life, in his 60s, his paintings have been on display at art galleries around the country, including the Smithsonian Institute in Washington, D.C., and the African American Museum in Dallas, Texas.
He often wore clothes he had painted himself, including a suit divided into four different color quadrants with a rainbow of dots. His gaily painted house and studio on Northwest Boulevard were a testament to his work, including his yard filled with whimsical sculptures.
When Ford was a student at Wake Forest University, he spent a lot of time with his uncle and enjoyed seeing his uncle's artwork in restaurants and cafes near campus.
"Life with him was full of surprises, never a dull moment," Ford said. "He was very strong-willed, hardworking, resolute in what he was doing and saying. He didn't change for anybody."
Before becoming an artist in his mid-60s, McMillan worked in tobacco and cotton fields and worked stints as a bartender, chauffeur, security guard, groundskeeper and furniture craftsman among many jobs.
McMillan, who grew up in Robeson County and quit school in the sixth grade, had nine children — six sons and three daughters, Ford said.
"This is a guy who can't read, can't write, but traveled around the country to sell his art at art fairs and was very successful at it," Robert Moyer, a longtime friend of McMillan's, said. "There was nothing Sam wouldn't paint. His art had a power about it."
When Moyer first saw one of McMillan's hand-painted porch gliders in 1992 on his friend's front porch, he had one thought: "I have to have that," he said.
The next day he met McMillan at his shop, where he bought a lamp and some other dotted trinkets while placing an order for his own porch glider.
Fast-forward 25 years and Moyer's house is filled with about 50 unique pieces of McMillan's art.
"My bedroom, my living room, my kitchen table, paintings, planters, my clothing — pretty much my whole house was painted by Sam," said Moyer, who is well-versed in the arts community from writing to theater. "From that first moment I met him, we became great friends."
Moyer took McMillan to his first Outsider Arts Fair in New York City in the 1990s, introducing him to a new clientele.
Tom Patterson, who also attended the fair, said he vividly remembers the attention McMillan's art garnered among many famous guests, he said.
"Sam and Bob (Robert Moyer) had painted shoes and hats and polka-dotted things and suddenly everybody wanted to meet this guy," said Patterson, an art critic for the Journal. "He effectively conquered New York in one fell swoop. … That was the beginning of his national acclaim."
When Patterson met McMillan in the 1980s, McMillan would collect broken chairs and tables on bulky-item pick-up day and refurbish them to sell.
It was shortly after that he began to paint with his own unique fingerprint.
"The timing was great. There was a real mania for folk and outsider art," Patterson said. "He was catching a wave that was already there."
McMillan would sell his work at folk festivals, particularly the Kentuck Festival of the Arts, and at his shop on Northwest Boulevard in Winston-Salem.
It seemed like he gave away his artwork as often as he sold it, many noted.
"The last 20 to 25 years of his life, he had a great time with (his art) and had a national following," Patterson said. "It's sad to see him go, but he had a very productive art career and lots of adventures along the way."
In 2002, McMillan talked about his art and his ability to take castoff bits and turn them into works of art.
People would bring McMillan an old muffler or a birdhouse and McMillan would make them beautiful, but even he was at a loss to explain how he came up with his ideas.
"Every bit of it comes out of my head, " he told the Journal. "I couldn't tell you that if I were going to be hung.
Get local news delivered to your inbox!
Subscribe to our Daily Headlines newsletter.