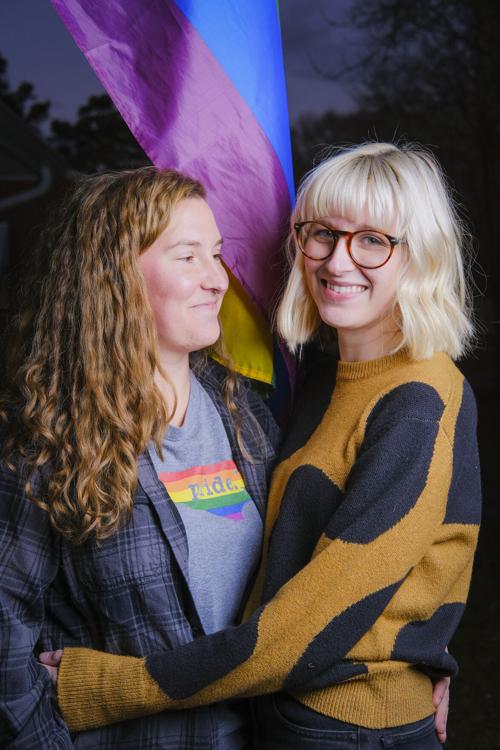 A same sex-couple say they were shocked when the operator of a local wedding venue told them that same-sex marriage ceremonies are not held there.
Kasey Mayfield and Brianna May are looking for a place to hold their wedding in October 2022, they said in an interview. Mayfield said she saw The Warehouse on Ivy, a wedding venue and events center at 1245 Ivy Ave. in Winston-Salem, as she was looking for a site on the website, Wedding Wire.
Mayfield then visited the website of The Warehouse on Ivy, and sent an email to Daniel Stanley, a representative of the business.
In her email on Thursday, Mayfield wrote she was planning a late 2022 wedding, and she wanted to get some information on The Warehouse such as capacity and pricing.
"My partner and I are really interested in this venue and would love to come tour if that's possible," Mayfield wrote in part to Stanley.
In his reply email on Thursday, Stanley wrote to Mayfield, "Congratulations on your engagement. If you can provide a little information so I can plug it in our system and we can give you some package information.
Stanley then asked Mayfield what dates she was considering for the wedding, how many guests she was planning for and what's the groom's name.
In her reply email on Friday, Mayfield wrote to Stanley that, "We are considering October-November of '22, no particular Saturday in mind. We are estimating about 100 guests, max 150, but that mostly is going to depend on the venue. The other bride's name is Brianna May."
In his reply email on Friday night, Stanley wrote to Mayfield, "As we would love to have you at our venue, unfortunately we do not host same sex marriage ceremonies. We do appreciate you considering us."
Mayfield and May said they were shocked when they read Stanley's last email.
"I generally think of Winston as an open and inclusive city. I've attended many (Gay) Pride parades, and local businesses are so supportive," Mayfield said. "It's definitely a shock."
May described The Warehouse on Ivy as "a really cool venue, and they have good reviews."
Stanley's reply "really hurt our feelings," May said.
In a text message to the Winston-Salem Journal, Stanley said, "We allow anyone of any color, race, religion or belief to use our venue at any given time. Although we love and respect everyone in our community, (their) own decision making and beliefs, we also strongly believe in our Christian values."
Forsyth County tax records show that S.T.C. Properties of Forsyth County LLC, a real-estate business, owns the warehouse at 1245 Ivy Ave. Thomas R. Collins of Mount Airy is the business's registered agent and a manager, according to a document filed with N.C. Secretary of State's office.
Collins couldn't be reached for comment.
Mayfield and May believe that The Warehouse on Ivy is discriminating against them, they said. However, they are not considering legal action against the business at this time, Mayfield said.
"It's their choice, and it's not against the law for them to have that feeling," Mayfield said. "It is what it is."
In 2018, the U.S. Supreme Court sided with a Colorado baker who refused to make a wedding cake for a same-sex couple, finding the state's civil rights commission showed anti-religious bias when it ruled against the baker for refusing to make the cake.
The Supreme Court decision, however, didn't address the larger issue of whether a business can invoke religious objections to refuse service to gay and lesbian people.
In 2015, the Supreme Court legalized same-sex marriages in all 50 states.
North Carolina is among 27 states with no statewide laws that protect members of the LGBTQ community from discrimination, according to the Freedom for All Americans' website.
North Carolina has no law on public accommodations except for one related to people with disabilities, and no anti-discrimination laws protecting people with LGBT identity, said Rick Su, a professor of Law at the UNC School of Law.
"Given there is no federal law protecting LGBT either, this would mean that the wedding venue is free to discriminate," Su said in an email.
Mayfield and May are looking for other venues for their wedding, they said.
Mayfield, 25, an accountant and a native of Perry Hall, Md., has lived in Winston-Salem for 10 years, she said. May, 29, a pathology technician at Forsyth Medical Center, is a native of Winston-Salem and a graduate of West Forsyth High School, she said.
The couple announced their engagement a few weeks ago, and they told their family members of their plans on Thanksgiving Day, they said.
The couple still wants to have their wedding in Winston-Salem, Mayfield said.
"We have gotten so many gracious offers," Mayfield said.
The Associated Press contributed to this story
336-727-7299