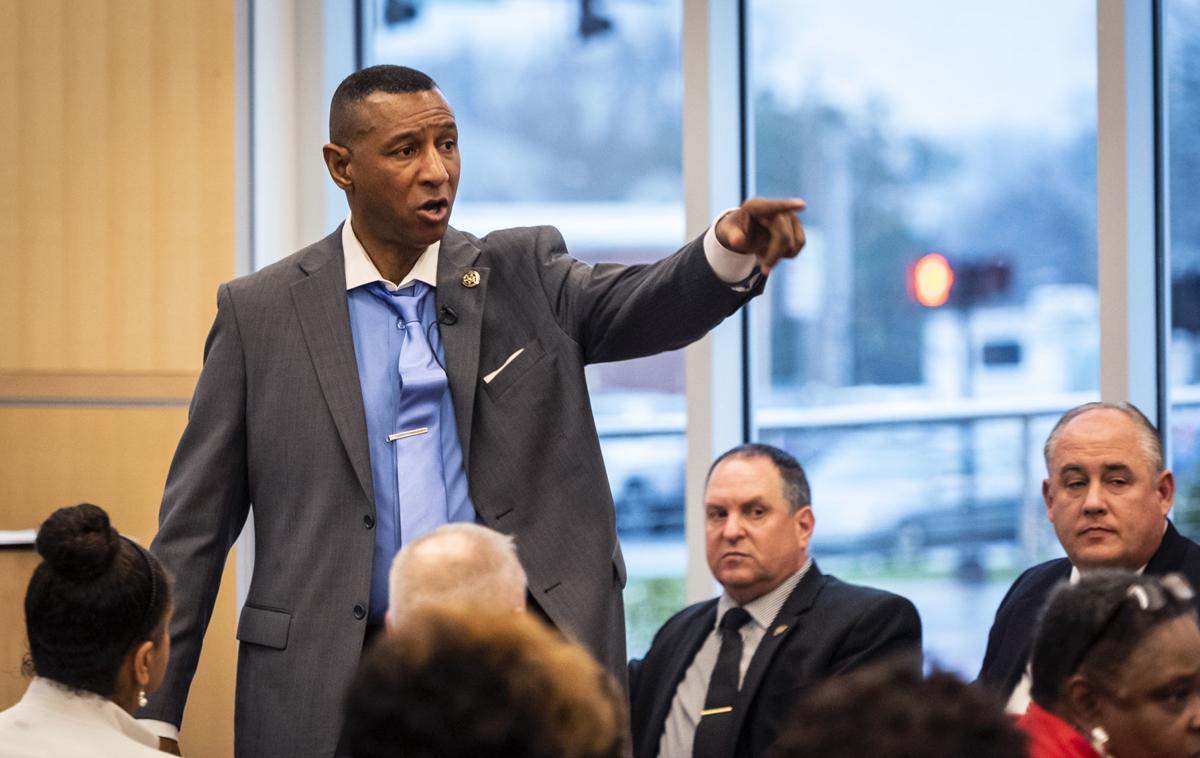 Sheriff Bobby Kimbrough of Forsyth County objected Monday to being called a "sanctuary sheriff" by a Republican House member who is sponsoring a bill that would require all N.C. sheriffs to work with U.S. Immigration and Customs Enforcement to detain suspected undocumented immigrants in local jails.
Kimbrough spoke about his concerns with the legislation during the public-comment period of a meeting of the House Rules, Calendar and Operations Committee before that panel's Republican majority voted to move the bill to the full House for a likely debate and vote on Wednesday.
"I take issue on being called a sanctuary sheriff," Kimbrough said to the committee in Raleigh. "We are men and women who won these elections by majority vote."
Kimbrough was among five Democratic sheriffs from urban counties who opposes House Bill 370 and spoke against the bill at the committee hearing. Republican Sheriff Sam Page of Rockingham County spoke in favor of the bill.
Earlier in the committee hearing, state Rep. Destin Hall, R-Caldwell, the bill's primary sponsor, said that the bill is a necessary measure.
There are a small number of sheriffs in North Carolina's urban counties who refuse to cooperate or even communicate with federal law enforcement officials about illegal immigrants who have committed crimes and are being held in their jails, Hall said.
"The federal government has a duty to enforce federal immigration law," Hall said.
The bill includes a provision that if a sheriff doesn't follow the legislation's provision, that sheriff could incur fines of up to $25,500 per day. The bill would force local officials to check the immigration status of anyone charged with any misdemeanor or felony.
The bill also would make it unlawful for any county to prohibit federal immigration officials from entering or conducting immigration-enforcement activities in a county jail, confinement facility or other type of detention center.
In his remarks, Hall described about 10 sheriffs who refused to honor detainers by the U.S. Immigration and Customs Enforcement on suspected undocumented immigrants in their jails as "sanctuary sheriffs," but he didn't mention Kimbrough by name.
ICE agents want to detain suspected undocumented immigrants in county jails, which are safe environments for them and the immigrants, Hall said. However, when sheriffs refuse to honor their detainers, then ICE agents are forced to arrest accused undocumented immigrants in workplaces, factories, fields and neighborhoods, he said.
These sheriff's are putting their deputies and local police officers at risk because they often work with ICE agents when they go into communities to pick up suspected undocumented immigrants, Hall said.
"At the end of the day, it's about public safety," Hall told the committee. "These sanctuary sheriffs are putting partisan politics ahead of public safety."
Kimbrough said he rejected that label and told the committee that he has served more than 30 years in law enforcement, including 21 years as a drug enforcement agent with the U.S. Department of Justice before he was elected as sheriff of Forsyth County in November 2018.
Kimbrough said he and his deputies follow the current state law that instructs sheriff's officials to check the immigration status of anyone charged with a felony or driving while impaired. Kimbrough told the committee that he would allow ICE to detain someone in the Forsyth County Jail if a U.S. judge and magistrate signs an warrant to arrest a suspected undocumented immigrant.
During the committee hearing, Sheriffs Danny Rogers of Guilford County, Quentin Miller of Buncombe County, Garry McFadden of Mecklenburg County, and James Clemmons Jr. of Richmond County all told Hall that they also were offended by him calling them sanctuary sheriffs. They said that voters elected them as sheriffs and that they are committed to following the law.
Page said that the bill will improve public safety in the state's communities and that he and his deputies cooperate with ICE in Rockingham County.
Get local news delivered to your inbox!
Subscribe to our Daily Headlines newsletter.