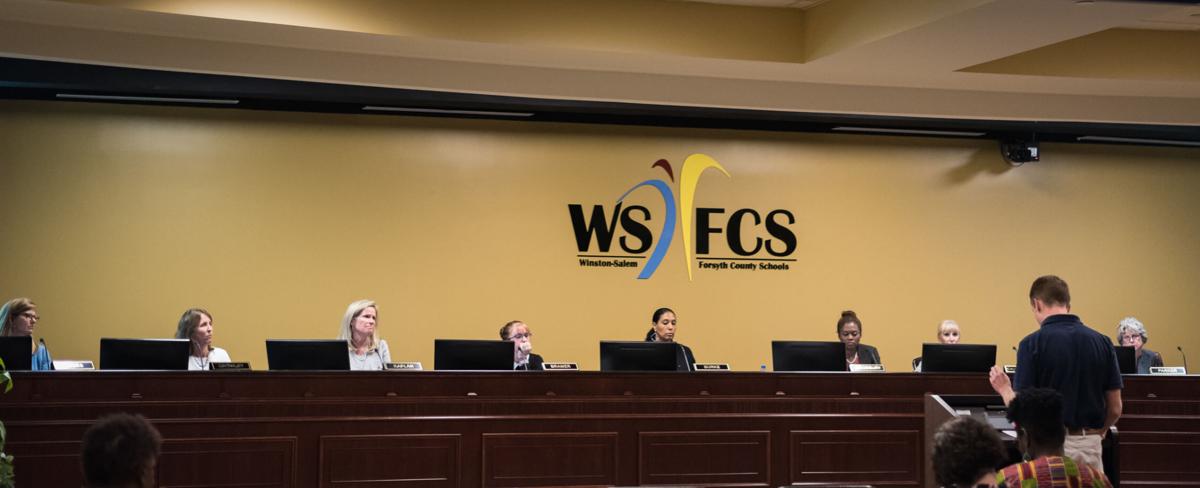 The Winston-Salem/Forsyth County Schools Board of Education will face a momentous decision at its meeting today — will schools reopen with a mix of in-person and remote learning, as Superintendent Angela Hairston is recommending, or will it all be online?
In advance of the 1 p.m. meeting, the Journal contacted members of the school board about how they expect to vote and what will guide their decision. Under Plan B, students from kindergarten through eighth grade will attend school daily and high school students will attend virtually, with at least one day a month set aside for in-person socialization with classmates and teachers. In Plan C, all students would learn virtually.
Board members Barbara Burke, Leah Crowley, Deanna Kaplan, Dana Caudill Jones and Marilyn Parker did not return emails and calls.
Here's how the other board members responded:
Andrea Bramer
Bramer has said in past meetings that she will not send her two children back to school.
"Personally, I'm a solid Plan C, but I'm only one vote. We have more deaths now than we did when we closed school on March 14. If there are more deaths, why are we opening? I'm for Plan C for one quarter, and then, we'll evaluate."
Bramer said she believes that remote learning should go more smoothly this fall as teachers and students acquaint themselves with technology. There is a push for local schools to be more virtual, meaning that teachers would engage more with students in real time, rather than post assignments on a website.
"With videos and by talking to each other, they'll pick up on sound cues and visual cues that they were not getting. There's going to be some interaction that was not there before. They'll be able to create an interactive environment."
Some of Bramer's concerns about Plan B are the changes to the classroom environment, such as no toys for kindergarten students and masks for young students. Such an environment, she said, sounds "cold and sterile."
"My eighth-grader does not want the Virtual Academy. She wants interaction, but I'm not comfortable as a parent, knowing that is a risk."
Lida Calvert Hayes
"I'm going for the safety of the kids, whichever plan I feel makes these kids most safe."
She declined to say specifically which plan best fulfills that concern.
"I want to hear more. I want to hear a general discussion on everything. There are 55,000 kids in our system. It's a huge responsibility as a school board member. I'm concerned about the virus. I have kids who are in healthcare... I have grandchildren in the school system, and I'm concerned about their safety and every child who walks in the door. And the high schoolers, we need to do better for them. They don't need to be left out of the situation.
"The thing that makes it so hard is that this is constantly changing. You feel like you're making a decision on something and the next day it has changed. It's hard to know exactly what is going to happen from day to day.
"We can do better things if we have more resources, but unfortunately, here we are with the most precious things we have in the world, our kids, and we're strapped with resources that are going elsewhere."
Calvert Hayes said her inbox has been jammed with emails, with some coming from high school students.
"I think it doesn't matter what age you are in school. You need guidance from adults, and that does concern me."
Elisabeth Motsinger
A physician assistant with a degree in bioethics from Wake Forest University, Motsinger said opening schools for in-person learning while COVID-19 cases are rising is dangerous for staff and students.
"One of the reasons that people don't worry about COVID for kids is that we've kept populations of kids away from each other so we don't know what happens when big numbers of children are brought together."
Motsinger said she understands the argument for Plan B as it relates to children who need the structure of school for their physical and mental health.
"I'm deeply committed to the well-being of children, but the school system alone cannot provide all of the needs of the children in Forsyth County. That's a community effort and we need the whole community to be participants in that."
Motsinger is advocating for community centers and churches to provide some basic care for children during virtual learning hours.
"Our job is to protect our children and our staff from truly horrific outcomes, first and foremost."
Malishai Woodbury
In an interview on Wednesday, Woodbury, the board's chairwoman, declined to say how she will vote, saying that above all, she is committed to providing children access to a sound, basic education, something she swore to do in her oath to the office. She said she is also considering the safety of staff members and how the board's decision affects the community.
"I don't want to prioritize but I must because I took an oath to put children first, but I have not decided. I need to ask some questions."
336-727-7420
@lisaodonnellWSJ
Get local news delivered to your inbox!
Subscribe to our Daily Headlines newsletter.