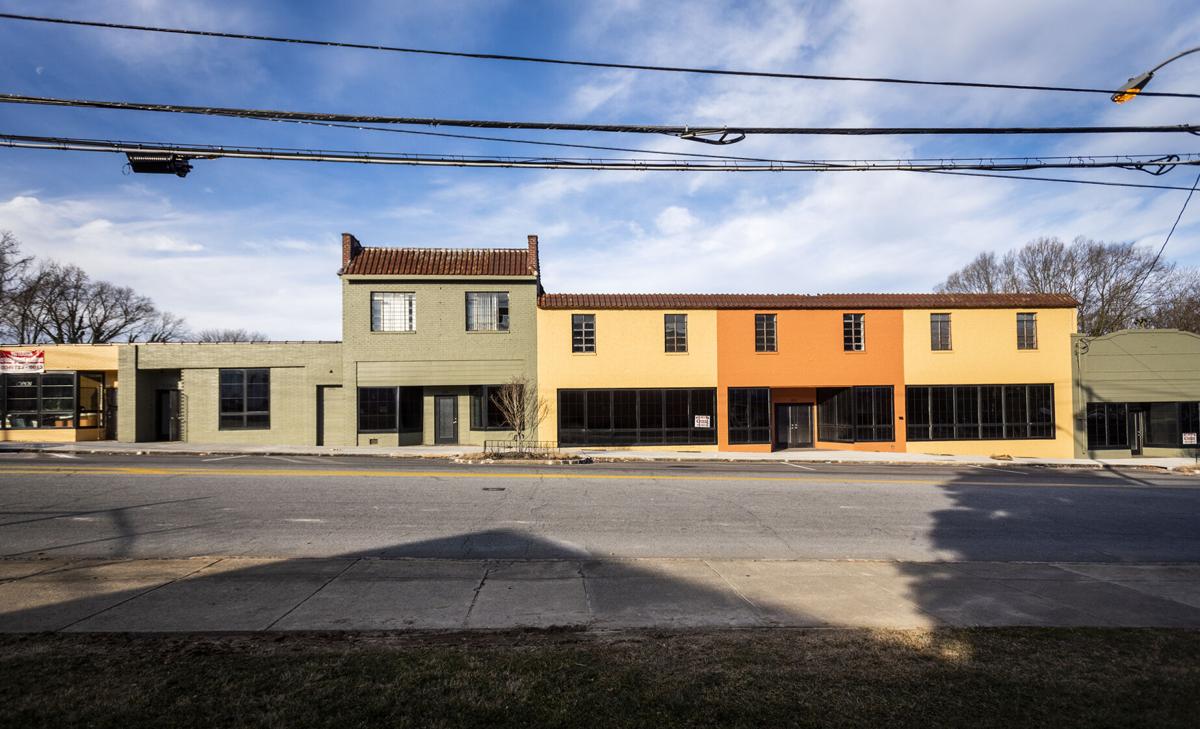 Apart from the motorists streaming past on their way to somewhere else, signs of life are sparse in the 2200 block of North Patterson Street.
It's notable because the city of Winston-Salem has funneled more than $350,000 since 2018 into this one short block in an attempt to goose economic recovery, revitalization and repurpose of a squat series of buildings, some more than 75 years old
Seven separate properties, some whole buildings and others partitioned, sit on a small triangle of land between Patterson and Glenn Avenue.
All feature painted brick and new windows. They're fronted by wide, unspoiled, unsullied concrete sidewalks and have plenty of brand new (and free) on-street, parallel parking spots — a rare perk these days.
Three of the properties have sprouted "For Sale" signs in the past few weeks. Only one, a small end unit where two women were busy braiding hair Thursday, features an actual for-profit business.
Economic development, aided by government spending that can tip the balance between winners from losers, has never been dicier.
Opportunity zone
In planning documents, city officials call the aging buildings the "Patterson/Glenn Activity Center in the North Central Area."
An optimistic realtor might call them fixer-uppers or handy-man specials. Others might call it urban blight. Or a money pit. At least one man, an immigrant from the Middle East named Azzat Amer, sees the area as an opportunity worthy of his own $475,000 investment to match a low-interest, forgivable loan.
There's little doubt the Patterson/Glenn Activity Center needs help. It's a mishmash industrial/retail/office space mostly, a gateway corridor that transitions to older residential housing stock a few short blocks north.
A long-established dairy, Pet, sits on one corner. The city has its own building, the Black-Phillips-Smith Government Office, on another. A third features a store and Hot Dog City, a neighborhood joint featuring cheap lunch.
The fourth, a triangular sliver between Glenn, Patterson and Greenway Avenue — a diagonal cut-through street — is where much of the recent activity has been.
The most visible focal point, to date, has been the 2200 block of North Patterson.
Though city officials, buried deep in long-range planning documents outlining long-term prospects, were only talking about one parcel, at 2208, they might as well have been describing the whole area when they wrote: "Adaptive use or redevelopment of this property is encouraged due to its location and potential to provide neighborhood services, and potential redevelopment occurring nearby."
Which is sort of the point in spending city money in one area or another.
So far, the city's investment in the 2200 block runs to $382,000. It comes from three sources, a program called Revitalizing Urban Commercial Areas (RUCA), at $248,680; $114,000 from voter-approved economic development funds; and a $20,000 federal grant from the Appalachian Regional Commission.
"The Patterson/Glenn project utilized RUCA funds, but is not a typical RUCA project," wrote Ken Millett, the director of the city's Business Advancement and Inclusion office in an email last week. "Previous RUCA projects involved a single property with a single owner, while P/G project involved 7 storefronts with 5 different owners."
Notable among those previous RUCA projects was a redevelopment debacle at Ogburn Station, where the city was forced in 2014 to spend $400,000 on top of an original $250,000 investment when an unlicensed contractor, hired by the property owner, tore down a load-bearing wall and repaired a roof that continued to leak.
That episode caused the city to overhaul the way these projects are conducted, including more oversight and a say in hiring qualified builders.
And that's a good thing. Any sizable outpouring of public money begs for scrutiny. Taxpayers deserve assurance that money is spent wisely.
And that includes the nearly $400,000 dropped in the 2200 block of North Patterson and the $475,000 forgivable loan laid out to Amer for his building at 1800 North Patterson.
Turning a profit
A leisurely stroll Thursday morning down the 2200 block offers a peek at return on public investment
The facades of the buildings are painted in chic earth tones, and they have fine, large paned windows that allow for plenty of natural light. From the street, they look ready for business.
But at the moment, only one, an end unit at 2206, is occupied. Amy Lo runs the Patterson African Hair Braiding salon, a business she says she's owned since 2004.
A temporary sign tells passersby that the salon, with proper COVID precautions, is open. The makeover is nice, and has helped business. To a point.
"The windows still leak when it rains," she said.
A yellow end unit, 2232, with a new "For Sale" sign posted, has rotted floors with junk piles visible between joists.
"Property being sold as a package deal with 2222, 2210 and 2232 Patterson Ave," reads an online commercial listing posted in mid-January. "Properties being sold in as-in condition. Do not enter 2222 or 2232 N. Patterson. Flooring is not safe to enter. Properties need to be totally renovated. Lot of potentials. DIAMONDS IN THE ROUGH."
Another word might be "mess."
"Maintaining the private property remains the responsibility of the owners," Millett wrote.
The asking price for all three is $100,000; any prospective buyer may easily need to spend that much (or more) to make it suitable.
The current owner of the buildings, a family-owned business called the C.W. Trading Post, bought them years ago in separate transactions totaling about $35,000.
Tax listings show no improvements by the owners. The buildings sat vacant for years, crumbling with the passage of time.
So on its face, it seems a neat trick to hold property until the city pays for exterior repairs, then triple the investment. The truth, though, is trickier.
The C.W. Myers company, established in 1948 by the late Clyde Myers after he bought a goat and a wagon, moved four years ago to sell all of its more than 540 properties in Winston-Salem.
"I thought I had it all sold," said Steve Myers. "But (the buyer) took all of them but seven or eight that we still have. I've been trying to sell those for years."
Myers, speaking from Florida where he's retired, suggested adding on-street parking when he was told of the overhaul.
"Personally I think (the city) should have taken all that money, bought the property owners out and knocked it all down," he said. "They're older buildings that still need a lot of work.
"If they want to improve the area, why not start all over?"
An impact?
Inside his cramped, cluttered office in the back of the AZ Patterson Grocery in the 1300 block farther south, Amer talked up his different approach to redevelopment in the so-called P/G area.
Amer has owned the grocery since 1990, and built in 2010 a 2,500-square-foot building next door that houses two other businesses
He'd had his eye for years on a brick building at 1800 North Patterson. It started as a Seven-Up bottling plant before being converted into a funeral home.
Amer saw potential in its 16,000 square feet and bought it in 2014. A year later, in 2015, he applied — and was approved for — a $475,000 low-interest, forgivable loan. He matched it, and started an overhaul.
He envisions a music studio and perhaps another small store to go with a 3,500-square-foot community center/hall he rents for parties, weddings and quinceaneras, coming-of-age celebrations for young women.
"I'm trying to do something with it," he said. "I keep my property up. I keep it neat."
Not surprisingly, COVID-19 interfered in a big way. Renting space, even after some restrictions were lifted, was difficult.
Still, Amer remains hopeful. He pulled a hand-written ledger out that shows bookings for later this year and into next. He has a stack of photos showing happy people celebrating big occasions inside a well-appointed space.
"We haven't been able to do too much (in 2020)," he said. "I have faith the community will see it and it will make a difference."
The return, so far, on the more than $1 million in public and private money laid out in recent years is, by any objective measure, mixed.
Whether it's worthwhile depends on the perspective of the individual beholder.
Some, jaded by high-profile snafus such as Ogburn Station or a $1 million hydroponic garden started in 2016 that has yet to produce a real crop, could credibly see the results as, say, wasteful.
Others may see it as long-term investment, seed money, for an area that's sat fallow for far too long.
"As you alluded to," Millett wrote, "the intent is for (the) P/G project to have impact beyond the aesthetic improvements to the buildings.
"The goal includes helping to revitalize the underutilized properties along a major commercial area and make them attractive for small businesses to locate."