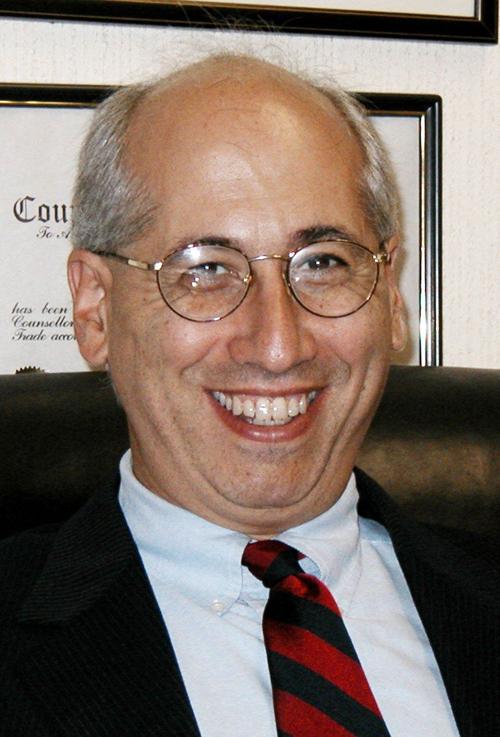 The running joke — repeated more than once by the subject himself — had it that the most dangerous place in Winston-Salem was between attorney David Freedman and a television camera.
It was self-deprecating and hyperbole, of course, but it came with being a very visible (and tall) fish swimming in a relatively small pond.
Freedman, as many of you may know, was the local version of a Hollywood criminal-defense lawyer. Going back decades, he was in the middle of many high-profile, high-stakes cases.
He defended accused killers, accused predators and politicians facing corruption charges — sometimes to the dismay of a few who had lost sight of the fact that in these United States, the accused has every right to the best advocate possible.
David Freedman was a fixture in our community, and stood beside a lot of people, guilty or not, in their worst moments when not many others would.
But what most didn't know was that the big man was a doting father, a loving husband and a fiercely loyal friend.
He died Friday, in an intensive-care bed, from pneumonia caused by COVID.
Well-respected man
Before the remembrances, let's deal with the obvious.
David had been vaccinated. He took care of himself. Until the first go-round with the pandemic that closed everything down, Freedman was a fixture at the Central YMCA. And he loved hopping on his very large bike to spin Salem Lake or take long rides in the countryside.
And COVID still felled him.
His family — wife Libby, daughter Ariel and sons Jack, Gary and Chai — want people to know that and kindly urge the hesitant and the unvaccinated to take the shot so as to possibly spare their loved ones the pain the Freedmans are suffering this morning.
"It would be a missed opportunity to not say this: please get vaccinated, and please wear a mask," they wrote on Caring Bridge, a social media platform designed to keep friends and family informed during trying times. "This virus is dangerous and takes a toll on the body in ways we never expected. We are past the point of asking everyone to be careful 'for the sake of your community,' although that should be the standard, too.
"We are asking you to protect yourself for the sake of you and your loved ones."
Professionally speaking, Freedman was respected across the width and breadth of the state. Elected prosecutors, not eager young assistants, took his calls.
Freedman made a name defending men facing the death penalty and political figures charged with corruption, but his reputation was based more on relationships.
It's quite possible that he discreetly helped a neighbor's kid (or someone you know) out of a low-level legal jam.
But that's just resume stuff.
The better measure is the way he dealt with those who loved him. Freedman was all in, whether he was getting way too excited about being near a cannon at Jack's football games at Reynolds, Ariel following in his footsteps at UNC and the UNC School of Law, Gary performing a solo in Asheville or Chai following his passion to the UNC School of the Arts.
If Freedman's children were interested, he was engrossed. And at the same time, if you were his friend, he knew where your kids went to school, their names and where their interests lay.
Patience, please
In this line of work, we're encouraged to keep a distance between the professional and the personal, and to keep at arm's length those about whom you may one day report.
But this is Winston-Salem, and at heart, we're a small town. The dam for decorum broke Friday when the phone rang with news of David's passing.
In this one instance, I didn't need strangers to tell me that he was a mensch — Yiddish for stand-up guy.
Our sons played on the same soccer team too many years ago, and we wound up spending too much time standing around a bench press at the Central Y weight room and not nearly enough near leg machines.
There, I learned that David seemed to know everybody, that he loved sports — in particular the Tar Heels and the Carolina Panthers — and that he'd argue politics all day long.
He was funny; he could laugh at himself and you, too, if warranted.
He had a mischievous side. For years, David had an odd competition with another member of Temple Emanuel about who could hold the Torah scrolls aloft the longest or with one arm.
But those are superficial things.
If you were fortunate enough to become his friend — and I was — David could be your finest ally.
That's what makes his passing so devastating — and so maddening.
A pillar of our community, a man who stood by others when no one else would, died from complications caused by COVID. His wife and children, adults now, could only see him via Zoom calls as he fought.
"This is a scary and unprecedented time," his family wrote, "and we should all practice having a little more patience for one another."