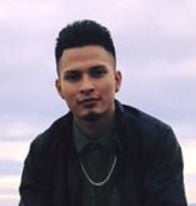 Sheriff Bobby Kimbrough Jr. of Forsyth County said Tuesday he will end the sheriff's office contract that allows the U.S. Immigration and Customs Enforcement to detain people suspected of being undocumented immigrants in the Forsyth County Jail.
Kimbrough made his announcement following a rally and news conference by a group supporting a man from Honduras who is being held at the jail following his arrest Monday.
"What that means is the sheriff's office will no longer house immigration violators," Kimbrough said at his own news conference outside the jail.
"Currently, the sheriff's office is not an extension, and will never will be an extension, in this administration, of immigration services," Kimbrough said. "We are not helping ICE. We have not arrested anyone on immigration violations, nor do we plan on it.
"Nor are we actively looking for immigration violators," Kimbrough said. "That is not what the sheriff's office does, nor will we ever do that."
The current contract with the U.S. Marshal's Service that allows ICE to use the jail ends on April 30, Christina Howell, a spokeswoman for the sheriff's office, said after the news conference. Former Sheriff Bill Schatzman signed that contract with the U.S. Marshal's Service in May 2016, Howell said. The contract also allows the U.S. Bureau of Prisons use of the jail.
U.S. Marshals will still be able to put the fugitives they arrest into the Forsyth County Jail, Kimbrough said. But the jail staff will not accept ICE detainees for civil violations of federal immigration law when the contract ends, he said.
Many sheriff's offices in urban counties across the state have adopted similar policies, Kimbrough said.
In front of the jail, a group of 14 demonstrators rallied for Eduardo Fuentes, a 24-year-old man from Honduras who lives in Winston-Salem. Fuentes was arrested Monday by Winston-Salem police on three misdemeanors — possession of marijuana, driving with no operator's license and displaying a fictitious title, registration card or tag, according to court records.
Andrew Willis Garces, an organizing coordinator for the American Friends Service Committee of Greensboro, said Fuentes left Honduras five years ago because gangs were trying to recruit him there.
Fuentes is married to Melina Hernandez, a 21-year-old U.S. citizen who lives in Winston-Salem, and they have a 2-year-old daughter, Celeste, Garces said.
Fuentes works for a carpet-cleaning company in Winston-Salem.
Under state law, the arresting officer put Fuentes "into the system" because (Fuentes) was a felon. That procedure flagged ICE, who issued paperwork for the jail staff to detain Fuentes, whom ICE suspected is an undocumented immigrant.
Garces confirmed that Fuentes' full name is Eduardo Fuentes Orellana.
In May 2017, Fuentes was convicted of driving while impaired in Gaston County, and a judge gave him a two-year suspended sentence, according to the N.C. Department of Public Safety.
Fuentes' wife came to the jail and paid his bond of $2,000, Garces said.
"He should have been able to walk out of the jail and be with his family," Garces said.
However, Fuentes remains in the jail under the ICE detainer, Garces said.
"The new sheriff in town has ensured us that he wants to get ICE out of the jail," Garces said.
Garces declined to comment on Fuentes' immigration status. Hernandez also declined to comment on her husband's immigration status.
"She's 21, and she's overwhelmed," Garces said.
At the news conference, Hernandez held her daughter, Celeste, as she spoke to reporters.
Hernandez said she wants her husband to serve his time in the local jail.
"So I can come see him here, and not out of town," she said.
Hernandez then cried briefly.
"I want the opportunity for him to do his time here and not get deported even though he's in the custody of ICE," she said. "It is just unfair."
Garces said he is pleased that Kimbrough is ending the sheriff's office contract that allows ICE to detain suspected undocumented immigrants in the jail.
"It's good first step, and we are excited to work with the sheriff's office," Garces said.
"We are willing to work with the sheriff to get a written policy in place too that will make sure that they aren't any cracks basically that can let ICE agents in (the jail)."
Kimbrough said he realizes the hardship that Fuentes' family is facing since Fuentes' arrest.
"My heart goes out to the young lady and her child," Kimbrough said.