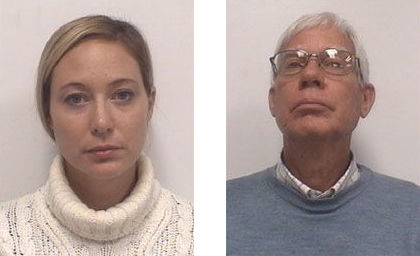 Jason Corbett's sister said in a statement that Davidson County's district attorney is offering a plea deal to Molly Corbett and Thomas Martens and not retrying the two for murder in the death of her brother.
"We are devastated that the District Attorney for Davidson County has decided to offer a plea deal and not seek a retrial of Tom and Molly Martens who admitted killing Jason Corbett, leaving his children, then aged 10 and eight, orphaned," Tracey Corbett Lynch said in her statement late Wednesday afternoon. "What does it say for justice in North Carolina that you can drug a father of two, then beat him to death with a baseball bat and a paving brick, literally crush his skull, and still escape a murder conviction?"
She said that Garry Frank, the Davidson County district attorney, met with her and her husband, David Lynch, in his office at 4:15 p.m. Wednesday. Frank, she said, told her that he would be offering Molly Martens Corbett and Thomas Martens the chance to plead guilty to manslaughter. In the first trial, a jury was asked to decide between second-degree murder, voluntary manslaughter or not guilty in the death of Irish businessman Jason Corbett. The jury convicted both Molly Corbett and Martens of second-degree murder and they are now serving between 20 years and 25 years in prison.
A conviction on voluntary manslaughter would likely mean considerably less prison time for Molly Corbett and Martens. Tracey Corbett Lynch said Frank gave attorneys for Molly Corbett and Martens a week to consider the offer.
Frank told the Journal he would neither confirm nor deny what Lynch said. He said he has had conversations with Jason Corbett's family, but it is his policy not to discuss pre-trial negotiations before they're finalized.
"If I decide to do something, I will do it publicly," he said.
On March 12, the N.C. Supreme Court upheld in a 4-3 ruling a lower appellate court's decision to order a new trial for Molly Corbett, 37, and her father, former FBI agent, Thomas Martens, 71. The majority of the state Supreme Court said that the trial judge's decision to exclude statements that Jason's children, Sarah and Jack, made to social workers deprived the two of a fair trial. The court also ruled that the trial judge, David Lee, also should have kept out certain testimony from a blood-spatter expert because it was based on stains that had not been confirmed as blood.
At trial, Molly Corbett and Martens claimed that they had killed Jason Corbett, Molly's husband, in self-defense. Martens testified that he and his wife, Sharon Martens, had traveled to Davidson County, where Molly lived with Jason and Jason's children, to visit their daughter. Martens testified that in the early morning hours of Aug. 2, 2015, he was awakened by noise and grabbed a 28-inch Louisville Slugger baseball bat and went upstairs to investigate. He said when he went into the master bedroom, he found Jason Corbett choking his daughter and threatening to kill her. That began, he said, a life and death struggle that started in the bedroom, went into the bathroom and back into the bedroom again.
Martens said he hit Jason Corbett several times to get him away from his daughter. Molly Corbett said she tried to hit him with a paving brick.
Davidson County prosecutors said the physical evidence disproved any claims of self-defense. They pointed to the blood evidence in the bedroom and the extent of Jason's injuries. A medical examiner testified that Jason was hit in the head at least 12 different times and that his skull was crushed. In closing arguments, prosecutors implied that Molly Corbett might have drugged Jason Corbett. Trace amounts of the drug trazodone were found in Jason's system, and an expert for the prosecution said that it was unlikely that there was enough trazodone to have an impairing effect on Jason. The drug was prescribed to Molly Corbett.
Jason's children, Jack and Sarah, made statements to social workers at Union County Department of Social Services and Dragonfly House Child Advocacy Center in Mocksville. In those statements, the children said they saw Jason physically and emotionally abuse Molly. Sarah said in the statements that on Aug. 2, 2015, she had a nightmare and that she went to Molly Corbett.
Molly Corbett told investigators that Jason had begun choking her because he had been awakened in the middle of the night.
The state Supreme Court said that including the children's statements would have bolstered claims of self-defense. The court also ruled that the trial judge was wrong to allow testimony by Stuart James, a blood-stain pattern expert, about stains on the clothes of Molly Corbett and Martens. The stains were not confirmed to be blood. James testified that the stains proved that Molly Corbett and Martens were standing above or near Jason's head when he was being struck.
State prosecutors have claimed that the children made those statements because Molly told them to lie and that the children knew they were in the midst of a custody battle between Molly Corbett and Tracey Corbett Lynch and her husband, David Lynch. The children now live in Ireland with Tracey Corbett Lynch and David Lynch.
Prosecutors also said that the children fully recanted their statements. The state Supreme Court said in its opinion that it could find no evidence for why those recantation should be reliable.
In her statement, Tracey Corbett Lynch said Sarah and Jack, 14 and 16, traveled to Davidson County this past week to tell investigators that they were coerced into making statements against their father. She claimed that the children alleged that they were abused by Molly Corbett and that in the days after Jason Corbett's death, they saw Jason's phone and two of his computers in the possession of Molly Corbett's family.
Tracey Corbett Lynch wrote a book, "My Brother Jason: The Untold Story of Jason Corbett's Life and Brutal Murder by Tom and Molly Martens." In that book, she said that the two should have been charged with first-degree murder and accuses Molly Corbett of lying and luring her brother into a romantic relationship.
Molly Corbett and Martens remain in state prison but are expected to be transferred to the Davidson County Jail later this week. At some point, their attorneys will seek a hearing to set bond that might be affordable enough for them to be released while awaiting trial.