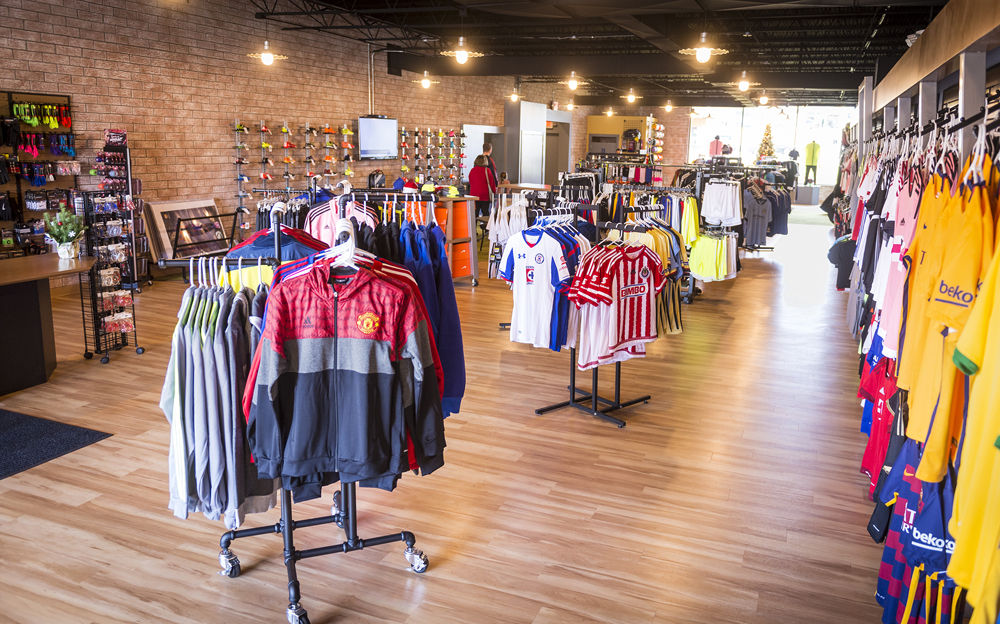 A sign hanging a few dribbles from a storefront display featuring a sweet Man U jersey indicated that Soccer Unlimited should have already been open.
But the lights were off, and the half-dozen parking spots featuring a paint scheme reminiscent of an old-school black-and-white soccer ball were empty.
No big deal, really. Not many people are out shopping for cleats or shin guards the day before an ice storm in February during a pandemic.
But the store, a go-to for generations of parents raising girls and boys dreaming of becoming the next Lionel Messi or Alex Morgan, had announced out of the blue (via Facebook) Tuesday evening that it was closing its doors after nearly 40 years.
"Yeah, I'm sorry about that," owner Brian Fitzgerald said Wednesday. "It's just me and one other guy in here these days. I must have just missed you. … It's a little difficult to talk about."
Building community
Soccer Unlimited, for those out there who may not have spent hours prowling sidelines, opened its doors in 1982 - nearly the exact time as soccer grew from a sport favored by immigrants to a near-obsession for generations of suburban kids.
"They did kind of catch that wave," said Dan Ariail, a longtime customer, adult-league player and friend of Mike Southard, one of the store's original owners. "It was never about making the sale first with them. It was about the soccer community."
"If you wanted to come in, stand around jibber-jabbing for 30 minutes and not buy anything, that was OK with them."
The game - the players, knobby-kneed kids hoping to make a travel squad and slightly paunchy adults in beer-leagues - mattered nearly as much as making payroll and paying the mortgage.
It mattered when Southard, a successful high-school coach and soccer dad, opened the store with a partner and it mattered after Fitzgerald bought it.
"I made a lot of good friends and watched a lot of kids grow up," Fitzgerald said.
Soccer Unlimited was - is, at least for another few weeks - just one of those small businesses where the words "Buy Local" were more than a slick marketing slogan. It was both a means of survival and a way of giving back.
"I was in the (city) Recreation and Parks for a long time," Ariail said. "We never had a lot of money (for youth programs). They always did us right. I never thought about going anywhere else."
In announcing the pending closure, Fitzgerald, through the store's Facebook page, wrote first about the relationships built over time.
"We've loved getting to know your families, fitting your kids with their first pair of cleats, talking with high school seniors about plans to play in college, having a few local, professional heroes back to sign autographs …," the post begins.
It continues by naming names and citing the accomplishments of employees who started as teens. The phrasing was, in a single word, nice.
"We've been proud to provide a safe, welcoming and free venue for local teens to play a little 1 v 1 on our indoor turf field or to hang out and watch soccer on one of the large screen TVs."
Changing business models
At the crack of 10 Wednesday morning, most of Trenwest Drive was buzzing with activity.
A steady stream of motorists flowed through drive-through lanes at a large bank branch. Mask-wearing patients rushed into the medical offices that have come to dominate the neighborhood.
And the driver of an eminently familiar Amazon Prime truck rumbled past the empty parking spaces in front of Soccer Unlimited, a quick moment in time that encapsulated the struggles faced by brick-and-mortar businesses these days.
In-an-instant online shopping - in particular, the steady loss of team uniform sales to large, faceless national companies - coupled with the crippling effects of the COVID-19 pandemic deepened the financial crisis pounding on local small retailers.
"The business model changed," Fitzgerald said. "We tried to keep up. But you can't print money."
Not long after the state-mandated shutdown, Soccer Unlimited had to furlough most of its employees, Fitzgerald said. The suspension of league play and organized youth soccer tournaments held at complexes such as the one just off Interstate 40 in Bermuda Run certainly didn't help.
Fitzgerald said he'd been thinking about closing for some time; a Malachi crunch of pandemic and raw capitalism forced it. "Circumstances put us in that thought process," he said.
A going-out-of-business sale is scheduled to start Friday and run "hopefully until we've sold everything," Fitzgerald said.
In the meantime, loyal customers and middle-aged parents may well crack a smile remembering the joy on the face of a snaggle-toothed kid slipping into a pair of cleats just like those worn by David Beckham or Mia Hamm.
"I can't help but feel badly for them," Ariail said. "You get caught up in it. I feel badly for Hanes Mall, too. Things change."