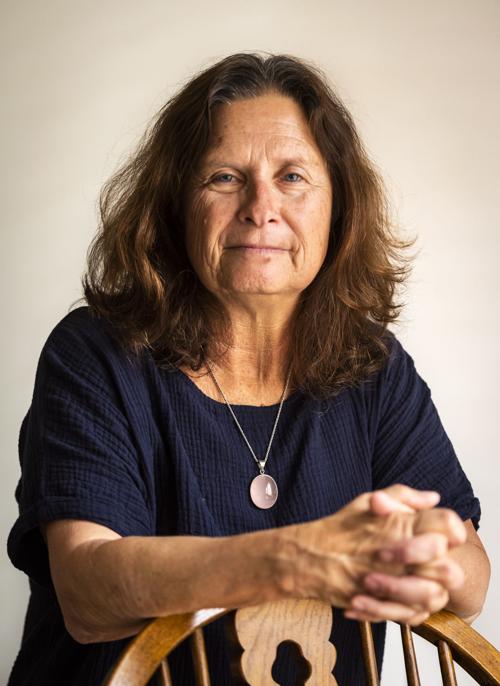 ELKIN — Denise Krochta moved to Elkin three years ago, eager to settle into a slow-paced life of retirement.
But the more she learned about the widespread misuse of opioids in Surry County, the more she felt compelled to help.
Sadly, Krochta has some expertise in this area.
"I really came here to retire," Krochta recalled recently, sitting in the dining room of her home near downtown Elkin. "I wasn't looking for a job."
In April, Krochta began working part-time as the outreach and prevention coordinator for Surry County's opioid response team. Alarmed by the widespread misuse of opioids, Surry County commissioners created the response team last year, hiring Mark Willis to serve as its first director.
The county is consistently among the state's leaders in monthly visits to the emergency room for opioid overdoses, and had the second most visits in the state per 100,000 residents in 2018, according to data from the N.C. Department of Health and Human Services. The number of overdoses jumped from 237 in 2017 to 372 in 2018, according to John Shelton, the director of Surry County Emergency Medical Services.
While Willis is focusing on big-picture areas, such as how to start a drug court and mobilizing the county's faith community, Krochta is operating at the grassroots level, talking to people in diners and schools, and sometimes going door-to-door.
"People don't have anybody to talk to," Krochta said. "They think people are judging them. And it's harder here because everybody knows everybody. My goal is to get people talking about it."
In these one-on-one conversations, Krochta can lend more than an empathetic ear. She can share her own story.
"I had the perfect family, like we all do," she said.
While living in Florida, one of her sons became addicted to Oxycontin, then heroin.
She learned about the stigma of addiction, the shame families carry, the constant worry, the recovery-relapse cycle.
Her life upended by her son's drug use, Krochta turned her focus inward, knowing it was the only thing she could control.
"I'd go online and Google 'How people learn to calm down.' I started writing down tools to learn to be calm, to not engage," she said.
In 2010, she gathered all those tips and turned them into a book, "Sweat: A Practical Plan for Keeping Your Heart Intact While Loving an Addict."
The book is something of a survival guide for those who love people who misuse opioids.
"With an addict, everything is dramatic. I learned not to engage," Krochta said.
When her anxiety roiled, she learned to take walks and count steps with the goal of reaching 100.
"At first, I'd get to 20, hear a siren in the background and wonder, 'Are they after my son? Is he alive? How do I save him?'" Krochta said.
Marketing the book was a nightmare, Krochta said. People who misuse opioids and their families frequently stay closeted, such is the shame. Desperate to share what she had learned, Krochta started a web-based radio program, Addicted to Addicts: Survival 101. Her guests included David Sheff, who wrote the best-selling book, "Beautiful Boy," later made into a movie.
Krochta has lived mostly in Florida and California. She moved to Elkin to be close to another son, who lives in Charlotte. She has settled into the community, volunteering with the Elkin Fire Department and Explore Elkin, a tourism organization.
As part of her job on the opioid response team, Krochta answers a question each week in the Elkin Tribune on topics related to the impact of opioid misuse on children and signs of addiction.
To the people she reaches, she can also convey a message of hope.
After several attempts at recovery, her youngest has been clean of drugs for 14 years.
"I'm so grateful," Krochta said. "And I want to give back."
Get local news delivered to your inbox!
Subscribe to our Daily Headlines newsletter.