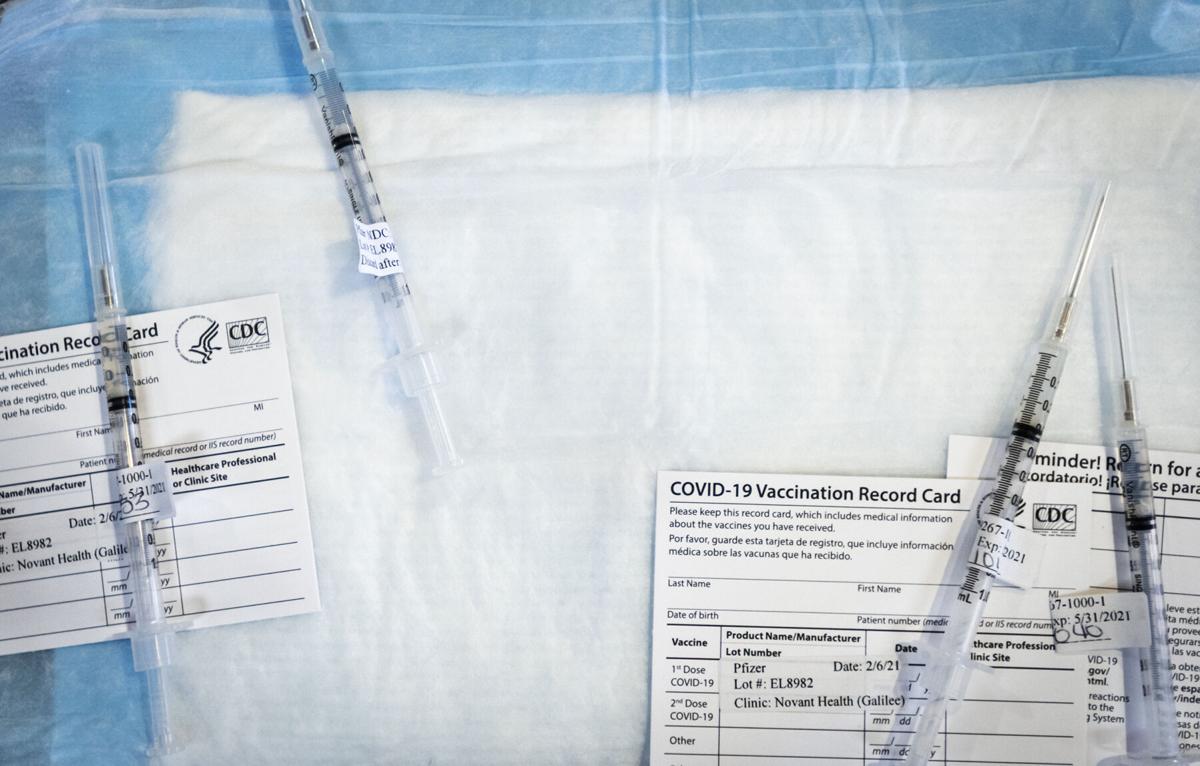 The state Department of Health and Human Services said Thursday that most of this week's federal supplies of COVID-19 vaccine has been delayed because of winter storms sweeping much of the country.
DHHS said shipments of first and second doses are affected.
Meanwhile, Forsyth County health officials plan to reopen their mass vaccination site at the Winston-Salem Fairgrounds at 10 a.m. Friday. People with appointments scheduled for earlier than 10 a.m. can now come anytime between 1 and 3 p.m.
Moderna vaccines have not been shipped this week, while about 50% of Pfizer vaccines have either arrived or have been shipped.
The delays are affecting the Triad's three healthcare systems and the Forsyth, Guilford and Yadkin county health departments.
"As there is not enough vaccine in the state to shift or transfer supply in order to cover the delayed vaccine doses, DHHS is advising providers to assess current appointments and notify recipients accordingly based on on-hand supplies," the department said.
"The department will continue to work with providers to track shipments so that providers can quickly reschedule appointments as necessary.
The Forsyth Department of Public Health, Novant Health Inc. and Wake Forest Baptist Health closed their centers Thursday because of the forecast for an overnight ice storm.
Cone Health closed its centers Thursday and Friday, while the Yadkin County Health Department has cancelled all vaccine clinics planned for Friday and Saturday.
Forsyth health officials said vaccinations set for Thursday at the Winston-Salem Fairgrounds' Education Building have been rescheduled for Feb. 25 with the same appointment times.
The department said Wednesday afternoon it "is assessing the situation for Friday with tentative plans to open the mass vaccination site."
The department also canceled Thursday's drive-thru testing at EMS Triangle Station. The testing located at Gate 9 of the fairgrounds is still scheduled to open Saturday.
Novant said its 7 to 11 a.m. Thursday vaccination appointments at its Hanes Mall vaccination site have been rescheduled: First doses will now be provided on Feb. 25. For people ready for their second doses, the site will be open Friday, weather permitting.
"In most cases, a patient's appointment will be scheduled for the same time as the previous appointment," Novant said.
Affected patients will be notified through their MyChart account, email or by phone.
Wake Forest Baptist said it is notifying affected patients about rescheduled appointment through their myWakeHealth charts, text or phone. Patients who are unable to attend their rescheduled appointment time are asked to call (336) 70-COVID.
For its Winston-Salem vaccination centers, all first doses scheduled for Saturday at the Downtown Health Plaza will be provided Feb. 27.
There are no planned changes for the second-dose events Saturday and Sunday at Piedmont Plaza since those supplies already are in place.
For High Point Medical Center, Thursday's appointments for second doses have been shifted to Tuesday at the same vaccination times.
For Lexington Medical Center, first doses scheduled for Friday will be given Feb. 26, also at the same vaccination times. Second-dose vaccination appointments for Friday will operate on a one-hour delay beginning at 10 a.m. Patients with appointments before 10 a.m. are being contacted for an appointment later Friday.
For the West Park center in North Wilkesboro, current plans are to hold the first- and second-dose drive-through clinic scheduled for Saturday.
The Yadkin health department said for individuals with a vaccine, the county Human Services Agency will contact them next week about rescheduling appointments. For more information, call (336) 849-7950.
Cone closed its vaccination clinics and testing sites for Thursday and Friday at Greensboro Coliseum Special Events Center, the Burlington Manufacturer's Outlet Center, and a community clinic at the Seventh-Day Adventist Church on East Market Street in Greensboro.
People who have appointments for COVID-19 vaccinations at the coliseum or BMOC will be offered an appointment on Saturday or Sunday.
The health groups said shipments typically are received from federal sources on Tuesdays or Wednesdays.
If appointments have to be rescheduled, each organization will inform the public through their websites, social media and the news media, the groups said.
They will also each inform their own patients of the changes in their appointments.
Novant said the second-dose vaccination event at St. Peter's Church & World Outreach Center will continue as planned on Saturday.
Wake Forest Baptist said it already has received second-dose vaccines for this week. Atrium Health, parent company of Wake Forest Baptist, is transferring some first doses to Winston-Salem to help cover the needs for a short time if shipments continue to be delayed due to weather.
All three organizations said they are equipped with backup power to keep the vaccines at the proper temperature for storage in the event of a power outage.