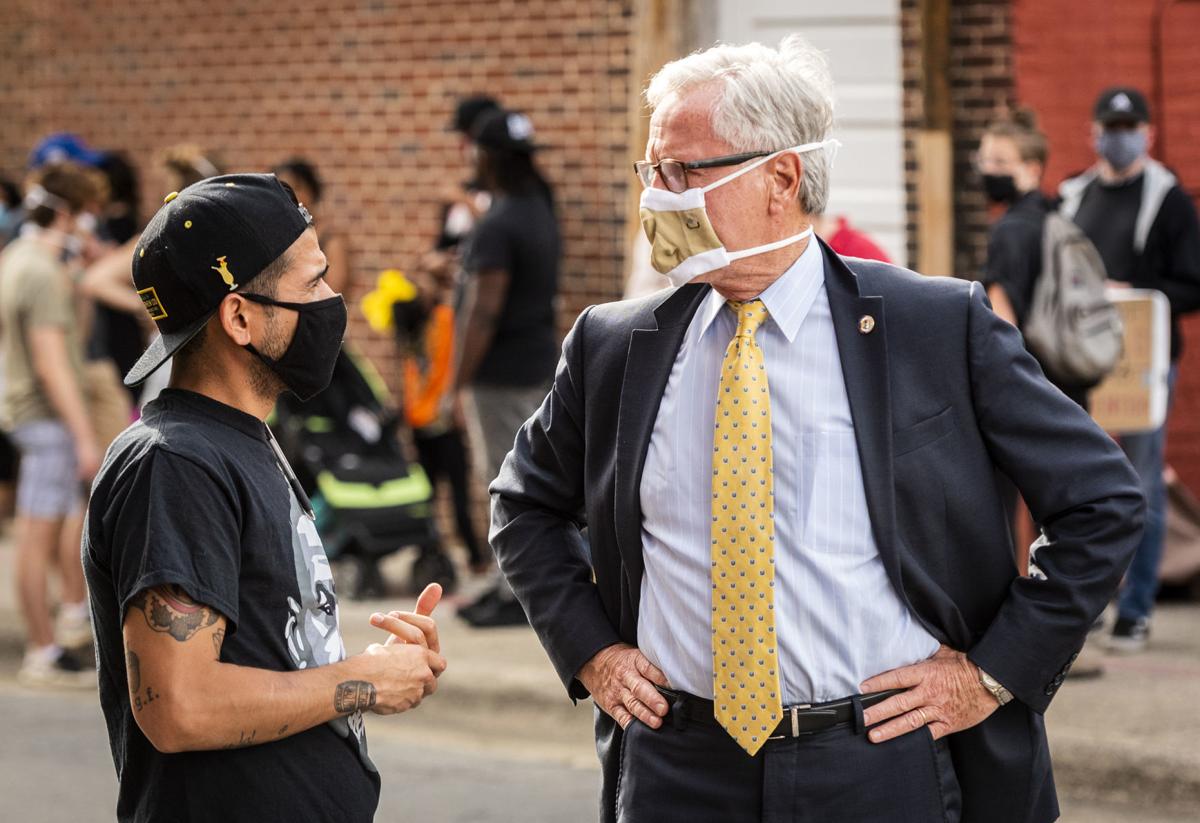 The city of Winston-Salem will issue an emergency order next week that more strongly enforces Gov. Roy Cooper's COVID-19 executive orders.
The move comes as the city and county experience a surge in the number of COVID-19 deaths and cases. Forsyth County has reported 2,031 new COVID-19 cases over the past 14 days.
The city order, officials said Friday, will not be a complete lockdown; instead it will give officials, including police, more power to enforce the statewide orders, which limit the size of gatherings and require people to wear marks.
Winston-Salem's measure will be similar to one imposed Friday by Greensboro Mayor Nancy Vaughan, Mayor Allen Joines said.
Vaughan's order directs Greensboro officials to enforce the regulations with fines and mandatory temporary shutdowns of businesses that are not in compliance.
"We've got to do something to get this under control," Joines said.
City Manager Lee Garrity is drafting the local order, Joines said.
In addition to reducing indoor gatherings from a maximum of 25 to 10 people, the governor's ongoing order places capacity limits on restaurants, bars, theaters and other venues.
Vaughan's order requires businesses to clearly mark capacity limits at all entrances, post signs requiring face coverings over mouth and nose for access to an office or business, require all employees who interact with the public to wear face coverings and provide hand sanitizer.
Forsyth County health officials reported 146 new cases of COVID-19 on Friday along with three additional deaths from the virus.
Since the pandemic began, Forsyth has had 11,723 laboratory-confirmed cases, local health officials say. Of those cases, 9,585 people have recovered.
As of Friday, there have been 328,846 cases of the coronavirus in North Carolina with 4,979 deaths, state health officials said.
Joshua Swift, director of the Forsyth County Department of Public Health, attributed the increased cases to the weather.
"As the weather is getting colder, we are seeing more people doing their activities indoors," Swift said. "And more people are concerned and getting tested.
"I'm afraid we are in for a tough few months," Swift said.
The county will likely see another rise in cases after Thanksgiving, just as we saw a jump in cases after Halloween, Swift said.
Many people are following the health guidelines amid the pandemic, Swift said.
"Most people are wearing masks," Swift said. "Most people are washing their hands.
"But it's those few people who are not doing the right things and are hurting us and causing that spread," Swift said. "That's our concern."
Dr. David Priest sees another factor for the increasing cases of COVID-19 among local residents.
"We've had a breakdown in our social distancing practices," said Priest, Novant Health's senior vice president and its chief safety and quality officer. "That allowed things to spread more rapidly."
Priest recommended that local residents stay home on Thanksgiving Day, continue to practice social distancing and wear masks.
"If we don't do that, we anticipate even a higher surge in 10 to 14 days after Thanksgiving," Priest said.