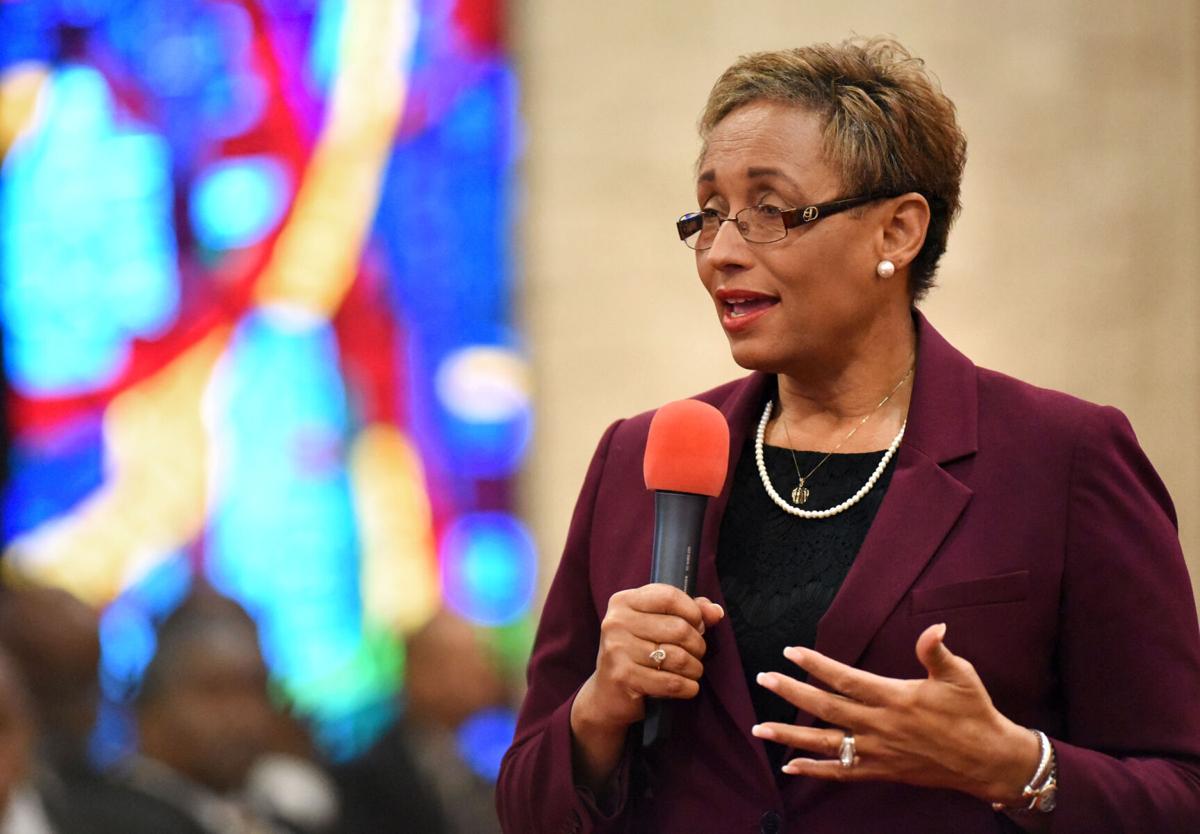 Students in Winston-Salem/Forsyth County Schools will begin returning to classrooms in stages, with some students coming back as soon as Oct. 5, under a proposal that Superintendent Angela Hairston presented to some members of the Board of Education on Thursday.
The board will meet at a specially called meeting on Oct. 1 to vote on transitioning from full-time remote learning to a hybrid model that mixes remote and in-person learning. Many of the state's largest districts, including Charlotte-Mecklenburg Schools and Wake County Schools are moving into this phase of reopening, known as Plan B.
Districts have some flexibility with how to move to Plan B, but, as mandated by Gov. Roy Cooper, the plan must include moderate social distancing, mask-wearing and health screening, all of which pose logistical problems. Hairston presented what hybrid learning will look like locally to the board's COVID-19 Reopening Committee about an hour after Cooper said districts can choose to move elementary schools to Plan A, which requires minimal social distancing, mask-wearing and health screening but no reduction in building capacity.
Hairston said that the district is not prepared to move to Plan A but a slow entry into hybrid learning can soon begin.
"We feel prepared to go into Plan B, but the vote is up to the board and we will follow your guidance and your lead," Hairston said.
The three-hour committee meeting was wide-ranging in its scope, covering everything from how to discipline teachers and staff who don't wear masks to the return of Central Office workers to the qualifications of the health-care professionals advising the district.
The school board voted July 17 to go to remote learning, also known as Plan C, for the first nine weeks and then reevaluate. Dana Jones was the only member to vote against Plan C, saying that she would like to see the district go to Plan B.
The plan presented Thursday has several layers and includes staggered starts for different sets of students and different types of learning based on grade and the size of school enrollment. For example, some middle and high schools are so big that they must be divided into four cohorts instead of two, which will result in fewer days of in-person learning. Under Plan B, classrooms must be at 50 percent capacity to maintain proper social distancing. Under this plan, high school students would go to school one day a week beginning in January, a change from one recent version of Plan B, which called for high school students to learn remotely. Some high schools protested that plan, saying they want to return to school. 
Some highlights of the recommended version of Plan B:
On Oct. 5, 154 students enrolled in career and technical education courses that are overly reliant on hands-on learning, will return to school.
Pre-kindergarten students will return on Oct. 26, followed a week later by children in grades K-2, sixth grade and children in exceptional learning programs.
Students from pre-K through second grade and exceptional children will go to school four days a week.
On. Nov. 16, students in grades 3, 4, 7 will return, followed by grades 5 and 8 on Dec. 7. High Schoolers will return on Jan. 21. 
Teachers who have not returned to the classroom will return two weeks before students arrive, except in the case of CTE students. Those teachers will also return on Oct. 5.
Students in third through fifth grade will be divided into four cohorts, with each cohort going to school one day a week and remote learning on the other days. Middle and high schoolers will also be divided into cohorts, which will limit their presence inside buildings.
At the larger middle and high schools, some students will go to school two days a week then learn remotely for the next eight school days. 
Wednesdays will be set aside for cleaning, and no children and staff will be inside the buildings. Those will be considered "flex" days, which are set aside for small-group instruction.
The district's proposal follows the lead of other districts that see the benefit of having the youngest students have the most in-person classes. 
Cooper and Dr. Mandy Cohen, the secretary of the N.C. Division of Health and Human Services, both said on Thursday that children 10 and younger get infected and spread the virus at lower rates than older children. The benefit of having younger children in class outweighs the risk, they said.
Elementary-age students are engaging less with online learning than middle and high schoolers, according to information presented to the reopening committee on Thursday. From Aug. 31 to Sept. 11, 92.4 percent of elementary school students logged onto Canvas, the district's online learning platform, compared to 96.4 percent for middle schoolers and 96.6 percent for high schoolers.
That number may be lower for elementary school students because some teachers gave students packets to work on away from the computer.
"We feel this is the best way forward for students, teachers and the entire community to return," Hairston said.
Board member Elisabeth Motsinger said that while students are being put into cohorts to minimize the spread of the virus, teachers will still be exposed to a large number of children.
"We're talking about bringing everybody back at the time of flu season. Do we have data from other districts that have opened?" she asked. "It seems to me that we're choosing to be part of a social experiment."
Jones mentioned the low risk of infection among young students that Cooper and Cohen talked about in last week's news conference.
"My concern is that none of the urban districts have gone in person," Motsinger said.
According to the county's Sept. 12 surveillance report, 593 children under the age of 14, have tested positive for COVID-19. That's 9.1 percent of the county's total of 6,535 cases.
Some board members said they would like to see the district come up with a set of metrics to guide their decision-making.
"Maybe that would relieve some of that anxiety that some people are feeling, and there would be clear expectations for staff and parents as they are trying to plan," Jones said.
Hairston said that she would ask a few medical experts to come to the Oct. 1 meeting. 
Some of the discussion involved how to deal with staff members who don't wear masks. 
Board member Barbara Burke said the district should take a look at its policy and consider a zero-tolerance order. 
"I don't want to risk anyone's life," she said.
Earlier on Thursday, Dr. Christopher Ohl, an infectious disease expert at Wake Forest Baptist Medical Center, said private schools that have gone to school using the hybrid model have seen only a small number of cases. The virus spreads mostly in households and not schools or workplaces, he said.
"I think that gives a little bit of encouragement if public schools are deciding to bring students for in-person learning. Some of the measures that private schools are using seem to be working. They can keep students, staff and teachers safe in school environments," Ohl said. "I'm encouraged by that. Would you just open schools with no masking, social distancing and no special measure? No. I would not do that."
Davie County Schools is among the area schools that has used the hybrid model. Superintendent Jeff Wallace said that since schools opened there in mid-August, the district has had as many as 11 positive cases among students and staff. None were clusters, and no schools have had to be closed. 
The hybrid model can work, he said, if the staff, teachers and parents stay vigilant.
"Stay the course. The three W's work," he said referencing the slogan to wash hands, wear a mask and wait six feet apart. "It can turn in a hurry."
Get local news delivered to your inbox!
Subscribe to our Daily Headlines newsletter.