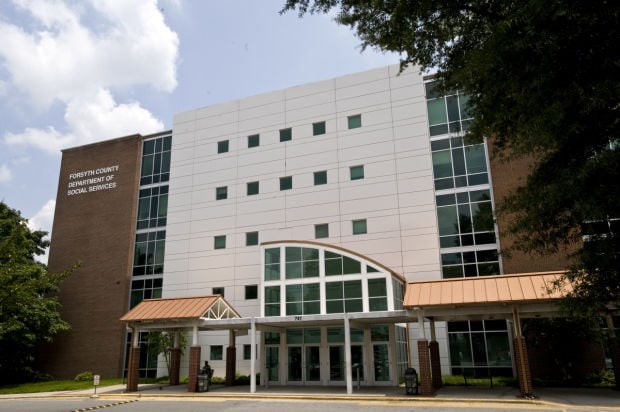 Rare access to emails and interviews with a foster family and children's advocates show that the government safety net designed to protect children sometimes operates with nearly unchecked power as government officials make life-altering decisions on where to place a child.
Angela Shue, once a volunteer Guardian ad Litem, the court-appointed person who is supposed to represent the best interests of the child, said she left her post because of the harsh treatment she received recently at the hands of the Forsyth County Department of Social Services and a District Court judge.
Her integrity was called into question, she said, declining to discuss any particular case. But she did say that she has concerns about the way DSS and the Guardian ad Litem office operate in Forsyth.
When she took the job, Shue said, her understanding was that she was supposed to be "the voice of the child." She thought she was supposed to take all information into consideration, she said: "I quickly realized that is not the case at all."
One of her primary concerns was that children she represented were being ordered to live with a father in Mexico, with whom the children have had little contact and who has a criminal record that is more extensive than that uncovered by DSS.
"Someone should be looking into him, and they have not," she said recently.
For Shue, the last straw came when the GAL office pressured her to change her recommendation to fall in line with DSS. Shue had recommended against the DSS plan to place the children with the father, raising concerns about the father's ability to support the children, his past and the fact that there is no effective way for DSS to check on the children once they're in Mexico.
"I don't think people would engage in work, like social work, if they don't have that desire to help a child. I think they are probably overworked and confined by guidelines." Still, she said later: "People have been behaving badly and because they did not feel they would be challenged."
Decision overturned
The Winston-Salem Journal reported last week that three children have been ordered by Judge Denise Hartsfield to live in Mexico with their father, Romualdo Peralta Rendon, a man whom they hardly know, rather than return to their home in Kernersville, with their mother, Latonya Daniels-Hernandez, stepfather Alfredo Hernandez and two other siblings.
Meanwhile, Hartsfield and DSS officials have kept two of the mother's other children in foster care even though DSS officials said four months ago during a custody hearing in front of Hartsfield that they favor returning them to their home in Kernersville.
Daniels-Hernandez said the judge is using the two as leverage.
"I can give up three to keep two, or I can keep fighting for all of them and make them stay longer in foster homes," she said.
Daniels-Hernandez continues to fight for all five.
She immediately appealed Hartsfield's order to have the three children live with their father in Mexico.
On Friday, an appellate court overturned Hartsfield's decision.
When Hartsfield rejected the mother's appeal, she said that her own order was not a final order — a legal term with an important effect in this case. In doing so, Hartsfield effectively pre-empted the mother's ability to appeal the decision — because appellate courts take up only final orders.
"Judge Hartsfield was without authority," the N.C. Court of Appeals said, referring to Hartsfield's attempt to declare that her own order was not a final order.
The children will likely stay in foster care until the merits of the case are resolved, which could take as many as eight months.
The children have already been in foster care for 19 months.
They were removed from their Kernersville home by DSS in April 2014 after Daniels-Hernandez reported that she had spanked two other children in her care, a spanking which left bruising. Daniels-Hernandez had some run-ins with DSS in the 1990s, and takes medication for bipolar disorder. But DSS had never been called in relation to her treatment of the five children before, she said, and the DSS file in the custody case supports her claim. She has complied with all requirements imposed by DSS since the children were taken away, including anger-management classes.
Reporting by the Journal has raised questions about whether Peralta Rendon even plans to keep the three children with him. Arrangements have apparently been made to have the children live with a woman, Lucinda Deloya Castro, according to a recorded conversation between Deloya Castro, Daniels-Hernandez and Hernandez.
As it turns out, the children's uncle, Mario Peralta Rendon, fatally shot Deloya Castro's sister two years ago when she tried to stop him from taking Deloya Castro by force from her home. The two are no longer together, Daniels-Hernandez said, but she still fears for her children's safety because the uncle is still at large and knows where Deloya Castro lives.
Iris Sunshine, executive director at the Children's Law Center, said she is also concerned about the children going to Mexico.
In general, she said, judges and DSS officials need to consider the environment that foster children will be placed in. She said she has concerns about the three children, who have been in what she understands are stable foster homes, only to be sent to an uncertain environment with an unfamiliar language and culture.
"It's hard for children to be uprooted," Sunshine said. "The children should be placed in an environment that is in their best interest, that will be safe and healthy and nurturing."
Closed hearing
In North Carolina, children who are at least 12 have certain rights. Under North Carolina's juvenile code, for example, they may declare a custody-related hearing open, such as one that took place Oct. 12 in Hartsfield's court room. Under section 7B-801(b) of the juvenile code, "No hearing or part of a hearing shall be closed by the court if the juvenile requests that it remain open." But in Hartsfield's courtroom, on Oct. 12, the child was not allowed to exercise that right.
The hearing was held to remove the child from Carol Pope's home. On paper, Pope said, the purpose of the hearing was to carry out the biological father's wish to remove the child from her home. The real reason, Pope said, is that DSS officials feared the daughter, a 12-year-old, was forming her own ideas about where she wanted to live.
Email correspondence between Pope, DSS social worker Annette Estrada, and other officials involved with the care of the child show why the child was having doubts about the prospect of living with her father.
"Mr. Peralta did not answer his phone again this past Sunday.
"That's 3 times in 5 weeks he did not answer. … This is really stressing (the child) out more than she already is," Pope told Estrada.
On Oct. 12, as soon as Pope showed up to court with the girl, DSS officials took her to another room in the building, she said. With the child gone, and no one stopping Hartsfield from declaring the hearing closed, Hartsfield's first order of business was to close the hearing, according to Pope, her attorney Ron Short and other people at the hearing who wished not to be identified.
By closing the hearing, Hartsfield could then kick out Short and several other child-advocate witnesses. Kelley Gondring, an attorney, was forced to leave after Hartsfield denied her motion to represent the child.
Hartsfield, Estrada, DSS attorney Theresa Boucher and Linda Devine, the director of the area's Guardian Ad Litem program, did not respond to emails or phone calls last week.
Judges must consider input from juveniles, according to another section of the juvenile code, 7B-906.1©.
"At each hearing, the court shall consider information from the parents, the juvenile, the guardian, any person providing care for the juvenile, the custodian or agency with custody, the guardian ad litem, and any other person or agency that will aid in the court's review.
"The court may consider any evidence, including hearsay evidence … or testimony or evidence from any person that is not a party, that the court finds to be relevant, reliable, and necessary to determine the needs of the juvenile and the most appropriate disposition," the code says.
Representing the child were Shue, the volunteer Guardian Ad Litem, and Fred Evans, the attorney for the Guardian Ad Litem's office, according to Pope.
Evans, who along with Shue is charged with representing the best interests of the child, knew that the child wanted to have the hearing remain open, but he said nothing to that effect during the hearing, according to Pope. Last week, Evans declined to comment on any specific case, but he did say that he would assume that a child asking for a hearing to remain open was getting advice from another adult.
"I find it hard (to believe) that a child would ask that," he said.
Under questioning, Pope had to defend against charges that she tried to block DSS efforts to send the child to Mexico.
According to Pope, Boucher and Hartsfield also made racially tinged comments, suggesting that she and her husband Richard Pope would not have been opposed to having the children go to a "white" country such as Denmark. The Popes are white and Hartsfield is black. For years, Pope has taken in many foster children of all races, never asking what the race of the child was before taking them in, she said.
The Popes have filed a complaint against Hartsfield with the Judicial Standards Commission, alleging that Hartsfield mishandled the Oct. 12 hearing.
Assisted by DSS, Spencer Hill, Peralta Rendon's attorney, accused Pope of resisting "all efforts to comply with the court's order to receive an expedited passport" and not facilitating a time and place afterward for another attempt to have the photo taken, according to the motion for removal.
But emails between Estrada and Pope, and others involved in the child's care, paint a different picture.
On Oct. 1, Pope wrote to officials at the Children's Home, the agency that issues foster care licenses. "Let me make it clear that I have been as helpful and cooperative as the child has allowed me to be. I have tried to 'talk her into getting it done' but the child has her own mind.
"As Annette (Estrada) stated in her email, she was concerned about the kids getting in the car with her so I arranged my schedule around me taking the child, which entailed rescheduling appointments already made. I could not force (the child) to take her picture and there was a room full of people there as (the child) cried and hyperventilated and let everyone know that she was not doing it and why.
"I did not in any way, shape or form appreciate Annette leaving me there with a wailing child and being told that I needed to stay there with her until I got her to take the picture. ... I could use advice on how to 'make' the child do this," Pope said.
In a Sept. 25 email to Estrada, Pope said she was struggling with how to talk to the girl about going to Mexico.
"I don't want to lie to (the child) just to make her feel better but don't know what to say to support her," Pope said.
Estrada told Pope she didn't have to lie, that she could be a sounding board for her: "Let her know you hear her but don't offer any solutions or promises that WE don't have the answers to."
Responding, Pope said that she wasn't quite sure how to deal with the girl's feelings about the move.
"I think she feels the instability of the whole situation," Pope writes. "She seems to feel that if he can't even be there for one phone call a week and they'll be moving again shortly after they get there … how is she supposed to feel good about that?"
Pope said she let the girl talk it out "but it's hard to sound positive and supportive given her feelings about what is actually happening so I don't say much."
"But then I feel that not saying much is somehow confirming her fears also," Pope said.
"Sort of between a rock and a hard place here. Her father is creating even more anxiety by not being there for her even before she leaves. He should be trying to make these kids feel secure about going to him," Pope said.
Pope and her husband, Richard, took care of the girl for more than a year while DSS and the judge tried to figure out where to place the children, .
On Oct. 12, Hartsfield ordered the child removed from the Pope home. Still, the Popes say they would do anything for her, even adopt her, if that's what she wants.
"We pray, pray, pray, and talk about God's plan," Pope said. "I will never give up fighting for her."