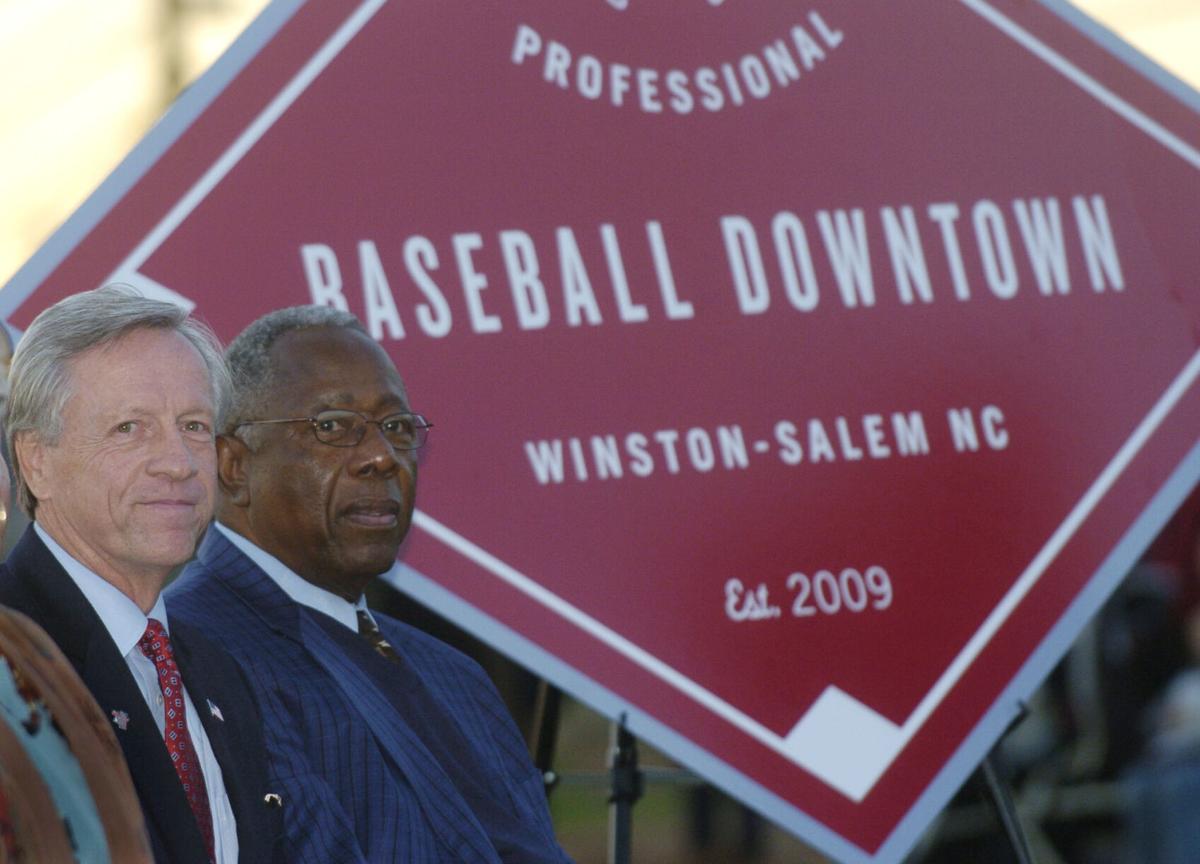 In 2007, Hammering Hank was in Winston-Salem for the groundbreaking of what is now Truist Stadium. Here's the Journal's story from the event. 
With the sounds of a marching band, the smell of popcorn and the crackle of fireworks, the area around First and Green streets had a feel of baseball despite the October chill yesterday.
The Winston-Salem Warthogs held a groundbreaking ceremony for their new downtown stadium with a special guest, baseball great Hank Aaron. The party was open to the public and attracted government officials, suit-and-tie business leaders and families looking for something to do.
"It really is a thrill for me to be here with you," Aaron told the crowd, using crutches because of recent knee surgery. "I just want to commend you, all of you, for what you have done to build this ballpark."
With the city's skyline behind them, people talked about baseball and what the stadium might — or might not — accomplish for downtown.
"I think it will attract more people to come here. I think that it helps that it's right near Business 40," said Dan Bachmann, 38, who does freelance advertising and marketing. "I think it will be more convenient for people who work downtown."
He has done work for the Warthogs, and he came to the ceremony with his wife, Stacy Bachmann, 29. Such professionals are the younger workers whom Mayor Allen Joines wants to bring and keep in Winston-Salem, a city that loses many of its young people to such larger neighbors as Raleigh, Charlotte and Atlanta.
Joines was joined during the ceremony by all but two members of the Winston-Salem City Council and by the athletics directors at Wake Forest University and Winston-Salem State University, among other community leaders.
Joines said in a speech that the stadium was an essential part of plans to make Winston-Salem a progressive place where young people will move.
"Winston-Salem is not looking back on what we once were," he said. "Rather, we are looking forward at what we will become."
In his speech yesterday, Warthogs' co-owner Billy Prim thanked WFU for buying Ernie Shore Field for $5.5 million. That injected money into the downtown project to make it happen, he said.
Renderings of the ballpark were on display yesterday, but the logistics of developing the ballpark are still under way. Prim still has not submitted formal plans for the stadium to the city.
Planning official said yesterday that they have not received the "elevation drawings," or the detailed architectural snapshot of the stadium.
"This will show us what it's going to look like," said Lynda Schwan, a project planner for the City-County Planning Department.
The developer is expected to turn in the drawing some time next month, Schwan said, and the review process probably would last through the end of January.
The $22.6 million, 5,500-seat stadium is scheduled to open in April 2009.
It is part of a larger development that Prim and Warthogs' co-owner Andrew "Flip" Filipowski are planning, which could bring housing, stores and offices to the area.
"We're going to build the finest baseball facility in America, and that's a promise," Prim said.
Richard Miller, who owns buildings downtown on Trade Street, came to the ceremony to check out the site. He still questions the viability of the ball park.
"It's a nice little crowd," Miller said. "A question I have: Are these people going to buy baseball tickets? Or are they just here for a good party?"
Miller said he hasn't had time to go to Warthogs games the past few years and knows that attendance is lacking, but he said he wants the downtown stadium to succeed.
"I really hope it does well," he said. "This can help downtown with the other projects associated with it."
Mikal and Debra Muhammad of Winston-Salem, on the other hand, go to Warthogs games about three times a year with their children, Saeed, 7, and Mikalah, 9.
Mikal Muhammad, who does video and graphic production, said that the stadium will help Winston-Salem's economy and put sports into the mix of other things downtown, such as art and dining.
"I think there would definitely be an influx during the season for local businesses," he said.
When the Warthogs asked Aaron if they could compensate him for his appearance, he asked that a donation be made to his charity, Hank Aaron Chasing the Dream Foundation.
Aaron, 73, held Major League Baseball's record for home runs until Aug. 7, when Barry Bonds hit his 756th home run. Aaron played for the Atlanta Braves when he beat Babe Ruth's home-run record of 714 in 1974.
He now works for the Braves.
He said he remembered a similar crowd when a minor-league stadium was opening in 1997 in his hometown of Mobile, Ala.
The community was glad it built one, and The Mobile BayBears now play in Hank Aaron Stadium.
As in Mobile, he said, there was a thrill "to witness a ballpark that is coming up from the ground that you are going to be able to call your own."